At the beginning of this month, Sephora held a 20% off Saturday morning event at their Bloor Street location for all Beauty Insider members (their rewards program). Badly needing some essentials, I wrote a list the night before and set my alarm for an early weekend morning (BOO-WHOO!!).
The event was held prior to regular hours from 8:30-10:00AM. There was starbucks coffee, juice, fruit, and baked goods to be had. I arrived just after opening with the following items on my list:
1. Foundation
2. Concealer
3. Mascara
4. Primer
I walked around the store for an hour, picking up and putting back numerous items including Bare Escentuals primer, Lancome Definicils mascara, Make Up For Ever High Definition foundation, etc. Finally I called the boyfriend to ask if he wanted anything and arranged to meet up at 10AM. With that deadline, I became more focused in my search. I ended up with 6 items and not ONE of them was a recurring squatter in my makeup bag!
I didn't want to make a post right after as I find reviews done with only one or two uses (or sometimes just swipes!) of a product are neither accurate nor helpful. Now after a few weeks of consistent use, I feel I can give you a better review of my purchases. So here goes!!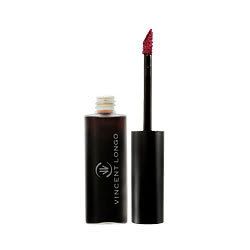 1. Vincent Longo Lip & Cheep Gel Stain in Cupid's Breath
I have been looking for a lip stain for the longest time. I've tried Benefit's Benetint but the balm version is simply a tinted lip balm and the bottle version has a useless nail polish type brush. I've also tried lip markers but the product always dries up after a few uses. This stain comes with a sponge-tip applicator just like regular lip glosses. The color is buildable; a light sweep just gives you natural flush but a few layers gives a beautiful brownish deep red (great for Asian skin tones!) which reminds me of silver screen sirens from back in the day. The only downside is that the stain is very drying. Putting balm on BEFORE applying will block the stain from...well, staining! So after application put on a balm or gloss to keep your lips moisturized. This product is very versatile, I keep this at work so I can look natural during the day and apply a few more times before going out for after-work drinks!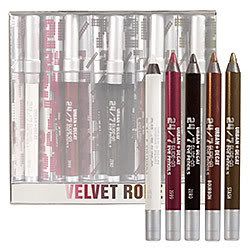 2. Urban Decay 24/7 Eyeliner set in Velvet Rope
I am so impressed with Urban Decay. I used to love it in high school with all the funky colors and glitter but eventually grew out of it. I recently just came back to it and am so glad I did. This set is $35 and is approximately 3/4 the size of the regular pencils. It claims to be smudge-proof. When I applied it I immediately noticed two things. It is
incredibly
PIGMENTED, and SMOOTH! I usually hate pencil eyeliners but this has changed my mind. However, my experience is that smooth and pigmented equals smudgy. THIS IS SO NOT TRUE!! After wearing for an entire day, even the deep black one did not smudge one bit! I have a MAC eyeliner in the same incredibly black shade and it smudges like crazy. I may just go back for the other set which is more blues and greens. I highly recommend these as gifts. Great price, incredible quality!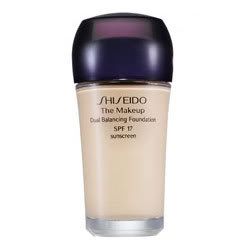 3. Shiseido Dual Balancing Foundation in O40
For the past couple years, I've been MAC liquid foundations and Everyday Mineral loose powers. I first started with liquid Studio Fix SPF 15 in NC35 then moved on to Select SPF 15 in NC37 which provided slightly lighter coverage. Both were good but not GREAT, slightly too yellow. I've long forgotten what shades from Everyday Minerals I had mixed together but I don't like highlighting dry winter skin! The Shiseido Duan Balancing shades are I = ivory, B = beige, 0 = ochre from 00 = pale to 60 = deep. Ivory is very fair and beige is too pink. I picked 040 for my medium Asian skin. It looked GREAT in the stores, finally a perfect match. Unfortunately in the past week I've noticed that it's actually a shade too light for me! I have stopped using bronzer (ran out!) so this might be emphasizing it. In terms of quality, I really like this foundation. I have combination skin and this has indeed done a good job of "balancing" my skin. While I still do get the oily forehead, it combats it like a powder foundation would. I rarely use my MAC blot powder now. The formula is also very smooth and thinner (although still providing medium coverage) unlike MAC. I give this a thumbs-up!!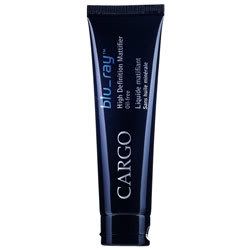 4. Cargo Blu Ray High Definition Mattifier
I am so in love with this mattifier. The first time you try it, you might be scared. It comes out in a poopy light brown. However, once you blend it into skin it's completely clear. If you have tried Smashbox Photo-finish Primer, this one is more matte to the touch. When you're blending, you can slightly hear a sound similar to running your fingers over paper whereas with Smashbox it feels a bit more silky. However, this is actually a GOOD thing if you've got anything but dry skin. Two great things about this: 1) It feels light and mattifying 2) Does not bead up when you layer with foundation, moisturizer, etc.!! The price is also excellent at just $24, one of the cheapest compared to other popular brands (Makeup Forever, Smashbox, Bare Escentuals, etc.)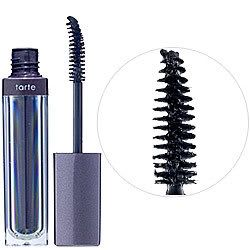 5. Tarte 4 Day Stay Lash Stain in Black
YUCK! HORRIBLE!! Imagine if you put your lashes in a dehydrator and turned them into chips. Sounds nasty? Well, that's what you get with this! Supposedly a 4 day lash stain, the formula is so thin it almost feels like I'm applying ONLY the brush itself to my lashes! Finally after a few coats it goes on but with NO curl, NO volume, NO length. Then the next day when you wake up, you see a slight shadow under your eyes. After a shower? A wanna-be Panda! If it's not going to stay on, at least let me take it off! This went back the very next day! I'm going to stick with just waterproof mascaras if I want staying power from now on.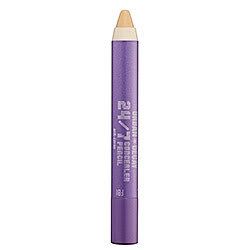 6. Urban Decay 24/7 Concealer in NSA
I never use concealer. It's too much hassle and never really conceals. Yes, it's probably because I'm doing it wrong but it's too much effort to do it right (flawed logic? maybe. reality? yes.). This is where the 24/7 Concealer pen comes in. I tried this in the store and the consistency was VERY smooth. The product is very pigmented (full coverage) yet feels light. I bought it in NSA which is a deep beige for medium to dark complexions according to Sephora. In reality, this would NOT suit dark skins. I am an NC35-37 in MAC (medium shade) and this is just right. This is so easy to use. I simply make a couple lines over any blemishes or dark spots and smudge with a finger tip until blended and covered. Then I put my foundation on. Voila! Fully covered, natural, light, AND lasts all day.
All in all, the trip was VERY successful. I stuck to my list instead of buying more lipgloss and eyeshadow and every product I kept is now a key player in my daily makeup routine.