Below is a photo of my early Christmas present. I've been wanting a pair of Sorel boots forever and when a local shoe store announced a sale, I showed these to Cam and said I was going to buy them. Well, that let the cat (or boots?) out of the bag as he had already purchased them.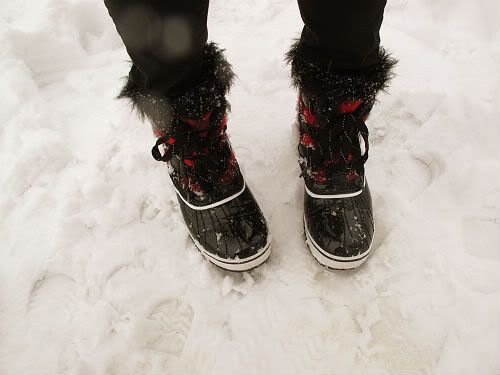 The early Christmas present came just in time as we experienced quite a bit of snow this weekend.
Cam's aunt has a cabin up in Mansfield, which is about an hour and a half north of Toronto. We drove up there very early Saturday in preparation for two days of skiing at Blue Mountain, which is another half hour north. Instead, we left the hills early yesterday and didn't go back today. We were yelping and moaning all day because that's how sore we are. No matter because it just gave us more time to enjoy the cabin. It's the epitome of a winter wonderland.