Like the psychedelic prints of Pucci, I feel like Missoni should be taken in doses. Otherwise, epileptic seizures may occur. Especially if one is downing a bottle of wine alone in a Missonified room. Take note decor store interns!
The great thing about classic Missoni prints is that small dose can open up an entire palette to play with. It's almost like cheating. Find a zig-zag print in one color family and suddenly you've got a gazillion other colors to repeat throughout the space. I think the Missoni prints would look as lovely in an eclectic space as it would a minimalist one.
I love these pieces from AllModern.com's huge online store: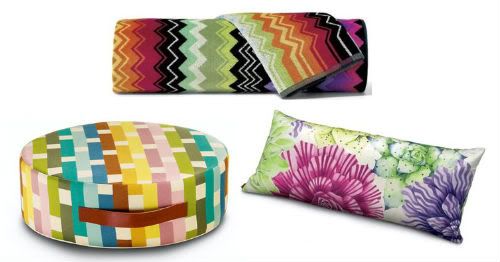 images from L-R courtesy of www.allmodern.com
1) Moderism 20" Floor Cushion $535
2) Giacomo Bath Mat $81
3) Aeonium Cushion $230
I love the stripe and zigzag patterns in the following rooms, not to mention everything else!