I recently came across a relatively new blog created by former Teen Vogue intern Emily Weiss. You may remember her as the "superintern" from Teen Vogue's New York offices who made a guest appearance on an episode of The Hills.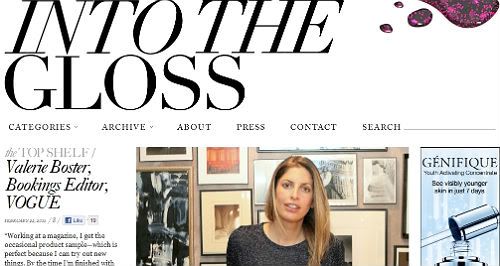 image courtesy of Into The Gloss
The blog is called
Into The Gloss
and focuses solely on beauty topics. Emily's blog peaked my interest as makeup is somewhat of a novelty when it comes to the world of high-fashion blogs. Street fashion and personal style seem to be the subjects de rigueur. However, I think this blog holds its own in the crowd, having created a niche for itself and I have high hopes for its future.
The blog is organized into 6 categories: the face, the makeup, the top shelf, the review, the extras, the backstage, the professional. As the categories suggest, you get a little bit of everything from runway coverage to reviews to a peak into the makeup drawers of interesting people in the industry.
My favourite category on her blog is the 'Topshelf' where Emily interviews individuals in the fashion industry (models, designers, stylists, etc.) about their makeup routines, products, quirks, etc. I'll freely admit, I'm nosy! And this category satisfies my curious mind.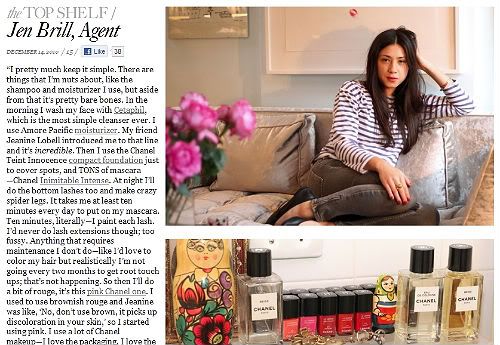 image courtesy of Into The Gloss
Go check out
Into the Gloss!