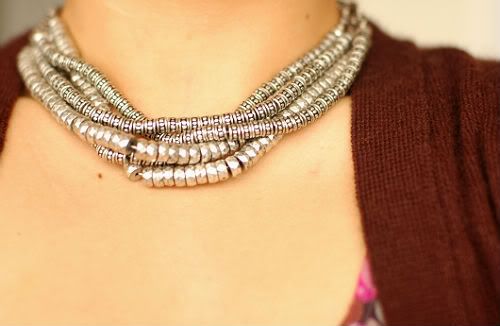 I bought this necklace at a local boutique recently. I love the twisted layers of metal beads. It is beaded tightly and does not curve properly. I love that quirk, though. It seems carefree and in line with the slightly tribal, slightly industrial look of the piece.
At the same time, I also bought two other silver necklaces. One similar to this. I'll have to remember to take a few pics sometime.
On another note....
I'm very excited right now! Cam and I walked by the local library on our way home and I had a chance to peruse the magazine section. Usually the home decor magazines are picked through but today, they had a stack of House Beautiful, House & Home, and Style at Home magazines available! I cradled a heavy bunch in my arms as we walked home. Just finished my dinner and have the kettle going. I think it's going to be a drink spiked coffee and flip through beautiful magazines kind of night.