A friend of mine moved close to Fire on the East Side recently and told me her roommate had a delicious "Breakfast Poutine" there which consists of pulled pork, Monterey Jack, chipotle hollandaise, and a poached egg over home fries. I just about died hearing that and couldn't wait to try out the restaurant for myself.
Cam and I took this Friday off for a conference call with our resort wedding coordinator and it ended around noon. We rarely go out on a weeknight and always have other plans on the weekends so I thought, what better time to try out this restaurant?
I have to give myself a pat on the back because it was an excellent decision. The food was absolutely amazing and I cannot wait to come back and try out their weekend brunch menu, particularly that Breakfast Poutine.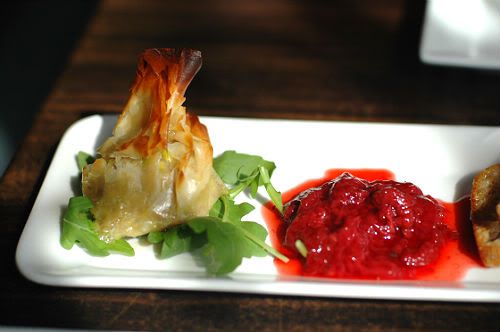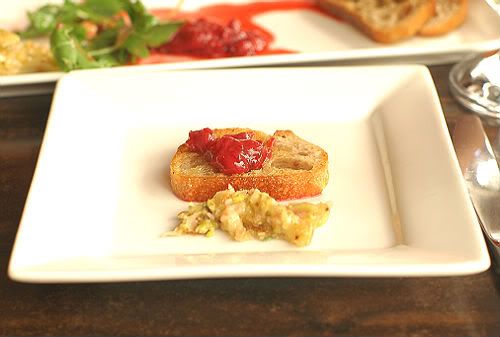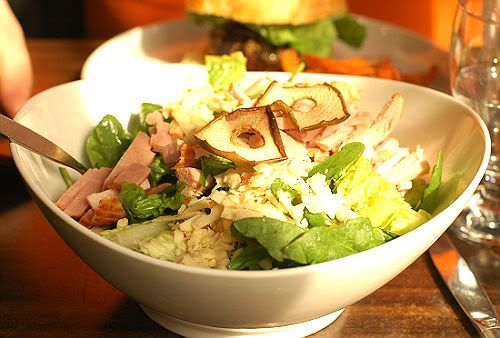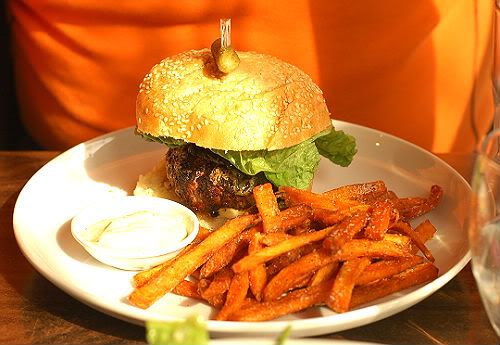 We started with the Baked Brie wrapped in crispy phyllo pastry with pistachios and fine herbs served with crostini and berries. I detected a taste of blue cheese, which I normally hate, but this was such a smooth addition that I had no problem devouring it.
For my main, I ordered the Eastside Chopped Salad with shredded Romaine, arugula and spinach topped with shredded ham, smoked turkey, spicy Ontario Farmer's cheese, maple smoked white cheddar and oven roasted apple crisps in a white balsamic vinaigrette. Cam went with the Classic Lafayette Burger made with hand ground triple 'A' Canadian beef tenderloin, mango-habañero sauce, spicy brick cheese, and double smoked bacon with
perfectly seasoned
sweet potato fries. The burger was heavenly. I cannot begin to describe how good it was! My salad was very light on the sauce and great for someone who is into salads. The smokey meat and sharp cheese added substance to a light meal. Unfortunately, I keep forgetting I'm more of a meat and potatoes girl and just can't leave satisfied with a salad!
We walked down towards the Eaton Centre and ended up getting ice creams from
Marble Slab Creamery
. I got my favourite mix - Lemon Custard ice cream with Cookie Dough and it was absolute heaven. Granted, I felt bloated and lethargic the rest of the afternoon but it was 100% worth it.
Here's the
Fire on the East Side Menu
if you're interested in trying it out.