If you're a Sephora Beauty Insider, you should have received this coupon via email last Friday. It's 15% off anything in store and you can use it as many times as you want.
My wedding is exactly 3 weeks away and the combination of wedding photos and warm tropical weather calls for some sweat-proof camera-friendly cosmetics.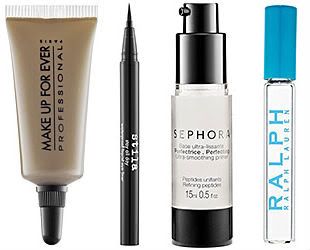 Make Up Forever Waterproof Eyebrow Corrector
I currently fill in my very light and sparse brows with a matte brown eyeshadow. While it looks natural, it rubs off easily. I read great reviews on this corrector at Makeupalley.com and decided to take a look in stores. It's extremely pigmented, there are only 3 shades (#2 too light and #3 too dark) and the liquid formula seems like it would take some practice to use. However, I think this may make a really long-lasting base.
Stila Stay All Day Waterproof Liquid Eye Liner
Again, great reviews online. I use colored eyeliners as accents but for actual black liners, I use felt-tips exclusively. L'Oreal makes one that is super black and easy to apply
but
it cracks and flakes. I'm hoping this will do the first two and not the last.
Sephora Ultra Smoothing Primer
Yep, great reviews on this one, too! I'm not sure if I really need this so I might ask for a sample first. I've tried a few already and they are either too gunky, watery, or oily. Or maybe I'm just not used to primers yet.
Ralph by Ralph Lauren Roller Pen
This brings back memories of high school when everyone wore the same 3 scents: Ralph, Hawaiian Ginger, or Tommy Girl . According to Sephora, Ralph is a blend of sparkling green apple leaves, zesty orange mandarin, charismatic pink magnolia, seductive purple freesia, and soft blue musk. Not sure what "soft blue musk" looks or smells like but all together, this scent reminds me of carefree summers.
Did you get the coupon? Are you planning on taking advantage of this offer?