Doing a little online window shopping in preparation for our wedding trip. Can't believe our guests and us are saying "can't wait to get out of the cold" in late April! But I'm secretly glad because it means everyone is looking forward to a week in the sun that much more.
We bought Cam linen pieces and myself a couple summer dresses this weekend. I just went through our closet and picked out a few existing pieces, too. Hope to have our packaging more or less done by next week so I know what exactly we still need to buy.
Problem is, the lines between
need
and want are starting to blur when you're approaching the last hours before your big day!
1) Missoni Mare Grado crochet-knit beach dress
2) Milly Cocomo cotton and silk-blend dress
3) Milly Azores printed cotton and silk-blend dress
1) Mara Hoffman Chieftan Story triangle bikini
2) Melissa Odabash Rio halterneck swimsuit
3) Emilio Pucci Printed halterneck bikini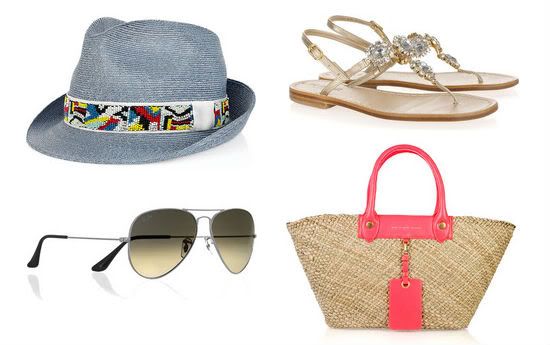 1) Etro Embellished straw fedora
2) Ray-Ban Classic aviator metal sunglasses
3) Musa Crystal-embellished leather T-bar sandals
4) Marc by Marc Jacobs Rosa woven seagrass tote
all images courtesy of www.net-a-porter.com