Every since gray nail polish made it big a couple years back, I haven't been able to stop buying variations of it. I have a number of "gray" nail polishes from warm taupes to gunmetal. I love the versatility of gray. It works with all other colors and looks polished without overpowering an outfit. Neon green nails may be funky but it's kind of hard to look elsewhere!
For the past couple days, I've been wearing a beautiful gray called Wild Orchid by Color Club. It's from their Untamed Luxury: Shades of Indulgence collection which features 6 additional beautiful and very wearable colors.
Wild Orchid is a creamy true gray with slight shimmer. It almost looks like someone took incredibly fine silver glitter and mixed it into this nail polish because it's not a full-on shimmer affect. Hard to explain because it's quite unique.
This photo was taken after 2 coats with no base or top coat.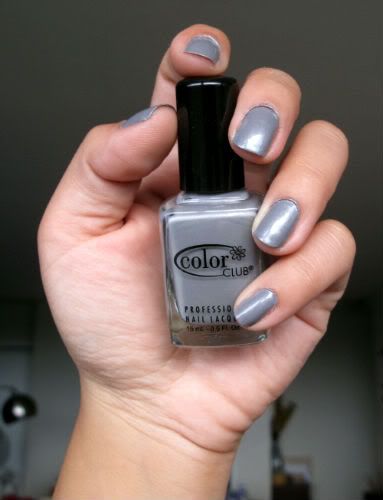 Here is a photo of the other colors from the Shades of Indulgence collection, which I'm eager to try out. You'll notice Wild Orchid looks slightly lighter in the photo below and that's how it looks in the bottle but it ends up looking darker, like my photo above taken in later afternoon natural light.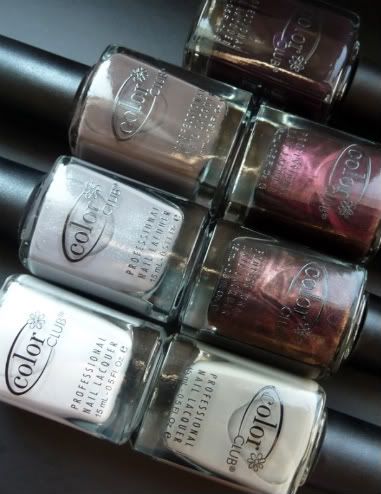 image courtesy of www.all-you-desire.com
Clockwise from top:
Ready to Royal - dark brownish purple creme
Jewel of a Girl - deep brownish and reddish purple shimmer
Nothing but Truffle - deep chocolate brown shimmer
Soft As Cashmere - beige grey creme
Pretty in Platinum - light grey with slight shimmer
Wild Orchid - true grey with slight shimmer
Positively Posh - dark taupe creme