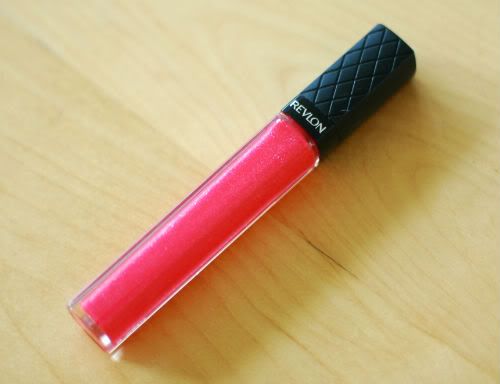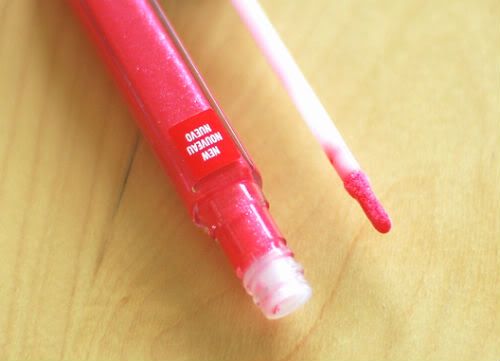 When I saw this tube of lipgloss, I made a beeline right to it. The color just called to me, as if it were holding a giant sign reading "Summer Time".
Revlon calls this color Strawberry and if we were talking ice cream flavors, I would say aptly named. But I think of this shade more as watermelon, a perfect blend of red and pink with a warm undertone. Not too red and dramatic, not too pink and cutesy. The gloss is semi-opaque and shimmers with pink, silver, and I believe a bit of gold, micro glitter. I LOVE this color and have been adding similar shades to my collection of not only lip colors but blush, nail polish, and even clothes. In the words of the Black Eyed Peas...."I just can't get enough."
The Colorburst lipglosses are supposed to provide excellent color payoff and five times the shine in a weightless and moisturizing formula. I'm not sure how exactly you measure "five times" the shine but the formula is quite glossy and the color as vivid as advertised. These feel thicker than the MAC lip jellies but lighter than their lipglasses. They're really the perfect consistency if you're looking for shine without the stickiness.
The applicator curves to the lips and makes application easier. Whereas most sponge-tip applicators are cylindrical, this one is almost like a spatula but thick and velvety enough to prevent bending and maintain comfort. (Rimmel has a lipgloss with a plastic spatula applicator and it's quite aweful!)
As with the Revlon ColorBurst lipsticks, I quite like the chic black quilted packaging and this slim tube is very similar to the Chanel Glossimers. If you're on a budget and looking for an alternative, I really recommend these. The colors they have come out with so far (about 15) are all very wearable but most also very "on trend". If you want to try out the bold lips that have come back this past year but too conservative to wear the lipstick, try this gloss. One coat will give you a nice translucent color but the formula is buildable enough to allow for a bolder look.