Ah, the 1970s. The heydey of the bell bottoms. But they're back and I for one, hope they stay. So much more comfortable than skinny jeans, especially in this weather and lengthen my legs rather than make them look and feel like sausages.
Look at these stylish men and women. Yes, those are the Angels looking particularly angelic in their bell bottoms. As for the men? I'll let you decide...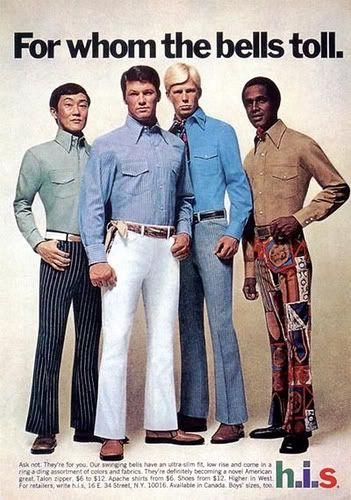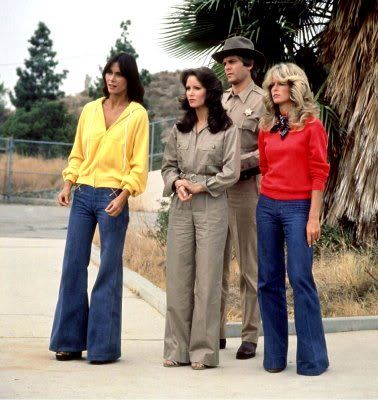 All the usual suspects have come out with their own version of the bell bottom jeans recently and here are a few of my picks:
From left to right:
1) Paige Premium Denim Bentley in Lahaina wash
2) Current/Elliot Lowbell in Blue Moon wash
3) Seven for All Mankind Ginger in Mercer wash
4) J Brand Lovestory in Loveless wash
5) Citizens of Humanity Hutton in Oxford wash
6) Goldsign Sissi in Creator wash
7) Siwy Penelope in Daybreaker wash
But if I could make a recommendation? Check out the Seven For All Mankind "Ginger" and the J Brand "Lovestory" styles.
The
Ginger
is more of a wide-leg flare, fitted at the hips but a wider leg from there. There's a number of washes from the hippy style Jamaica wash with raw hems to the dressier dark denim Mercer and LA Dark washes.
The
Lovestory
is fitted down the hips to thigh but flares out from there, more of a true bell. There are a variety of washes too but true to J Brand style, no labels and minimalist trimmings.
This cut is also more versatile than you may think. In a darker wash, it looks great with a fitted button up shirt or silk top. Top it off with a blazer and it's perfect for work. In a lighter wash, it looks great with a fitted tee, tank, tube top or really, anything! If you want to go full out retro, try a cropped top or tuck it in.
Hope you try this style and love it as much as I do!