Love at first sight! I purchased these peep-toed tweed pumps with spectator detailing last Friday. I have a couple hours to kill after work before going out with some girlfriends so I decided to stroll through the Eaton Center.
I found these at SEARS of all places! I never shop there! It always seems like such a run down bland store to me (they're due for a branding overhaul, no?) but I had to walk through it to get to the rest of the mall. I happened to glance down as I passed the shoe department and these caught my eye.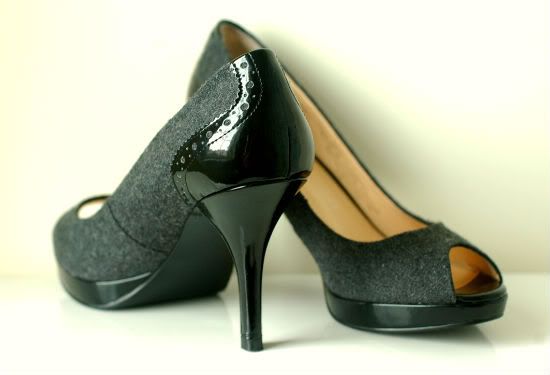 They're by a brand called Marc Fisher and most of their heels are approx. $90-130CDN. These babies are the "Maddison" and retailed $109.99 but I got them for $54.99 and no tax.
A quick calculation...$54.99 = S x 1.13 >> $54.99 / 1.13 = S >> S = $48.66!!
Conclusion? I got these babies for less than $50!!
Peep toe, slight platform, charcoal tweed, patent leather and under $50 befoe tax??.....sounds like shoe-heaven to me!
So. Enough about me. What did you buy this weekend?