I'm loving Sephora less and less each day. At least Canadian Sephora. The price difference on some products are absolutely ridiculous, there are many brands not available to us, and pretty much none of the special offers are available to us. The old excuse that import/export costs and regulations are all to blame? I don't buy it anymore. Not when other retailers are able to do better.
While I don't shop there much anymore (Shopper's Drug Mart, Winners, Holt Renfrew and many others fill the void aplenty), I do always stop in to see what's new. I do like that Sephora displays allow you to play without any hassle from the sales associates. And it's a one-stop (window)shop for new releases from my favourite brands.
/End Rant. Begin review...
When I stopped by Sephora in Upper Canada Mall today, the Nails Inc. Magnetic Nail Polish display was smack dab in front of the door. Curious, since I've seen this on a few blogs, I swiped my nail and hovered the magnet over it. The result in mere seconds was
AMAZING
!! It was SO. VERY. COOL.
There was only two colors available - Trafalgar Square (silver chrome) and House of Parliament (purple) - although I see that the Sephora website has Whitehall (teal) although it's not available yet. The Nails Inc. website features a fourth shade called Big Ben (gold). I ended up taking home Trafalgar Square although now I'm thinking about going back for House of Parliament, too.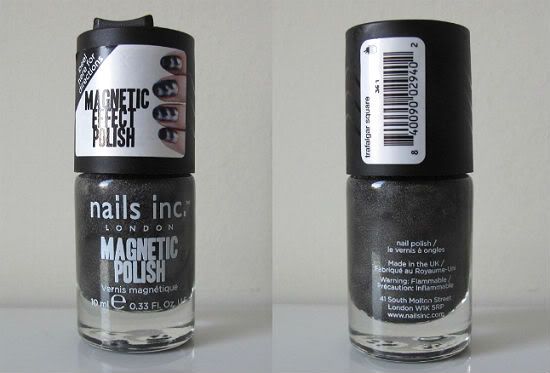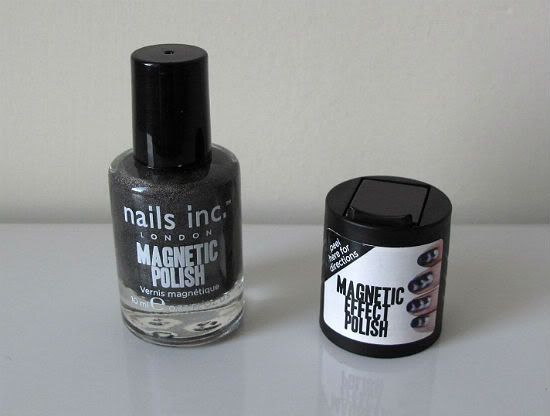 The bottle is 10ML and a little smaller than most (I see 12-15ml mostly). It looks larger but the outer cap comes off to reveal a smaller cap. Peel back the label for instructions. I recommend you ignore them. It seems to imply that you can apply the polish to all fingers, then use the magnet. However, I have found that if you wait until the polish is almost dry, the magnetic effect doesn't work.
I would recommend painting each nail and applying the magnet,
then
moving onto the next one. I would also recommend one thick coat or two light coats, no more. If doing two coats, apply magnet
after
the second coat. No point in applying magnet to the first coat only to have it covered up again.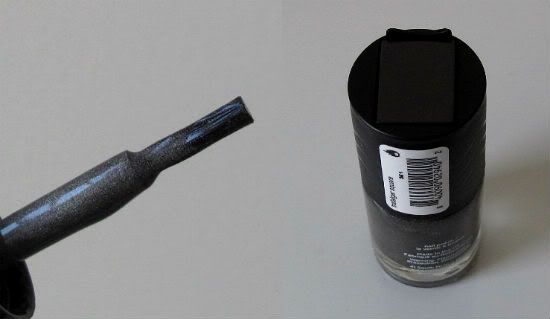 The brush is average but this photo does show you the fine metallic particles in the polish.
You can see on the right a rectangular magnet and a slight lip on one end. That comes in quite handy. It rests against your finger, allowing you to hover the magnet close to the nail without accidentally touching.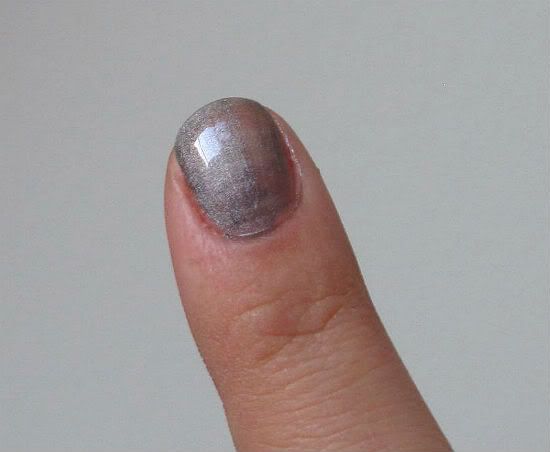 The polish applies sheer. It's not that the layer is thin but the particles are sparse enough that the first coat is quite sheer. However, the magnetic effect is quite noticeable even with a sheer layer. In fact, I think it looks better with just one layer.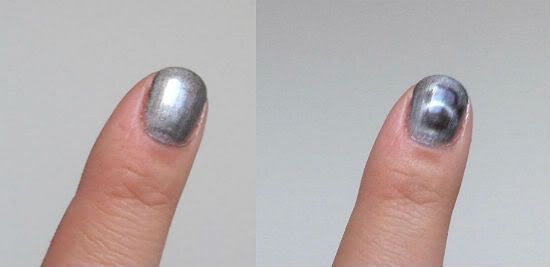 This is after a third coat. You can see it is now pretty much opaque. The right hand side shows you the magnet effect. Three coats was too much and it created two dramatic spots in the middle of my nail. Hmm...similarities to black holes in space?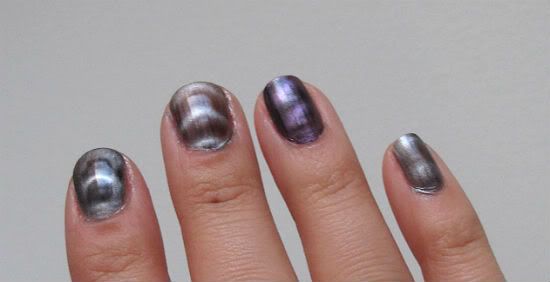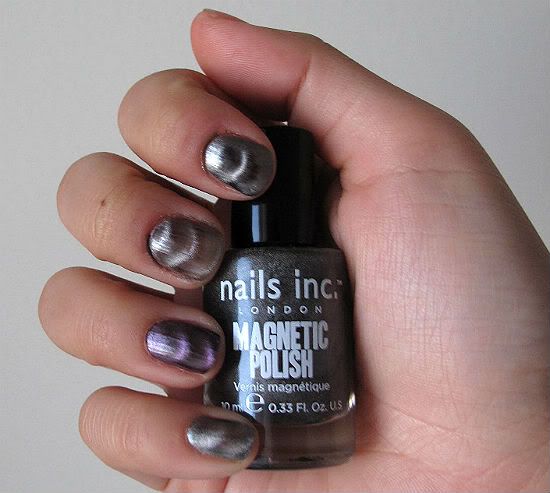 Index Finger: 3 coats
Middle Finger: 1 coat
Pinkie Finger: 2 coats
Fourth Finger: House of Parliament purple - 2 coats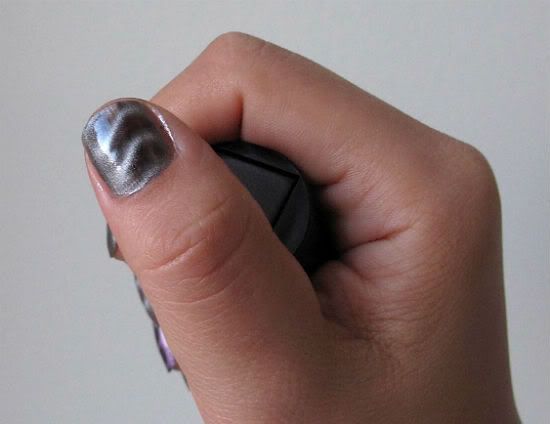 For the thumb, I tried holding the magnet to one side and it created this effect instead. I'll have to try a few other methods. I've seem vertical waves made by holding the rectangular magnet length wise perpendicular to the nail.
I can't wait for more colors to come out! I know magnetic polishes are just another fad in the exploding nail color craze but unlike crackle polishes (still on the fence with that one) I am wholeheartedly embracing it! Even my husband thought the magnetic effect was really cool and usually, he's tuned me out after the first sentence when it comes to makeup.
Nails Inc. Magnetic Nail Polish is available at Sephora for $18CDN/$16US. If you've seen them elsewhere (other than online), please let me know!