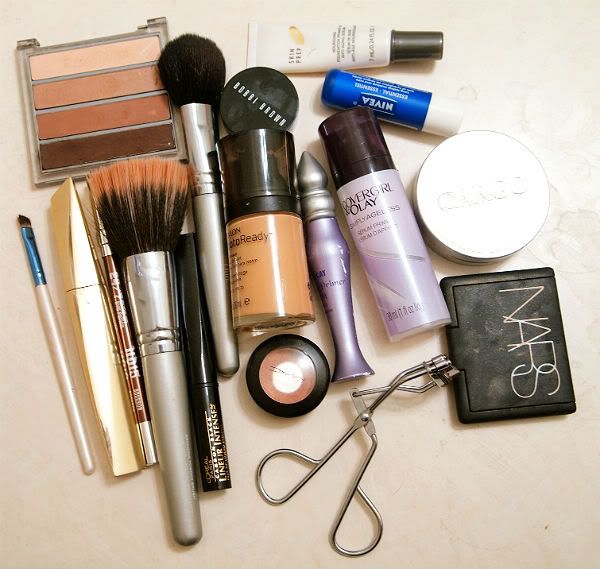 There must be some nosy parker's out there! If so, this post is a peak into my daily makeup bag, Monday to Friday.
My husband and I commute into downtown Toronto for work each day and the drive is over an hour. Fortunately, he drives so all I have to do is try to stay awake and start doing my makeup about 10-15 minutes before we arrive at work.
I may have a LOT of makeup but the only time my routine changes is on the weekends and on those days when I'm just too sleepy to do it in the car. Then I just use what's in my desk at work and there's plenty to choose from!
The main reason my routine doesn't change is simply for convenience sake. This makeup bag stays in the car so I don't have to remember bringing it with me or think about what to pack. Secondly, these items create a very work appropriate look and they create it quickly. And lastly, I'm trying my best to add to my "EMPTIES" list.
DAILY ROUTINE IN ORDER
(
This is what I wear daily and the order that I apply them in
)
1) Cargo Neutrals Palette
- only use dark brown for brow shading
2) Angled Liner Brush
- used with above
3) CoverGirl Olay Simply Ageless Primer4) Revlon PhotoReady Foundation
- applied with fingers
5) Nars Orgasm Blush6) Quo Blush Brush
- used with above
7) Cargo Medium Matte Bronzer
- (I've hit the pan!!)
8) Quo Duo Fibre Bronzer Brush
- used with above
9) MAC All That Glitters Eyeshadow
- applied with fingers (I've hit the pan!!)
10) Shu Uemura Eyelash Curler11) L'Oreal False Lash Mascara12) L'Oreal Lineur Intense Liquid Eyeliner13) Urban Decay 24/7 Eyeliner in BourbonOCCASIONALLY USED
(
These are the items in my makeup bag but only used occasionally.
)
Bobbi Brown Corrector in Bisque
- when my under-eyes are particularly dark and if I remember
Urban Decay Primer Potion
- if I'm not too lazy and I remember to use it
Nivea Lip Balm
- if my lips are particularly dry or I don't feel like using one of the glosses/lipsticks in my purse
CoverFX Nourishing Primer & Anti-aging Serum
- this sample size came from my Dec 2011 Topbox. I don't use it often as it makes my face too oily so this is just in case i have a really dry patch or forgot the Covergirl primer for some reason.
Do you have a daily makeup routine or do you change it up everyday? What do you use?