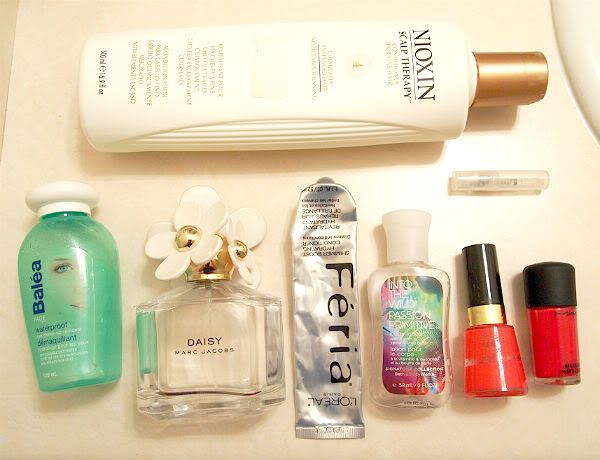 I felt such a sense of accomplishment after my first EMPTIES post in November that I immediately started looking forwards to the next month.
Then other things got in the way and now I find myself at the end of
January
doing my December round up. Please forgive me!
On a more positive note...I'm going to give myself a little pat on the shoulder for completing yet another handful of products. Granted, I was a little out of control with the beauty purchases in December but hey, at least I put a little (microscopic) dent in my collection, right?
DECEMBER EMPTIES LIST:
Daisy by Marc Jacobs EDT 100ml/3.4oz size
Balea Waterproof Eye Makeup Remover
Feria Conditioner (from hair-dye kit)
Nioxin 4 Conditioner for Fine/Thinning Chemically Treated Hair 500ml size
Bath and Body Works Body Lotion Preview Size
Sample spray vial of Chloe by Chloe EDP
Revlon Nail Polish in Coral Me Wild
MAC Nail Polish in Gee Whiz
TALLY:
Total Empties: 8
Full Sized Empties: 3
Sample Sized Empties: 3
Expired: 2
Others: 0

Nioxin 4 Conditioner for Fine/Thinning Chemically Treated Hair
- I first came across this line when I purchased the scalp treatment. It's a foaming liquid that you apply at the roots. I noticed a difference after usage so I decided to buy the conditioner and shampoo. Unfortunately, either the shampoo/conditioner isn't as concentrated as the serum or my hair has built up an immunity to it. It took a LONG time to get through all 500ml of this (this is the bulk size) but now I can finally move on!
Sample of Chloe by Chloe EDP
- I absolutely love this smell. It is so distinct and different. So feminine but with a slight kick. According to Sephora, "top notes of pink peony, freesia, and lychee embody subtle freshness. At the heart, midnotes of magnolia flower, lily of the valley, and rose rise to sublimated femininity. A base of velvety elegance comes to fruition through cedarwood, amber, and honey." Doesn't that sound amazing?! I'm definitely going to buy a larger size of this. I was delighted to see that Sephora offers a rollerball version as I've come to realize I'd never get through even a 30ml bottle of anything, with the perfume collection I've now amassed.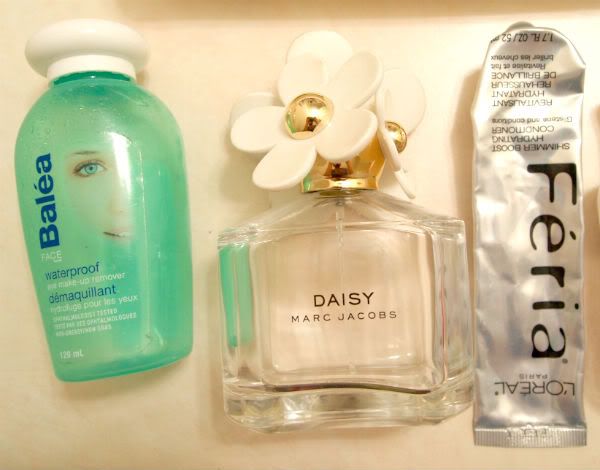 Daisy by Marc Jacobs
- My mother-in-law purchased this for my birthday over two years ago. Perfume is a risky gift. Fortunately, she totally got me. This is my daily perfume and I may have veered off course every once in a while but I never went longer than a week without a few sprays of Daisy. It's sweet but not cloying, fresh but not green (ew grass smells!), light but not fleeing. It doesn't last as long as I would like it to but honestly, I have yet to find a perfume that lasts all day without having an overly strong initial spray. This Christmas she gave me another bottle! I don't know HOW she knew but I had literally JUST finished it a few days earlier. It's kind of crazy how I actually managed to finish an entire
100ml
size bottle. HOLY MOLY!!
Balea Waterproof Eye Makeup Remover
- This is by Shopper's house brand and comes in a bottle almost identical to it's L'Oreal counterpart. I've tried the L'Oreal one and find that this one works just as well. However, the price is about the same (one or the other is always on sale and ends up around $7-8). So far with eye makeup remover, I've just go with whatever is on sale when I need another bottle.
Feria Conditioner (from hair-dye kit)
- I used to love this and it was one of the reasons I bought the Feria kit instead of other brands. The tube is also so generous, I could use it for quite a few washes. However, this time it didn't seem to be as moisturizing as it used it. It came out of the tube a little drier and pasty than I remember it.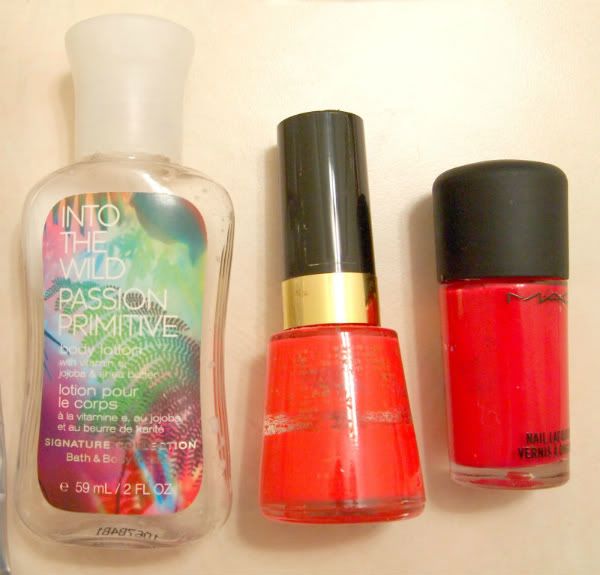 Revlon Nail Polish in Coral Me Wild
- I love this color. It's a bright pink coral and seriously so much fun for the summer! Love it on my fingers and toes. Looks great with silver or gold sandals and jewelry. Unfortunately, it dried up and polish thinner didn't help.
MAC Nail Polish in Gee Whiz
- Again, another one of my favourites. Unfortunately it too dried up. I've given up on polish thinner....it never goes back to exact how the polish was, brand new. Not to worry, I have another brand new bottle waiting to be opened!
Bath and Body Works Preview Size Body Lotion in Into The Wild Passion Primitive
- Everytime B&BW comes out with a new scent, they offer these 59ml preview bottles for just a $1! They're usually either at the front of the store as part of the new scent display or by the cash. I always pick one up as they're a wonderful size for
anywhere
and it's a great way to try a new scent without committing. Usually by the time I'm finished a bottle, I'm ready to try something new so this is a great deal all around.
So there you are! My round up for December 2011. January 2012's pile is quite pathetic but expect a post in the next week or so anyway. It's alright, a slow but steady start but I am confident I'll pick up speak as the months go by!