I received my May box a couple days before and opened it in the car before we got home. I couldn't wait because...I have to admit, I had already "peaked" other blogger's reveals.
I know Topbox tells their subscribers not to post reviews for a few days so it's a surprise for everyone but I'm just too impatient for that.
Plus, this way at least I'll know if I should get ready for a disappointment or look forward to some awesome products.
Last month Topbox introduced an "eco-friendly" unwrapped version of their tube packaging and let subscribers choose if they want to receive this option for future boxes. I did. I think it looks cuter than the wrapped version anyway.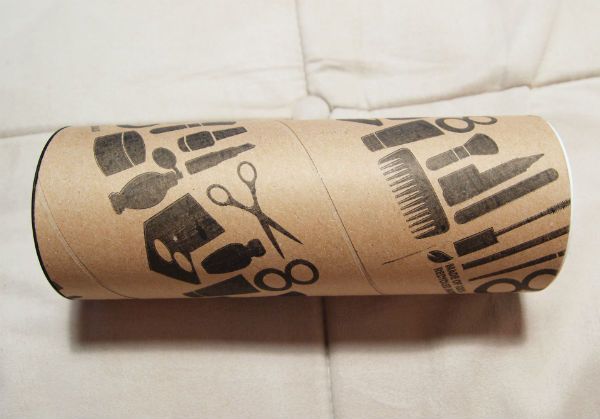 May's box came with the following items:
1) Full sized Deborah Lippmann nail polish in Whatever Lola Wants
2) 7ml CoverFX ClearPrep FX Matte Primer & Anti-Acne Treatment Gel
3) 2ml Orlane Anagenese 25+ First Time-Fighting Care Eye Countour
4) Expressions Bronzing Powder Brush
5) Voucher for a free nail file to be redeemed at Holt Renfrew
The full sized nail polish is $20, the full sized brush is $25. Based on a unit price calculation, the eye counter is worth $10, the primer/gel is worth $9.10.
$20+$25+$10+$9.10=
$64.10
!! And that's not even including the free nail file. I'm not sure what it looks like but either way, it must be worth at least $1 since that's how much the cheap cardboard ones from the dollar store cost.
$10 for $64.10 worth of products? I'd say this is one of the best Topbox to date!
FULL SIZE Deborah Lippmann Nail Polish in Whatever Lola Wants - Full size 15ml for $20
I know this brand is "it" right now but this is boring to me. It almost seems like they got what didn't sell as well to put in this box. Don't get me wrong. It is pretty. It's shimmery and reminds me of mermaids and seashells. But when I think Deborah Lippmann, I think something more interesting like bold chunky glitters.
Plus, it is also very similar to the nail polish received in last month's box. See below:
Both are sheer upon first application, but are sort of pinkish and shimmery/pearly. Yes, different but...simiar.
What is with Topbox sending similar items consecutively? I love that they listen to their subscribers but it seems they get a little too enthusiastic about pleasing a certain bunch. Lotion, nail polish, mascara...all have come twice. Maybe if they'll accept one last subscriber request? Listen to your readers but remember, variety is the spice of life!
Just because there's a request for more nail polish, don't mail out nail polish 3 months in a row (mark min duo, Misa, now Lippmann). I do love nail polish but it's great to try a variety of brands
and
product types.
7ml CoverFX ClearPrep FX Matte Foundation Primer & Anti-Acne Treatment Gel - Full size 30ml for $39
Ah, I love skincare samples because it's often so expensive and the full sizes are inconvenient to take on trips.
These are good for about 5-10 days, depending how much you use. A little does go a long way. Since I don't have any acne right now, I can't attest to how effective it is at that. It did keep my face relatively matte but I've used better as well. At over $40 after tax for a 30ml tube? I'll pass.
2ml Anagenese 25+ First Time-Fighting Care Eye Contour - Full size 15ml for $75
This I wouldn't buy again just because of the price but I'm really glad they included it because it's a nice chance to try something totally out of my price range. For someone who
is
willing to pay the price, this is also a great way to try before handing over the cash.
With only 2ml of product, I suspect I'll be done within a week and I also suspect I won't see much difference in that time. But I'll enjoy using it!
FULL SIZE Expressions Bronzing Powder Brush - Full size for $25
This is awesome! I'm so glad they included a bronzing powder brush because my current Quo duo-fibre bronzing brush is starting to go. This brush is soft but very dense. Reminds me of a kabuki brush. I'm not sure how it will work for bronzer as I'm used to something a little looser liked the Quo duo-fibre or the MAC 187. I haven't tried it for bronzing yet. However, even if I end up sticking with my duo-fibre, this will be great for buffing in powder. Also, I don't have anything similar to this in my brush collection so this is great timing.
So overall, what do I think of May's box?
I think May is my favourite. The value money-wise is quite amazing. Not only two full-sized products but two at $20 and $25?! I am
very
pleased in that regard.
As for the value product-wise? I'd say it's great and the best yet. I will use and
enjoy
using each one, save for the dab card. Definitely not in love with the Lippmann nail polish but they are right on target with what's "hot" right now.
Can't wait for June! So far, I've been disappointed and pleased with the boxes but the overall experience has been quite positive. At $10 a month? I still feel like I'm getting my money's worth.