Last month a few friends and I went to Origin Restaurant in the St. Lawrence market area for a girl's night after work. Origin is a tapas style restaurant; food is served via smaller shareable dishes. The food doesn't follow one cuisine - it's more "global" with influences from Italian, Asian, Mexican, Greek, etc.
Unfortunately, I didn't take any photos of the interior but it is really pretty. Here's the restaurant's
website gallery
. I loved the exposed brick and the lighting they used.
I did however, take photos of our food.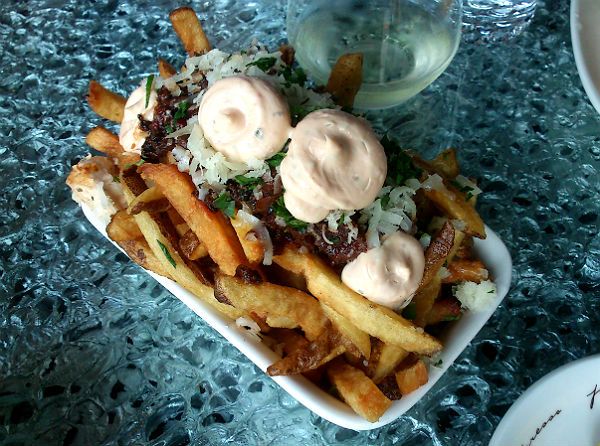 Spicy Spanish Fries + Chorizo + Manchego

This was pretty much incredible. I didn't find the fries spicy but they were salted just right and the chorizo added a nice savory taste - think bacon bits but a 100 times better. I'll stop right here because I think the photo says it all. Mmm!!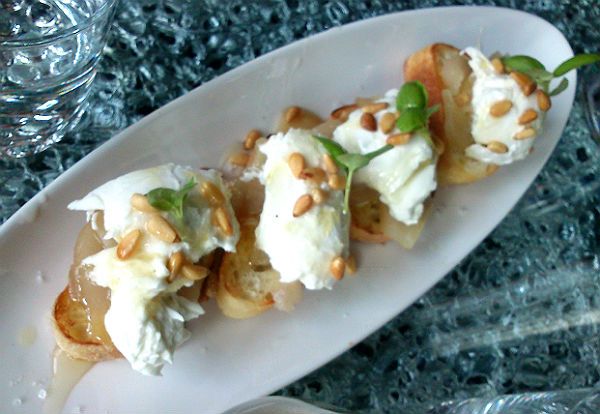 Bufala mozzarella + pear + rosemary oil + pinenuts + honey

This was so SO delicious! I've never had Bufala mozzarella but it was so fresh and a completely different taste and texture than pizza/snacking mozzarella you get in blocks at the grocery store. The sweet tastes of pear and honey mixed with the fragrant pine nuts and rosemary oil was just DIVINE. I would love to replicate this at home.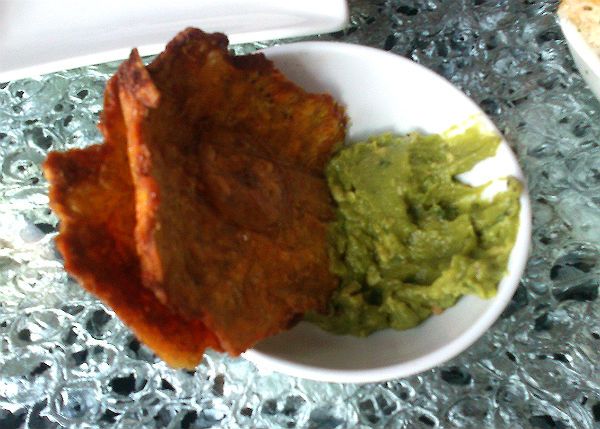 Tostones + Guacamole

The Tostones were plantains mashed into large chips. We broke these apart and dipped them in the guac like nacho ships. I love guacamole but didn't find this anything special. The plantains were lightly salted and not that different from nacho chips.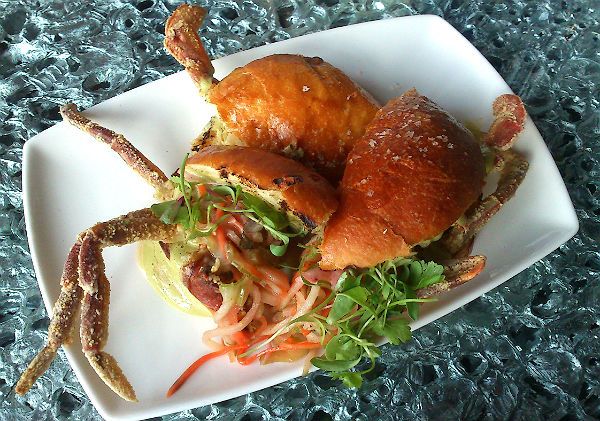 Pulled Pork + Softshell Crab + Coleslaw

This was a daily special and when I hear pulled pork and softshell crab, I was like "DONE!" So glad we got this because it was absolutely i.n.c.r.e.d.i.b.l.e!! I can't even begin to describe how good this was (and thus, I am not a "food blogger"). The crunch and savory crab, the sweet and tangy pulled pork, the crisp coleslaw. Everything about it was just perfect.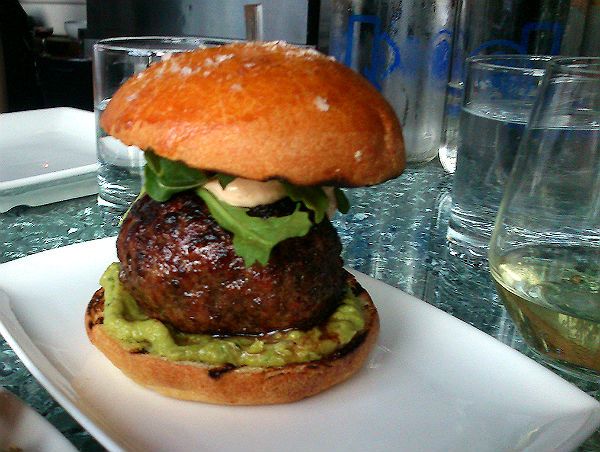 Origin beef burger + avocado + smoked mayo + arugula

This was good but I have to admit, bit of a disappointment. Probably because I had such high expectations going in. The Origin burger was recently listed in Toronto Life magazine's 25 Best Burgers as #13 (
article here
) and being amongst the ranks of cult favourite Burger Priest and crazy-expensive $35 Bymark, I thought it was be amazing. But really, it was just another good but not great burger that was also a little too tall and skinny for me, too simple, and not juicy enough.
Not pictured here was dessert: "Dulce de leche + lemon sponge + raspberry ice + caramel + sea salt", our bottle of Riesling (forgot the name), and additional cocktails/coffee. Rest assured they were all good!
Our final bill for 4 people came to approx. $75 each. Needless to say, it's not cheap. And judging by the other patrons, this is the type of place the younger Bay St. and King St. crowds come to mingle. Not my everyday crowd.
It was a great experience though. I didn't love all the dishes but there were definitely some highlights and the restaurant was beautiful. What I didn't like though was that my plain brewed coffee cost $6 and they charged us for WATER! Yes, WATER! And I'm not talking Evian or sparkling water. This was just water they brought over in glass jugs. But I guess it would have been too guache for the server to mention or something.
Anyway, if you're looking for a place to have a chic girl's night out, I do recommend Origin but for me, this isn't somewhere I would come out of my way to eat at. There's plenty of nice restaurants both downtown and uptown with better food at a better price. Then again, this is
not
coming from a hotshot young lawyer...