It's been quite a while since I've purchased a L'Oreal lipstick....even longer since I've purchased anything from the Color Riche line.

I do remember my mom used to love this line because it was quite moisturizing and of course, I'd "borrow" a tube to try out.
During the last L'Oreal warehouse sale, the "Intense" label on this tube of Color Riche called out to me. The color looked to be a coral-pink with shimmer. If it looked as good as it did in the tube, it'd be a great color for the summertime.
That "Intense" sticker is great advertising idea. If I saw similar words like "Bright" or "Pop of Color" or "Bold" I'd totally cave and buy a few tubes, too!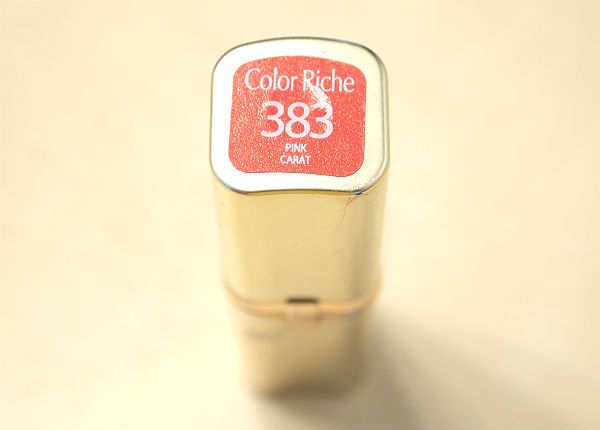 I really like how the label at the bottom is a similar color and even finish (shimmery) as the actual lipstick. Of course, it'd be even better if the top of the lid was clear (like the Revlon lipsticks!) so you can see the actual lipstick but this is better than nothing and also quite cute.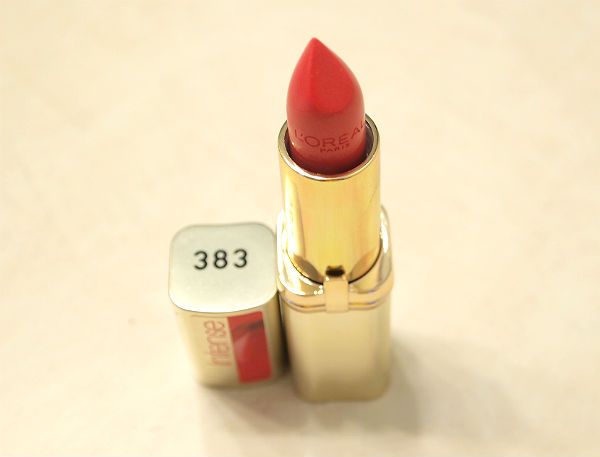 This particular lipstick is as moisturizing as I remember the Color Riche line being. It's more hydrating and feels lighter on the lips than Revlon's Super Lustrous but not as much as Revlon's lip butters.
The color itself is a coral pink with gold shimmer. There is minute grittiness to the texture due to the shimmer but I think you would only notice this if you are really sensitive to such things. I am NC35 and on my skin it's a very easy color to wear, although not particularly interesting.
I have no problems with the texture or staying power of the lipstick (lasts approx. 2-3 hours, which to me is a long time for a moisturizing lip product) but I'm sorely disappointed by the "Intense" claim. The swatch you see above is actually from swiping the lipstick back and forth with a heavy hand 3-4 times. A single swipe would give you a sheer application, not unlike the Color Riche
Lip Balms
or some of the lighter shades from the Revlon Lip Butter line.
I was expecting something more along the type of bright summer lipcolors the likes of NARS, MAC, and Urban Decay excel at.

So all in all this lipstick is just....okay. It's nothing special and I think this is going back to mom, who likes this line and thinks hot pink lips are a little cuckoo.

L'Oreal Color Riche Lipstick is available at drugstores and discount department stores for $10-12CDN although it goes on sale regularly for $7-8CDN.