June' s box came with the following items:
1) Full sized Bread & Butter Daily Face Cleanser
2) 2x 4.7ml samples of All Soft Argan-6 Multi-care Oil for Dry/Brittle Hair
3) 3.5ml tube of Stila Forever Your Curl Curl Memory Mascara
4) Sample tube of Pari Beauty Precious Glow Eyeshadow Primer / Intensifier
5) 3x 1.5ml packets of Garnier Miracle Skin Perfector BB Cream in Light
6) 56ml Simple Eye Makeup Remover
A little card was added to the box indicating that in addition to the 4 deluxe samples, we'd also be getting some drugstore samples. The drugstore samples are the Simple makeup remover and Garnier BB cream - there is no further information regarding them on the product card that comes with each month's package.
There is no retail price listed for the cleanser but to give you an idea, it comes in a kit of 3 products for $35 and as an addition to the kit for $7. The Garnier packets are the type you can remove from magazine pages so I wouldn't really put a price on that. The makeup remover retails $7.97 online at Wal-Mart for 125ml.
Based on a unit price calculation, the hair oil is worth $4.04, the mascara is worth $14.93, the makeup remover $3.57.
I won't do an addition this month as there's not enough information on half the products. However, very approximate unit values put it at around $35 worth.
I'd say you get your money's worth but obviously not as much as last month's box.
**On a sidenote, I've checked out other blogger's June box and there are some similarities but some differences. One thing I noticed in particular was that most of the "different" products other bloggers received were things I received in previous months. I'm not sure how I feel about that - it seems it's less customization and trying out "new" products and instead just....fill the boxes with what we have in our storage and a particular subscriber hasn't received yet. What do you think?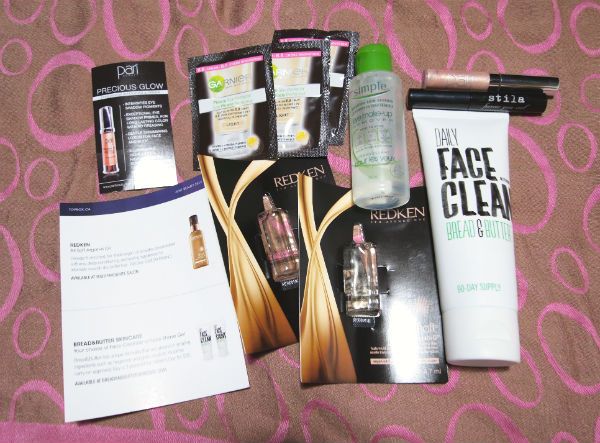 FULL SIZE Bread & Butter Daily Face Cleanser - Full size 90ml in a kit of 3 products for $35 or as an add-on for $7
This was originally marketed as an item for the man in our life. The option was shave gel or cleanser. Since I'm greedy, I decided to get this for myself. This is a very light cleanser with what appears to be rice particles about the size of fine sand grains.
I've never heard of this brand before but a quick search shows that it's Toronto based and has been in a number of pubications like Nylon, Toronto Life, Fashion, Globe & Mail, etc. It's a unique business model. There are 6 products ranging from cleanser to moisturizer to lip balm. You can select a kit of 3 products for $35 or 5 products for $49. You then select the product combination (they give you recommendations depending on your needs) and they send you the items.
The products are marketed as non animal tested, bare bones, back to basics skincare. This cleanser has biodegradable exfolliants (I'm guessing the rice) and is free of fragrance, sodium laureth, parabens, and colors.
I have to admit, I didn't find anything interesting with the product itself. It still had a light rice-y scent but I believe that's natural but it just wasn't "fun". I like there to be some fragrance and/or color in my product although it's probably not good to admit such a thing these days.
I have this in my shower right now and will use it but I wouldn't purchase another one. I can see why people would like this though - natural or near-natural products are increasingly popular these days.
3.5ml Stila Forever Your Curl Curl Memory Mascara - Full size 6.8ml for $29
How is this high-end? This is about as good as the dollar mascaras from ELF and NYC. Which is to say....it's nothing but black paint on the lashes. It doesn't hold a curl, it doesn't volumize, it doesn't lengthen. Back to Maybelline and L'Oreal for me!
Pari Beauty Eyeshadow Primer / Intensifier in Precious Glow - Full size 10ml for $15
There is no size listed for this product but it's the exact same size as the Stila tube which is 3.5ml. I imagine there's a little more in a primer tube than mascara so let's say approx. 4ml in this tube.
This is an interesting product because it's marketed as both an eyeshadow primer and a highlighter. I see the two as completely different things - primer is meant for layering, highlighter goes on top. But I tried it out and it is very sheer so I can understand why it works as a "duo" product.
I didn't like it under eyeshadow but that's not product-specific. I like my primer clear so there's no color/shimmer affecting my eyeshadow. I do like how thing it is. It goes on liquid (slightly oily) but quickly dries and is non-stickly/oily on the lids.
I won't buy this again but I do appreciate getting this tube because it'll be great for traveling!
2x 4.7ml Redken All Soft Argan-6 Multi-care Oil for Dry/Brittle Hair - Full size $34.99 for 90ml
WOOHOO! This is one of my favourite lines. I
love
the smell of All Soft. I haven't used it for years as there's just been too many other products to try but I do love everything about All Soft so really glad to have received this. There's about 2-3 applications in each tube so I wish it was a resealable bottle (perhaps a small 10ml bottle with a twist or snap-top) that I could travel with. But regardless, it's a great product that I probably won't buy at the price so I'm glad to have some samples to play with.
56ml Simple Eye Makeup Remover - Full size 125ml for $7.97
The simple line is supposed to be gentle but this was a little too gentle - it took off my eyeshadow/eyeliner but barely removed my mascara. Although it looked oil-free in the bottle (no oil/water separation) and I wasn't expecting it to work well. I would say this is a great size for travelling but on trips I tend to use waterproof makeup. I think I'll keep this in my makeup drawer at work *yes, I have one!) as backup.
3 x 1.5ml Garnier Miracle Skin Perfector Daily All-in-one BB Cream in Light - Full size $19.99 for 75ml
I've tried this before and neither Light nor Medium really works for me - it's too pink. But light? I'm NC35-37 and Medium barely works for me. This doesn't seem customized at all. I haven't done swaps in a long time but am starting to build up a collection of samples that won't work for me so perhaps I'll get into that again.
So overall, what do I think of June's box?
This wasn't a very "deluxe" month. As in some previous months, the majority of products here are the type you can get for free very easily from a cosmetics counter. When I think deluxe, I think of products that are essentially travel sized. Big enough to use for a week or two but not enough to be a permanent roster in your makeup drawer - thus the need to purchase the full-sized version.
However, I actually really enjoy this month's box. Every single product was something I am actually interested in and will use.
Can't wait to see what next month's box brings!