I love liquid because it's bolder and sharper than pencil liner but doesn't require a separate brush to apply like creme liner. I hate brush tips as they're too flexible and take longer to apply in my opinion.
I've used Maybelline's Line Works Waterproof Eyeliner with great results but I wanted an applicator tip that was slightly more flexible. The Maybelline is a felt-tip applicator but quite stiff. I have also tried L'Oreal's Waterproof Lineur Intense and the longer, slighty bendier applicator along with the budge-proof jet black pigment won my heart over. It is a great liquid eyeliner and if you use Lancome's Art Liner, this is a a great dupe. (see Beautiful Me's comparison of Artliner vs. Lineur Intense)
Heart being fickle, I decided to try MAC's Penultimate Liquid Eyeliner in Rapidblack. What an insanely precise pen! Unfortunately...it smudged. And by smudged, I mean within an hour, I had black under my eyes and unlike eyeshadow which ends up smokey, smudgey liquid eyeliner looks like Monet stippled your undereyes with a black paint brush.
Fed up but not wanting to return to L'Oreal with my head bowed in shame....I decided to go downmarket instead of up this time. I picked up Essence's Sun Club 100% Splash-Proof Eyeliner Pen in 01 Ultra Black (mouthful much?) for all of $3.49.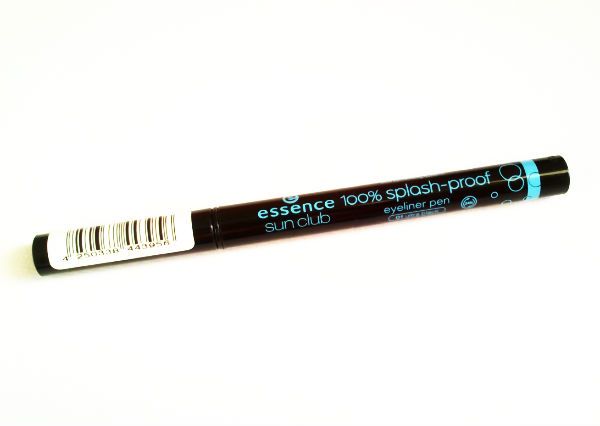 Compared to Stila's Sparkle Waterproof Liquid Eyeliner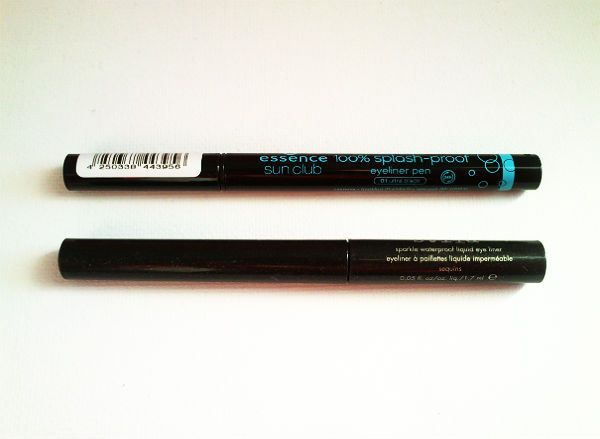 I like the packaging - it's nothing fancy so I don't feel guilty throwing it into a junky makeup case. It's slim and the snap on cap holds its place with no wiggle. I like the applicator - It's thin enough to be precise but thick enough for a speedy application. It's long enough to stay out of the lashes if you dot between them like I do, but the conical shape means the base is sturdy enough that the brush does not bend too much during application.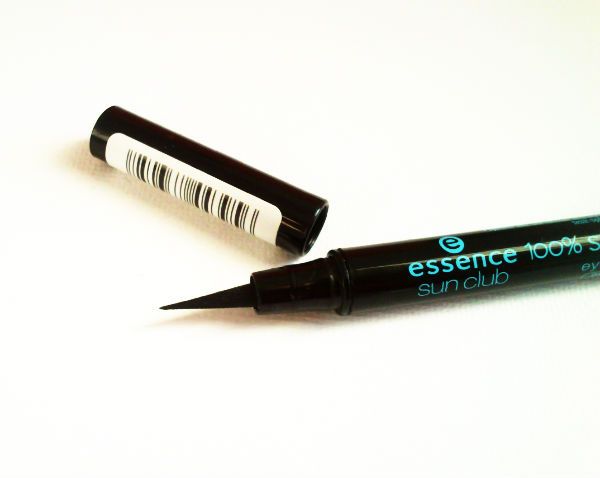 Ultra black is also a true black - no green or red or bluish tinge. It has an eggshell finish (painting walls also on my mind, clearly) meaning neither matte nor glossy. A perfect finish as I hate glossy eyeliner but really matte eyeliner looks out of place when paired with shimmery shadow.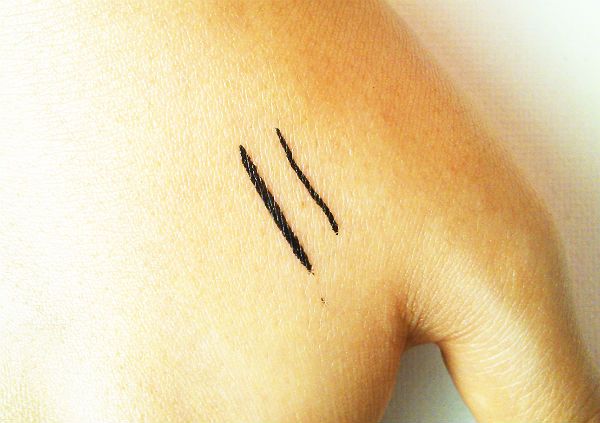 As for staying power? It's pretty good but not great. After 12-14 hours, it is still about 80% there if I use it to line just above the upper lash line. However, I usually line only under my upper lash line and this does smudge a couple hours in.
I would say the staying power is about the same as the MAC Penultimate which is not waterproof. However, at $3.49US/$3.49CDN vs $18.50/$22.50CDN, this is an absolute steal.
Conclusion on this cheap thrill? I would still fork out a few dollars more for the truly smudge-proof Maybelline or L'Oreal eyeliner to line under my lashes but this is a great felt tip liquid eyeliner for lining above the lash line. And seriously, at that price you really can afford to have a couple on hand.
On a side note, I do not generally purchase higher end liquid eyeliner or mascara as I go through them really REALLY fast and it's just not worth it for me.
Essence Sun Club 100% Splash-Proof Eyeliner Pen is available in Canada at Shoppers Drug Mart and in the US at Ulta for $3.49US/CDN.