Physcians Formula is a brand I've never tried. Surprising as half my cosmetics collection consists of drugstore brands.
I finally decided to try it out by taking advantage of one of their very generous rebate offers, a $9 mail-in-rebate off of the Happy Booster. Already on sale from $15.99 to $11.99 with $9 was a small price to pay to try out this cute product. Plus, it came with great reviews on various beauty blogs and Makeupalley.com
Plus, I'm just a sucker for adorable packaging!
The Happy Booster™ Glow & Mood Boosting Blush contains multi-reflective pearls providing soft iridescence and radiance to highlight and contour the cheeks. It also contains their "Happy Boost Blend" featuring Happ Skin and Euphoryl, a natural plant extract that is purported to promote a feeling of happiness by mimicking the effects of Endorphins and protecting the skin from environmental stress. The blush is violet scented and gives a feeling of joy upon each application.*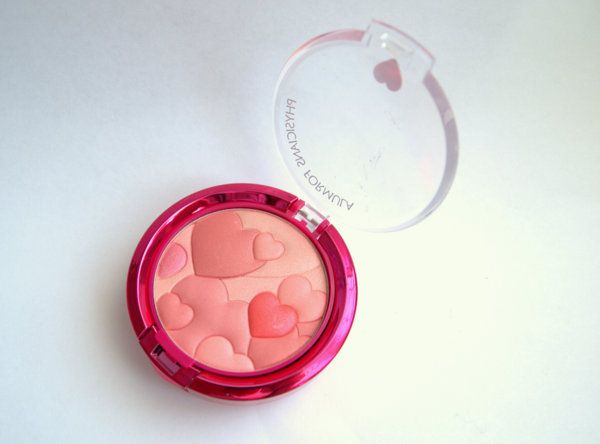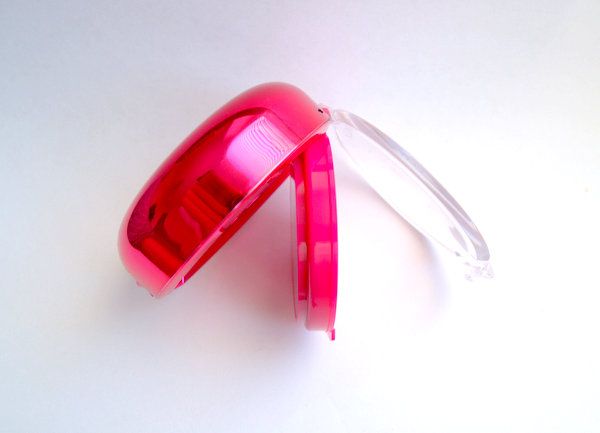 The square packaging is quite of deceiving. I was expecting a MAC sized blush but it's actually smaller and thicker (with the added brush holder side) and fits perfectly into the palm of my hand.
It's just so cute! If nothing else, the packaging alone puts a smile on my face!
The brush is just as adorable as the rest of the packaging, coming in a duo pink/red. It is wide and soft enough to use in a pinch, (unlike the ones in the Covergirl Cheekers compacts) although I still find it a tad scratchy. You're better off using an actual blush brush instead of this flat style.
Since I've never tried this product, I chose the universally flattering Warm, which contains various shades of pinkish brown. This blush is also available in Rose, Pink, and Natural.
The color applies more pink than brown on my medium tan (MAC NC35 / Revlon Golden Beige) skintone and has medium shimmer. The color payoff is average and it is sheer. I imagine as the blush flattens out you'll pick up more product. However, I would say it is the same as most drugstore brands while the 3d affect is still in place and it's certainly nothing to write home about.
I apply with a round blush brush, swirling it on the blush a few times to blend the various shades together, then lighting tapping on the lip before application. Since the hearts are various colors, a heavy hand without swirling can cause unevenness when applied to the cheeks.
I've used this blush a few times now and I like it but I don't love it. There's nothing really negative to say about it because it's a flattering blush with just enough shimmer. And because it's kind of sheer, it is dummy proof and easily layered.
But on that note, I wouldn't buy it again even on sale, unless there was another amazing $9 rebate offer. There are other drugstore blushes that work better. Rimmel with their excellent color payoff, lasting power, and compact packaging at a fraction of the Happy Booster's retail price comes to mind. At $15.99 retail, that to me is just too much to pay for a drugstore blush. And even at the sale price of $10-12? I'd rather pay a little more for a single buttery soft, extremely pigmented blush from Nars or two well pigmented, easy to use Rimmel blushes.
I guess at the end of the day, I was expecting a product that WOW'd me as much as the packaging did and it just fell a little short.
*Taken from www.physiciansformula.com product description