A little more progress has been made on the kitchen with a touch of paint and a dash of photoshop.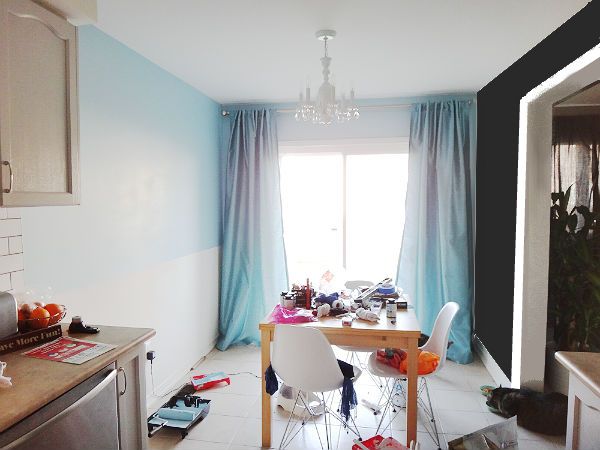 I painted most of the left and back walls in Martha Stewart's Aegean Blue. Let's not kid ourselves...it's baby blue. The kind you use in nurseries. But it's what I had on hand on a Sunday afternoon after all the stores had closed. The Martha Stewart sample paint pots went on sale for $1 (usually $5-6, I believe) at Home Depot last year and I went crazy, buying multiples of each color. I've already used 5 in the powder room (Araucana Teal) and just knew I could find a use for the others! I still have a few colors left which you might see in future projects...
I decided I can live with a baby blue wall once I added a little more elbow grease into the mix. I didn't want this color to overpower the small nook, so I left the bottom 40 inches white (same height as the kitchen countertop) in preparation for moulding. This will continue from the end of the kitchen counter to the corner of the back and right walls.
On the left side I did a little photoshopping. The black represents the magnetic chalkboard wall. The space was starting to look a little too dramatic and elegant for its small size so this "fun" wall will add a little contrast and lighten the mood. Plus, it'll be nice to have a wall sized notepad to practice my chalkboard skills, write a few pick-me-ups, and plan out our week.
FYI, the curtains are Target, the double curtain rods and blue paint are Martha Stewart. The kitchen table is Ikea. The chairs are Kitchen Stuff Plus. The chandelier is Rona. The magnetic paint and chalkboard paint (to be purchased) are by Rustoleum.