It's no fun because down all the time. Especially with Spring just around the corner! I wanted to follow up yesterday's Negative Nancy post about overpriced cosmetics, with a writeup on the products I think
are
worth their price.
You'll notice the products I chose are no where near the prices of the items mentioned yesterday. Once you're over a certain price point, I feel like you're just paying for the hype. Until I see it in a science journal, I'm not going to believe it's worth $500 for a eye cream because of "secret space-technology"!
Disclaimer: This is just the experience of my complicated combination drama-queen skin so don't take it as the end all, be all.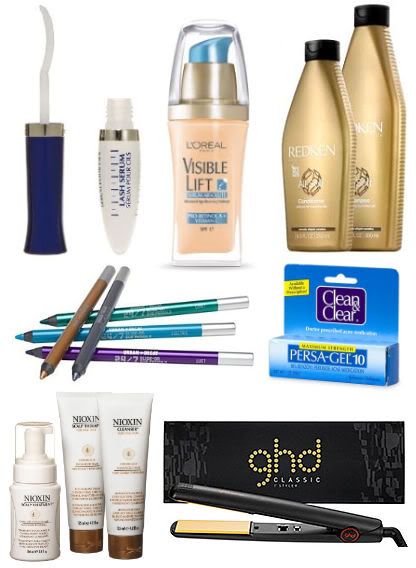 ♥ Nioxin 4 System for Fine/Thinning Chemically Treated Hair
I inherited very fine and thin hair from my father. Coupled with years of dying black hair bright red, blond, etc., my hair is nothing to smile about. I have tried many volume and conditioning treatments and the only thing they do is gunk up my hair. To be honest, I'm not 100% sold on the shampoo and conditioner in the kit, yet but the Scalp Treatment works. It's a foam you pump near your roots and brush in (I like to massage it into my scalp instead). After a couple weeks, it seemed like my hair was falling out less and thus fuller. There is a number for every type of hair, from Natural but Fine/Thinning to Chemically Enhanced and Thick/Coarse.
♥ L'Oreal Lash Boosting Serum
If you want to grow your lashes, this absolutely works! Just dab it along the lash line nightly. For me, it took about two weeks to notice a difference. For now, it doesn't seem to make my lashes thicker but it has definitely grown in length. There's also a mascara from the same line which I have not tried yet. Ardell makes a lash serum, too at about half the price. However, I found their formula very irritating when it accidently gets into the eye.
♥ L'Oreal Visible Lift Serum Absolute Foundation
I was on the lookout for a new foundation a few months ago and ready to splurge on the high end brands like Armani and Dior. My problem is more with the colors than the formulas. I usually stay away from drugstore brands as they're hard to try out and often times too pink but I kept seeing this product hyped by people with similar skin color. It was indeed a perfect color match but even better is the amazing staying power. I don't know if the lift serum also works as a primer but this baby stays on
all
day and provides excellent coverage.
♥ Urban Decay 24-7 Glide On Eye Pencils
These are not really a secret. Urban Decay makes amazing eyeliner colors but where they stand out is in the ability to glide on like a gel but stay on like a regular pencil, if not
better
. I love Bourbon, a shimmery dark brown and Oil Slick, which is black with silver glitter. They're $18 a pop but there's currently a 15 year anniversary set of 15 pencils and a sharpener for $92. I doubt you'll need to purchase another eyeliner for quite a while!
♥ Persagel 10
This thing is INSANE! I've only seen 5% in Canada but in the US you can get 10% at any drugstore. The extra 5% makes a big difference. It's a small tube but a little goes a long way. This thing literally burns the acne off your face. Sounds horrific but it works. Very drying but did I mention it
works
?!
♥ Redken All Soft Shampoo & Conditioner
I love the smell of Redken All Soft. It's like a creamy coconut. Mmm. Not only that, it really does make your hair very soft. There is a few other items that are part of the All Soft line including a deep conditioner. I find the regular conditioner already very moisturizing but in the dead of winter, the former is a godsend. As with the rest of the Redken line(I've pretty much tried all of them...even the Fresh Curls line I got on sale!) this does not leave my hair feeling heavy.
♥ GHD Classic 1" Styler
My Asian hair is relatively straight but unlike some lucky girls, it's not perfectly straight. I would call it lazy hair. It doesn't want to hold a curl but it doesn't want to just lie flat. The GHD styler is solidly built, heats up in seconds, and can straighten my hair with a single pull down it's length unlike some cheaper versions. It's also very gentle despite the temperature of the ceramic plates and my hair has never fried. There is also a 30min auto-off feature and international voltage for you jetsetters. The CHI straightener also has great reviews but there seems to be complaints that it likes to break right after the warranty period. Might be one to look into if budget is a concern, though.
You may also want to check out this post I did on my
winter essentials
. All are items I think are worth repurchasing, too.