I subscribe to Paula Begoun's e-newsletter. You may know her as the Cosmetic Cop and author of the books Don't Go To The Cosmetics Counter Without Me and The Original Beauty Bible. She is also the creator of the
Paula's Choice
skincare line and
Beautypedia
, a website that reviews and rates beauty products with a focus on their ingredients and effectiveness.
In today's issue, there was an interesting article on the top 10 most overpriced beauty products. I thought it was an interesting article to share: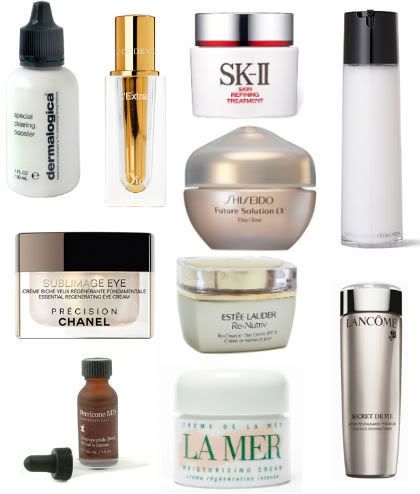 Article below from Paula Begoun's Feb/15/2011 enewsletter:
Chanel Sublimage Eye Essential Regenerating Eye Cream ($200 for 0.5 fl. oz.) Eye creams are almost always a waste of money. There's simply no research proving that the skin around your eyes needs anything different from the rest of the skin on your face. And, sure enough, this completely ordinary eye cream is shockingly similar to Chanel's equally ordinary (and overpriced) Sublimage Regenerating Face Cream. Say it with us: "You don't need a separate eye cream," and you certainly don't need an ordinary formula like this, not at any price!


SK-II Skin Refining Treatment ($140 for 1.7 fl. oz.) Even if this BHA exfoliant were formulated to work properly, which it doesn't because the pH is too high, the price tag is over the top. For what this costs, you could stock up with more than a year's supply of Paula's Choice brilliantly-formulated exfoliants, and you'd see real results. You can also use Beautypedia to find other exfoliant option that won't break the bank!


Estee Lauder Re-Nutriv Re-Creation Day Creme SPF 15 & Re-Creation Night Cream ($900 for 3.4 fl. oz.) Obviously, the price of this moisturizer set is preposterous. But it does drive home one important point about expensive sunscreens: Even products that do contain the right active ingredients can be a problem, because you're not likely to apply them liberally if they cost a small fortune (as this one does!). Generous application is essential if you're going to get the amount of sun protection stated on the label - and how liberally do you think you'll apply sunscreen with a price tag like this one?


Shiseido Future Solution LX Protective Day Cream SPF 15 ($240 for 1.7 fl. oz.)
Beyond its ludicrous price (which surely inhibits liberal application) and the jar packaging (which allows the plant-based antioxidants to break down and become ineffective), the biggest problem with this daytime moisturizer is its lack of sufficient UVA protection. Without active ingredients that cover the entire UVA spectrum your skin is at risk. One of the following ingredients must be included, and it must be listed as an active ingredient: titanium dioxide, zinc oxide, avobenzone, Mexoryl SX (ecamsule), or Tinosorb.
Giorgio Armani Mineral Cleansing Milk ($65 for 5 fl. oz.)
The "mineral" component of this overpriced utterly mundane cleanser is nothing more than mineral oil. In fact, this is probably the most expensive bottle of water and mineral oil you'll ever find. On the other hand, this is a great example of how the word "mineral" has become a buzzword in the cosmetics industry, even though it's not indicative of anything when it comes to skin care!


Dior L'Or de Vie La Extrait ($370 for 0.5 fl. oz.)
At this price, you'd think this would be the very best product for your skin. Well, think again: This serum contains nothing more exciting than vitamin E and grape extract. This formula is shockingly ordinary, especially when you consider that an ounce would cost you more than $700 - more than half the price of an ounce of gold! Product lines from Clinique, Olay, Paula's Choice, and Dr. Denese far outpace what's in this product, and for a fraction of the price.


Dermalogica Special Clearing Booster ($43 for 1 fl. oz.)
Well-formulated acne treatments are hard to find, and a high price doesn't ensure results. This benzoyl peroxide product contains lemon and ivy extracts, which may sound harmless, but they aren't! They cause irritation that actually can trigger more oil production, and potentially make red marks redder. Paula's Choice CLEAR Extra Strength Acne Fighting Treatment contains the same active ingredient, but minus the sticker shock and the needless irritants. We also list other options to consider on Beautypedia.


Lancome Secret De Vie Precious Reviving Toner ($60 for 5 fl. oz.)
The only secret about this toner is how poor the formula is for your skin. It contains mostly water, skin-damaging alcohol, and shimmery mineral pigments! This combination of ingredients does not merit this price, especially when you consider that the alcohol can hurt your skin's healing process and hinder healthy collagen production.


La Mer Creme De La Mer ($130 for 1 fl. oz.)
Flip through any fashion magazine and you'll probably find a celebrity who swears by this overrated product. We've done the research, debunked the claims, and can assure you that the only thing extraordinary about this moisturizer is the price and the hype! A little known fact about Creme de La Mer is that it contains irritants such as lime and eucalyptus oils that hurt your skin's healing process and interrupt healthy collagen production - no thanks!


Perricone MD Cosmeceuticals Neuropeptide Deep Wrinkle Serum ($180 for 1 fl. oz.)
Here's a product with a clinical-sounding name, bold anti-wrinkle claims, and a doctor fronting the brand. A closer look, however, reveals that there's no research to back up the overhyped "miracle" ingredients this product supposedly contains. In fact, the ingredient list doesn't even follow FDA regulations - it lists industry trade names for ingredient blends instead of the actual ingredients individually. Particularly upsetting is that lots of people will believe the claims because of this line's doctor pedigree.
How many women have you heard raving about La Mer? I wonder sometimes if we believe products are affective for us just because we've heard positive reviews from other consumers, especially those we may admire.
I have to admit, I'm more likely to believe a product works if the person endorsing it is someone who looks the way I'd like to, post-cream, spray, magicdust or whatever. But I try to check out reviews before I buy. While Paula's Beautypedia is a good resource, you can tell there is a bit of brand-bias involved. I like to read reviews from consumers at
Makeupalley
instead. This is an interactive community where you can read and submit reviews, view color swatches and looks, and discuss healthy & beauty topics. Experiences vary greatly depending on personal preference and body chemistry but it usually gives you an idea if you should give an item a try or definitely stay away.
Any items you think are not worth an arm and a leg?