I've come to realize I really need to start planning meals before buying ingredients.
But I've come a long way, actually. Up until six months ago, we were still eating out most nights and half the groceries would be bad by the time we got to them. I now use a grocery list but when I open the fridge the next day, I don't know how to put everything together.
If I follow a recipe, I always end up missing one or two ingredients and who knows when I'll have time to pick them up. If I don't follow recipes....well, I'm not too creative.
Thankfully, I found a perfect recipe on
Crepes of Wrath
for tonight's meal that was fairly easy. The recipe turned out quite while and I have enough for Cam's lunch tomorrow.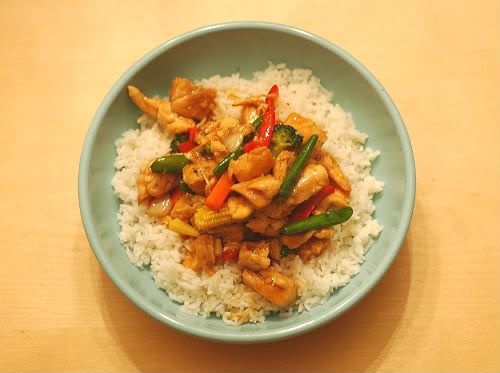 Here's the recipe from Crepes of Wrath who got it from Real Mom Kitchen. I highly recommend Sydney's blog. Her pictures are so droolworthy and her step-by-step instructions are much easier to follow than some cookbooks out there. Plus, she has good taste in food (no pun intended).
2 boneless skinless chicken breasts
1/2 tablespoon sugar
1/2 teaspoon salt
1/4 teaspoon of garlic powder
Mandarin Sauce
2/3 cup sugar
1/4 cup low-sodium soy sauce
1 tablespoon lemon juice
1 teaspoon fresh garlic (minced)
1 teaspoon fresh ginger (minced)
1/4 cup water
4 teaspoons cornstarch
1. Cover the chicken breasts with saran-wrap and pound them with a mallet or rolling pin to an even thickness.
2. Season both sides of the chicken with the sugar, salt, and garlic powder. Grill over medium-high heat for 5-7 minutes on each side or until no longer pink inside. Remove from the grill and cut into bite-sized strips. Set aside.
3. In a bowl, combine the 2/3 cup sugar, soy sauce, lemon juice, garlic and ginger. Pour into a wok or sauce pan. Heat the mixture until almost at a boil. Combine cornstarch and water. Once the sauce starts to boil add the cornstarch mixture and stir until thickened.
4. Add grilled chicken to the wok and coat with the sauce. Simmer until heated thoroughly. Serves 3 (or more if you use larger chicken breasts).
I used 4 bone-in skin-on breats which, with my lack of skills, ended up about the size of two large boneless skinless pieces. I also didn't add any ginger and didn't measure everything to a T. It was still a success! I think next time I'll add 1/2 cup of sugar or less and add in chili flakes. I'm not too keen on super-sweet meat.