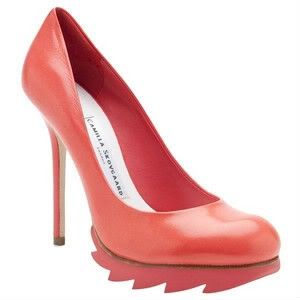 I am in love with the work of Camilla Skovgaard, who has really blown up in the last few years. Although she's a relative newcomer into the "IT" group of high end shoes, her circum vitae is quiet impressive.
Did you know she moved to Dubai at the age of 20 to design shoes for Sheikhs' wives and daughters for 7 years? And Saks Fifth Avenue picked up her first collection while she was still a student at the Royal College of Art in London?
Her esthetics are along the same lines as Ann Demeulemeester, Rick Owens, and Jil Sanders. Very architectural and futuristic. But at the same time, she has a very distinct style. With the exception of a few basic stilettos and flats, her "saw" soled shoes are so unique and instantly recognizable.
More eye candy below....