At $3.80 a pop, the polishes from Forever 21's cosmetics and skincare line "Love & Beauty" are cheaper than Starbucks Frappucinos but just as addictive.
The colors are all quite fashion forward and they keep coming out with new ones. Unfortunately, they put them right by the cash register so it is very VERY
VERY
hard to resist!
The polishes come in a variety of colors and textures (cream, shimmer, foil, glitter, scented, etc.) and are surprisingly good and
consistent
quality...unlike the rest of their color cosmetics line. With a good base and top coat (I use China Glaze Strong Adhesion Base Coat and Color Club Vivid 10 Color Intensifying Top Coat) this polish lasts just as long as many of the salon polishes in my collection....OPI, Essie, China Glaze, etc.
One thing I like about the Love & Beauty nail polishes is that the pigmentation is great, especially for the price point. I find the main difference between many drugstore brands versus salon/designer brands is the lack of opacity, density of glitter, etc. in the former. This is not the case with the L&B polishes. 2 coats is sufficient.
Granted, if you compare glitter to glitter, shimmer to shimmer with one of the higher price-point lines, the formula in some colors may be slightly sheerer or the glitter slightly less dense. But at under $4 a pop, I think you can live with applying two coats instead of one.

My growing collection of Love & Beauty nail polishes. You'll notice the last one is actually labeled L.A. Girl Rockstar Nail Lacquer. It was also purchased at Forever 21 and comes in the same packaging so for all intents and purpose, it's the same thing. I suspect this is a case of the same manufacturing creating polishes under Forever 21's house brand Love & Beauty and as L.A. Girl for sale by other retailers.
On that note, this makes the $3.80 price ever better. L.A. Girl is sold at some retailers for $5-6. I've seen it at Urban Outfitters and Rexall Pharmacy.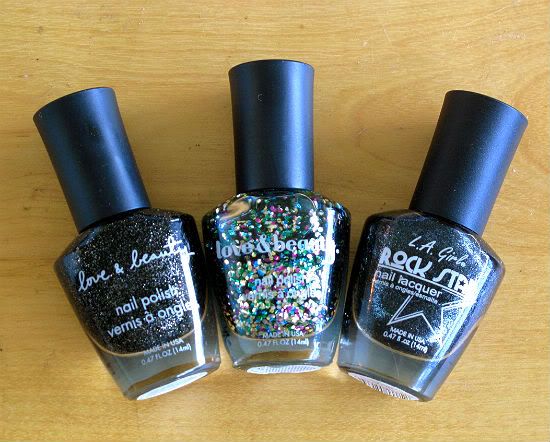 Unlabeled (cream with fine glitter)
Multi (glitter)
Unlabeled (cream with shimmer and fine glitter)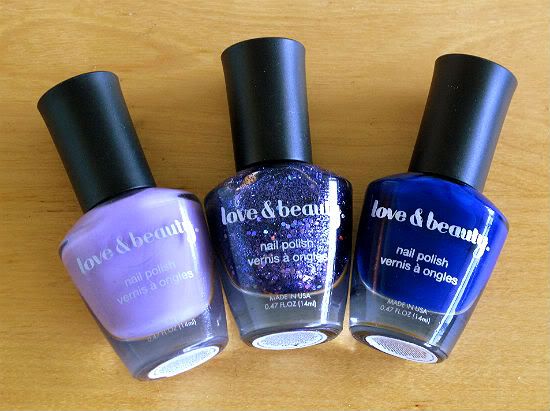 Lavender (cream)
Mauve (glitter)
Navy (cream)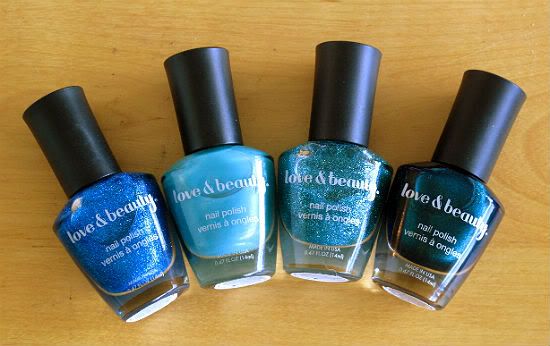 Blue (glitter)
Green (pearl)
Green (glitter)
Teal (pearl)



From L-R, top to bottom: Green, Blue, Navy, Mauve, Lavendar, Green, Teal, Unlabeled, Multi, Unlabeled.

I guess the one thing you don't get with these cheap thrills is a good naming system. "Mauve" for a purple glitter or "Green" for both a glitter and a pearl? That REALLY makes sense...