I cannot wait to get rid of the ugly carpet in our new home and put in dark hardwood instead. Mainly because I just adore the cleaner more spacious look of wood instead of wall-to-wall carpet but also because it means I can buy beautiful area rugs. Definitely not these ones from Amy Butler that are incredibly out of my budget but perhaps something from HomeSense, my favorite
realistic
decor store.
These rugs really caught my eye with their fearless use of colors. I'm not sure if I would be brave enough for some of these but it really does make for a stunning tableau, in my opinion.
I can see the pink one in a really fun teenage girl's room, especially. NOT that I would ever spend that much on a rug in an area so prone to juice, pop, and makeup spillage!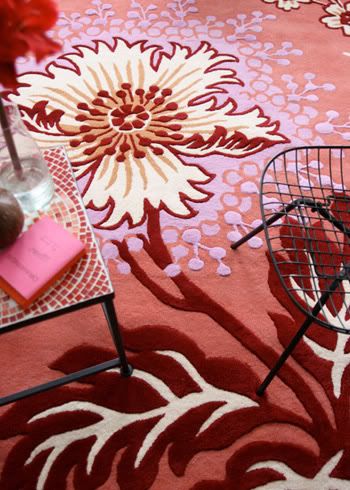 images courtesy of www.laylagrace.com
All rugs are $126 2'x3', $778 5'x7'6, $1686 7'9x10'6 available at
Layla Grace
I would highly recommend checking out her personal website at
www.amybutlerdesign
for more products. She has a great eye for color and I just love her prints, too! Much more affordable than the rugs and a great way to add some color.
image courtesy of www.amybutlerdesign.com