We're waiting to hear back from the seller whether we can close on the house a week earlier. She won't commit until Oct 1 or 2 as she needs to find an apartment to move into first. So there's not much to do right now except twiddle our thumbs or in my case, plan out every inch of the house based on the photos I took.
The living room is a bit of a challenge. It's a relatively small room and there are two doorways in one corner. The wall facing the TV outlets is only wide enough for a two-seater sofa.
See Exhibit A
. The wall is actually longer on the other side as that half of the house juts out further into the backyard but not by much.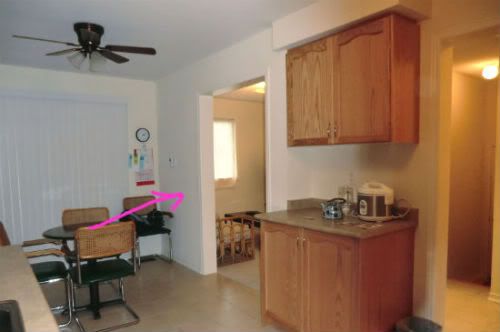 I was in a fix as to how we would lay out the room because don't you need to face the TV? I mean, who wants to twist their necks watching a movie? That was my rationale as to why it would not work...
before
I saw this stunning room in that exact layout.
It even has a window on the left hand side!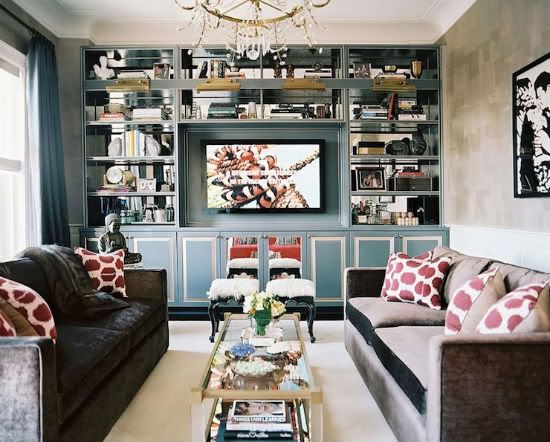 image via decorpad.com
With two couches, Cam and I could lie back on some comfy pillows to watch TV with plenty of munchies at an arms reach between us. As for guests? Well, we could fit 4 easily with 2 on each end of the couch. More guests? Someone else can host the Superbowl party until we finish the basement and get the dream entertainment room up and running.
Unfortunately, I lost the stylus for my Wacom tablet so here's a very childish free-hand MS Paint rendition of the potential layout in our actual living room -
see Exhibit B.
My only concern is our room may be too small for this layout, even though the one in the above photo is not exactly spacious.
Will we have enough space for a build-in bookcase? The first window and ceiling light are pretty close to that end of the room...or perhaps it's just the angle of the photo. Will the room be wide enough to accommodate two couches deeper than the
IKEA Klobo
aka midget-couch? Will the room be long enough to allow some space between the bookcase/couch and one end and doorways/couch on the other?
I'm hoping to visit the house this weekend to get a better idea if this will work or not. I will be armed with paper, pen, measuring tape, camera, and....yoga pants. I'm prepared for some bending and stretching to get those all-too-important measurements!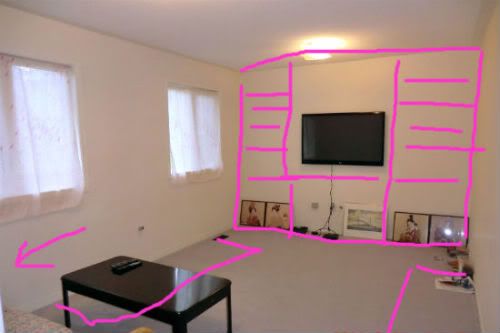 See the arrow in the above photo? I don't have a photo of the wall but the first photo from the kitchen should give you an idea. Instead of a loveseat, I would love to put a console table there, hang a large piece of art above, and either do a nice arrangement using flowers, vases, and other "interesting items" or a dry bar. Cam loves his scotch and tequila so we've got a nice collection growing. Dry bars totally channel Mad Men for me and that can only be a good thing.
What do you think of the layout?