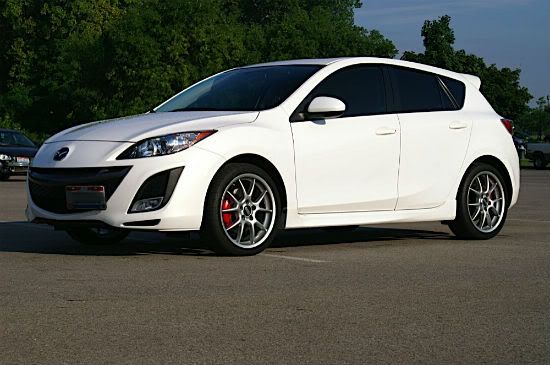 image via www.mazda247.com
We bought a car!
Moving to the suburbs come November means we can no longer live the carless city dweller lifestyle. No more relying on our own two feet, friends, or public transit to get us from point A to B. Although frankly, the latter with its strikes, public dissatisfaction, unreliable service, and steep fare was getting really
really
old.
We've test driven a few cars in the last year or so, in anticipation for this upcoming move, but hadn't made a decision. Our commute would be 100KM/day (about 62 miles) not to mention weekends and road trips, so we were looking for a compact car with good gas mileage at an affordable price. The top contenders up until now were the Hyundai Elantra (merely sips gas, great bang for the buck, and looks nice but a very "vanilla" drive), the Subaru Impreza (AWD and hatchback version looks hot, but guzzles gas and at the top of our budget), the Scion tC (unique car with great standard features, decent mileage, and spacious but two door and lacking in promos).
We had originally written off the 2011 Mazda3 because Cam wasn't really a fan of the look and it seems to be slightly more expensive that the other econo cars.
But today, after Cam tests drove it, he was pleasantly surprised. The little car had a responsive transmission and pep, very much unlike the Ford Focus we rented last week. For all its fancy-shmancy features, the "Focus" acceleration was like having to shake someone awake every time they nodded off again.
It seems to be a trend, but we tend to dive into large purchases way faster than we do a small one. House day after our first viewings, car hours after a test drive? Regardless, I'm quite excited!
DO YOU INTERIOR DESIGN ENTHUSIASTS KNOW WHAT THIS MEANS??!!! This is new found freedom to pick up goodies from Homesense, garage sales, haggles on Craigslist, and more.