Mmm, I love me some good congee-house comfort food. I usually go to Congee Wong at Woodbine & Hwy 7 but a few of my friends have mentioned enjoying the food at Congee Queen. There's one in North York I've gone to and I remember it begin pretty much the same menu as Congee Wong.
However, a second location opened up at McCowan and Hwy 7 recently (perhaps in the last year? I only just noticed it!) so I decided to try it out. It's in the plaza just east of McCowan on the north side. Here's a photo of the outside.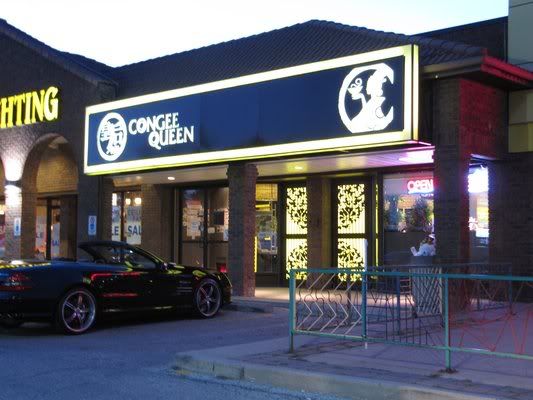 image via yelp.ca
There are a few dishes that I think determines whether a congee restaurant is good or not. Aside from the obvious congee, Turnip Cakes are one of those dishes.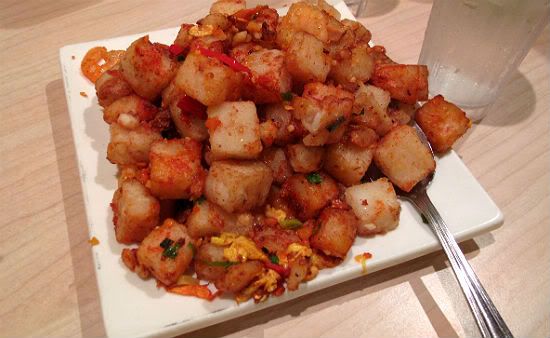 This was delicious and better than the ones that Congee Wong has been making in the past few years. I remember when Congee Wong's used to have a good number of shrimps, egg, hot peppers, preserved turnip, etc. And the turnip cakes themselves were soft and moist on the inside but crisp and structured on the outside. Over the years the cakes have become more mealy and the other ingredients less.
This is still not as good as I used to remember the Congee Wong's way back when, but in terms of a current comparison? The Queen reigns. The turnip cakes are just as a remembered and the saltiness is just right, too. Even if the ingredients are not abundant, I still prefer this restaurant's version.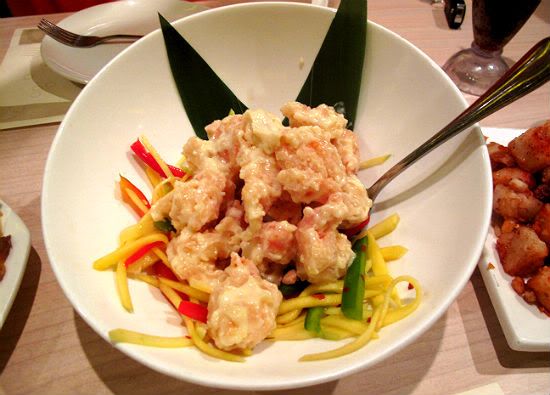 Mango Shrimp was on their features menu and called out to both of us. Cam was sold on the mango aspect and me? It's anything Mayonnaise-covered (don't judge!).
This was really delicious. The amount is about the size of an appetizer but trust me, you wouldn't want anymore. The shrimp tasted fresh and was cooked just right. The mayo was sweetened, similar to what you would find at dim-sum accompanying the shrimp spring rolls.
There was also a good amount of mango salad and it was perfectly ripe. I
hate
when they use unripened mango in salads - has a very weird texture and taste. The seasoning for the mango salad was also delicious - not too salty, sweet, nor sour.
This was a delicious dish and one I know I'll have the occasional craving for. I really recommend ordering this dish for groups of 3 more more. It may look like a small amount but this dish is very rich and full of flavor. While I can eat a whole plate of stir-fried noodles, a few pieces of mango shrimp is enough to satisfy my cravings.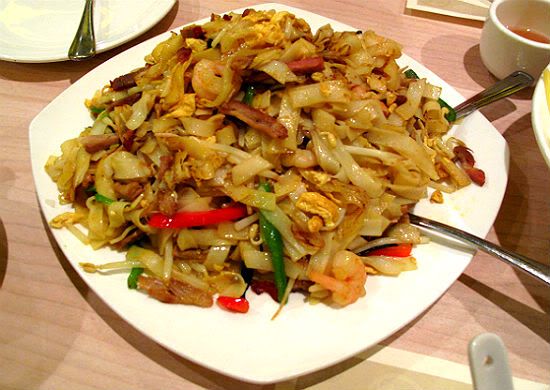 Both of us are also big fans of curry noodles. Our absolute favourite is from Noodle Bowl at the corner of Bloor & Spadina (YOU MUST TRY IT!!). So far nothing else has compared and Congee Queen's version is no different. In fact, I was disappointed with this dish. Visually, it looks great but the chef cooked with a very light hand. I ended up adding a dash of salt and some chili satay salt to add flavor. There was slightly less curry flavor than I usually like and certainly not enough salt. Decent amount of meat and other ingredients, though. I would not order this again but it's not so bad that I wouldn't eat it if the table ordered one.
Overall, good meal but not amazing. I don't see any reason to choose Congee Queen over Congee Wong except for the environment (dimmer decor/lighting) and for me, the closer location to home. The prices and service at both places are about the same - main dishes around $8-10, fast but very impersonal service. Typical congee restaurant all the way!