This review will be based on the travel-sized version of this mascara, which is 5.11ml/0.18floz versus the regular-size version which is 9ml/0.3floz. I received the travel sized as the 100-points perk at Sephora a couple weeks ago.
The description on the box says:
"Not since your first spiral perm have you been this excited about something that curls. Our protein-packed Supercurl Curling Mascara boosts, curls, and sculpts your lashes, while conditioning incregients like silky proteins, meadowfoam seed oil, and shea better keep them sleek, smooth, and feathery-soft."
Before we go into the review, I have to apologize for these photos. They were taken around the same type as the photos from the Peach Revlon Colorburst and both turned out with a weird haze. I, however, am too lazy to retake. Temptalia or Karla Sugar, I am NOT!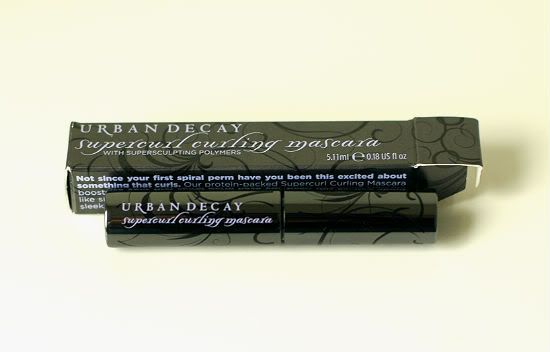 The packaging of the Supercurl Curling mascara is so pretty. I love the contrast of the matte black swirls on the gunmetal chrome tube. I always have a weakness for Urban Decay's packaging - while brands like YSL and Guerlain are classy and elegant, Urban Decay to me is the younger black-sheep sister who wears stompy combat boots and biker jackets.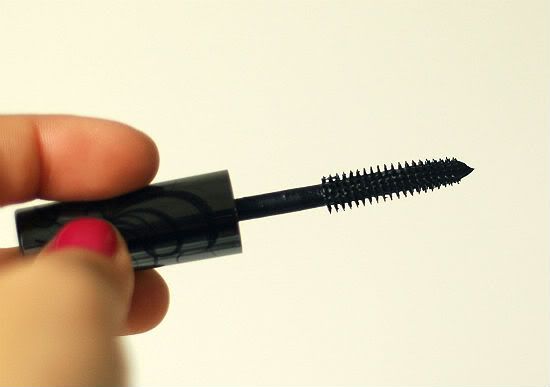 The bristles are short and evenly spaced. I find this type of brush makes it easier to apply to the shorter lashes although I personally don't bother with my teensy lower ones.

The bristles are close enough together to deposit mascara onto the lashes without much wiggling, which is a problem I have with some mascaras (looking at you Too Faced LashLight!!). However, I don't find that it's as volumizing as a longer denser brush.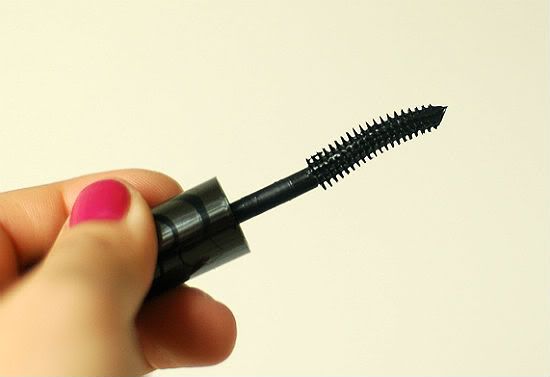 The brush itself curves slightly which is suppose to contour to the eyes and I guess "sculpt" the lashes. It looks and sounds good in theory but I've never found it particularly helpful. I prefer to do my own "sculpting" by hand, moving the wand this way and that until I've evenly applied mascara along the entire span of lashes.
I will not be purchasing this mascara again. First, I
only
use waterproof mascara as they hold a curl much better than any non-waterproof mascara, even the ones that claim to curl. This mascara does not currently come in a waterproof version. Secondly, I don't find that this curls any better than other non-waterproof mascara formulas I've tried. It also doesn't do anything for me in terms of length or volume.
I think if you already had a good base - long, dense lashes that hold a curl - then you'll love this because the black is VERY black. I compared this against my L'Oreal Voluminous Lash mascara in black and I could see a difference. Once held up against the Urban Decay mascara, Volminous "black" looked more charcoal.
So there you have it. I recommend spending your money on Urban Decay's buttery-smooth long-lasting 24/7 eyeliners instead.
The Urban Decay Supercurl Curling Mascara can be found at Sephora for $20US/$24CDN. Travel size is available on the UrbanDecay.com website for $9US but US shipping only.