I first heard about the Revlon Colorburst Lip Butters from Danielle's blog,
Bloomin' Beauty
.
If you couldn't guess from my various Colorburst reviews, this is one of my favourite drugstore lines. The Colorburst lipstick and lipglosses come in beautiful shades with great pigmentation and a smooth application. But these really caught my eye because it seemed like the best of both worlds.
I was sorely disappointed to learn that they were not available in Canada, at least at the time of Danielle's review. However, this past Friday I encountered them at Rexall Pharmaplus! I was ecstatic, especially because Rexall was having a Buy One Get One Free sale on
all
lip colors, including new arrivals!
Like a maniac, I hovered over the display for a good long while and finally emerged from behind my hair triumphantly holding 6 tubes of glorious new lippies!
Here's the official description from Revlon:

- Buttery balm with beautiful shiny color to give you baby soft, healthy glowing lips 94% of women felt lips were softer, smoother, and instantly hydrated.
- Hydrating mango, shea and coconut butter formula boosts lip moisture by 156%
- Pampering gel formula provides super charged hydration and glides on lips buttery smooth
- Sheer to medium color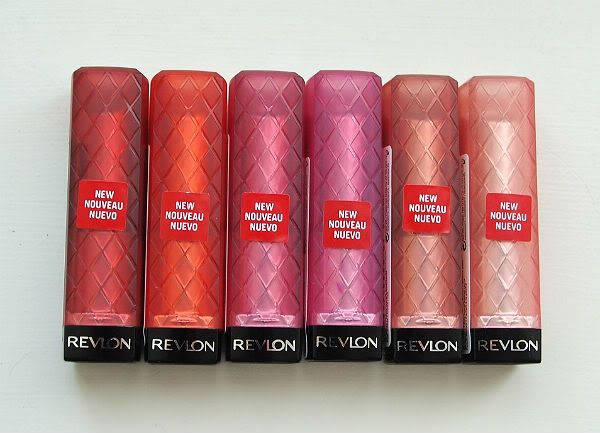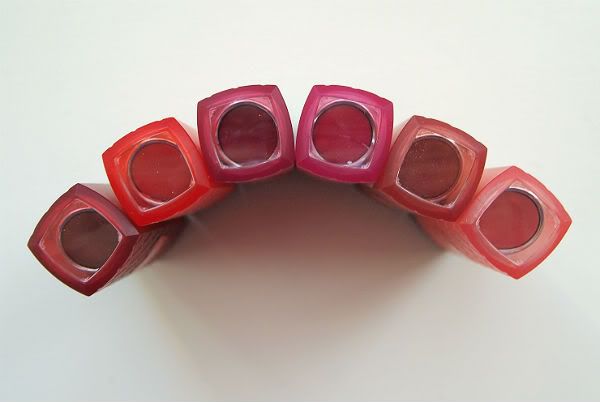 The packaging of these lip butters are just beautiful! The quilting matches the existing Colorburst lipsticks and lipglosses but the translucent plastic appropriately reflects the sheerer lipbalm-like formula and pigmentation.
The clear top was very helpful when picking out the colors. There were only 4 tester colors and I only liked one, so begin able to see the actual color from the top of the tube was very helpful. I was even more delighted to discover that the lip butter when applied is true to the color it its solid state. This isn't always the case!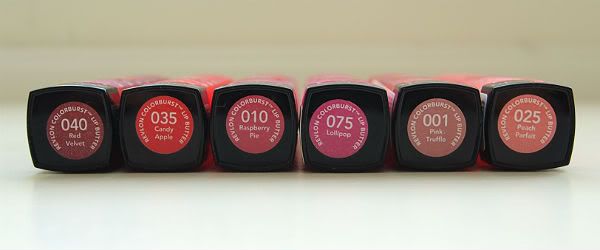 I picked Red Velvet, Candy Apple, Raspberry Pie, Lollipop, Pink Truffle, and Peach Parfait
Red Velvet is a cream darker red with a warmer tone.
Candy Apple is a cream bright red with a slight orange tinge.
Raspberry Pie is a cream reddish-pink berry tone.
Lolliop is a slightly shimmery cool-toned fuschia with barely noticeable specks of silver.
Pink Truffle is cream brownish pink rose shade. For those with medium-colored lips, this is definitely a your-lips-but-better shade.
Peach Parfait is a shimmer peach with noticeable but micro specks of gold. This is the lightest of the 6 shades I picked and also the sheerest. It is most similar to a tinted lip balm.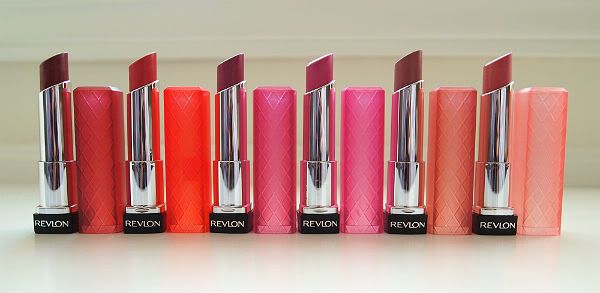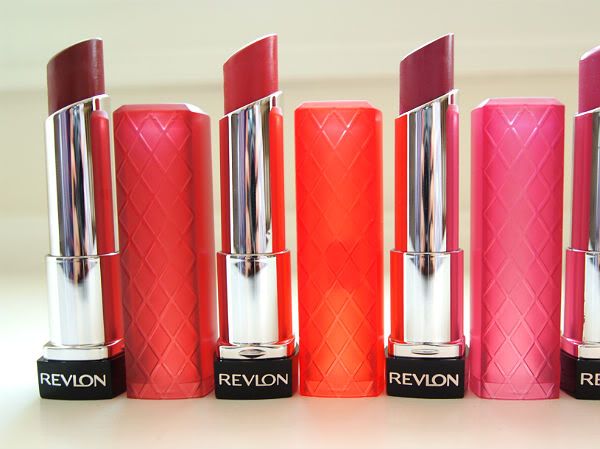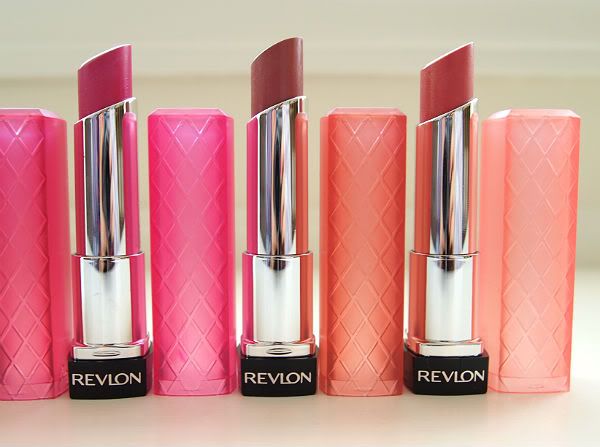 These lipsticks are very similar to releases from premium brands like the Dior Addict High Shine Lipsticks, Chanel Rouge Coco Shine, and Yves Saint Laurent Volupté Sheer Candy in both packaging and formula.
All are sheer-to-medium pigmentation, come in light and demure to bright and fun shades, and are a moisturizing formula similar to lipstick with the coverage of a light swipe of lipstick.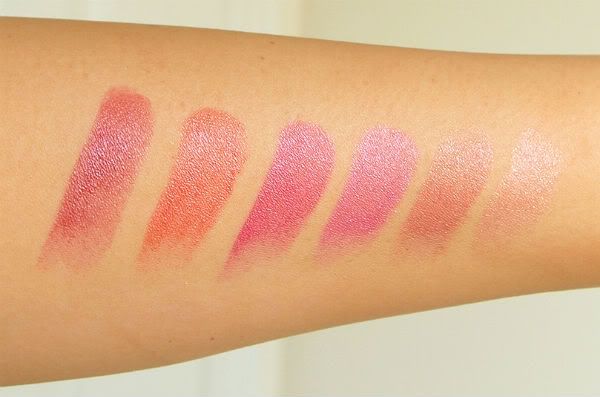 From left to right: Red Velvet, Candy Apple, Raspberry Pie, Lollipop, Pink Truffle, and Peach Parfait
I AM IN LOVE WITH THESE! At the risk of becoming a hoarder, I am considering going back for a handful of other shades.
My lips are incredibly dry in the winter and I always have a lip balm by my side even if I have a lipstick. These truly are like lip balm and lip stick mashed together. My lips are medium-pigmented so the darker shades stay pretty intense and true to their actual colors, like lipstick. At the same time, they are moisturizing and truly do have a buttery-soft application, like lipbalm.
The above swatches were taken in natural lighting but are a tinge more yellow than in reality, due to my skin tone.
If you are a A) lipbalm or lipgloss wearer B) want to try more dramatic shades but are afraid C) are too lazy to carry a lipbalm and lipstick or D) all of the above and then some.....HUNT THESE BABIES DOWN PRONTO!!
You will not regret it!
These were officially set to release in October 2011 in the US and January 2012 in Canada but there have been a number of sightings reported at Rexall and Shopper's Drug Mart locations across the country.
They retail approximately $9.50 and are now available at selected drugstores. I imagine they will be more widely available next month.
PS:
If you didn't bother to read my entire review - the Cole's Notes version is...BUY THEM. YOU'LL LIKE THEM.