I got my very first Topbox in the mail today! I put in my order mid-November and the website indicated that Dec-Feb boxes had sold out so my first one would be March 2012. But a few days ago, I received an email that my December one was coming soon. Yesterday I received an email that it was shipped and today it arrived! Talk about FAST delivery (granted, it did only originate in Scarborough...).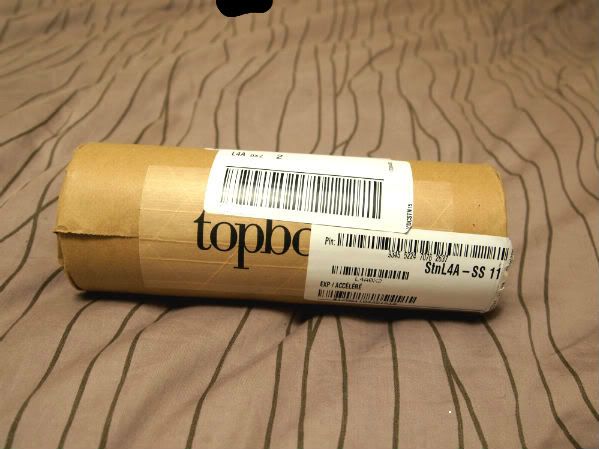 I like that Topbox is just wrapped in brown paper. I hate when companies put box inside box inside box. It's so wasteful because most of the time, the packaging is more than sturdy enough on its own.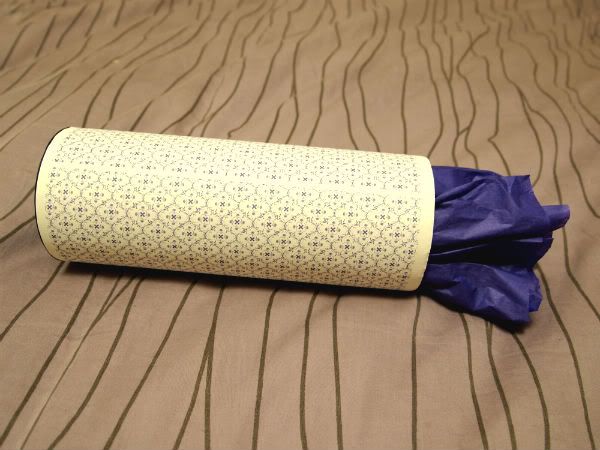 The Topbox tube is a thick heavyweight cardboard wrapped in pretty paper. The items inside are wrapped in tissue paper with some black crinkly confetti (not shown).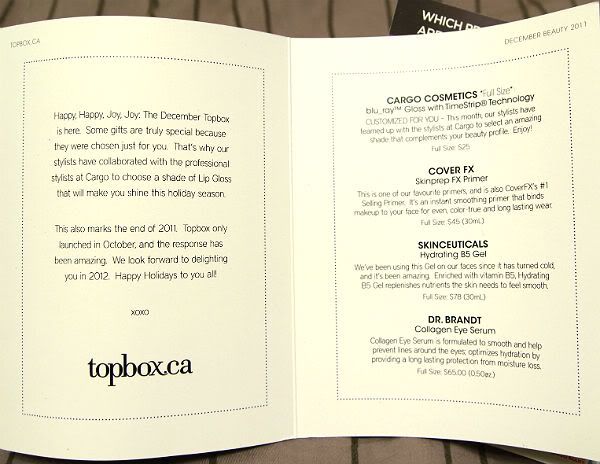 A little pamphlet indicates the items included in December's box. 1 ligloss, 1 primer, 1 face serum, 1 eye serum. With a calculation, the 7ml primer is worth $10.50, the 2.5ml eye serum is worth $10.83, and eyeballing the face serum at approx. 2ml would be worth $5.20.
$25+$10.50+$5.20+$10.83=
$53.53
Topbox costs $11.30 after tax and this December's products are worth over $50!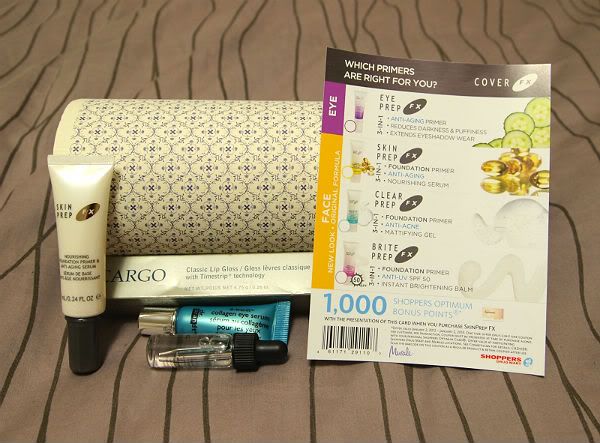 I have so many primers I don't think I'll be taking advantage of the 1000 bonus Shopper's Optimum points for the full-sized CoverFX primer. But I love that they include this coupon. I mentioned the Optimum points program in my previous post and for a huge fan of the program like myself? This is just as good as a $ off coupon if not better!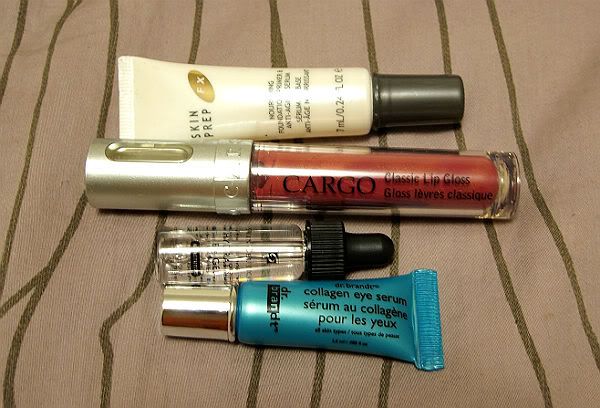 So what do I think of the items I received this month?
To be honest, I was disapointed at first. After seeing the full size Cake hand cream and Deborah Lippmann nail polish in November, this seemed like such a small mailing. But then I realized that all 3 items were
me
.
My face is so dry in the winter months, add to that major stress at work and my face is a mess - dryness, undereye circles, fine lines, you name it! The Dr. Brandt Collagen Eye Serum and Skinceuticals Hydrating B5 Gel are welcomed samples aka. tote around in purse for emergency dosing!
I also seem to have this obsession with primers so I'm happy to try out yet another one.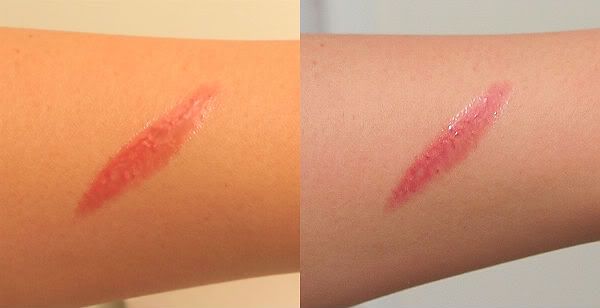 As for the Cargo lipgloss? The color doesn't look like much in the tube but it is
so flattering
on!
It's light and glossy which seems to me more of a summer formula but it's also such a my-lips-but-better shade that would be perfect with pretty much any makeup look. Therefore, it's being added to my collection of "leave-it-anywhere" glosses - you know, those ones that seem to work with everything and therefore can and should be left in the car, house, purse, work desk, and perhaps even on the floor where your husband may accidentally step on it and curse?
Overall, I'm quite pleased with this month's box.
A box with only samples probably won't get my attention since you can get great and
free
samples at most beauty counters just by asking or purchasing something else. But to be honest, I'll be pretty pleased with any box that comes with at least 1 full sized item and several samples.