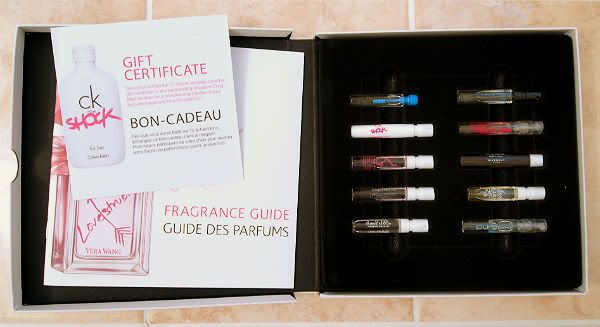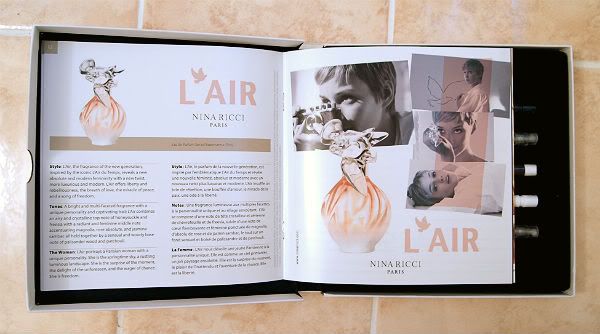 I treated myself to a Fragrance Sampler from Shopper's Drug Mart this weekend.
For my non-Canadian friends, Shopper's is a drugstore but in recent years it has expanded it's grocery, electronics, gifts, and most importantly their beauty section. The larger/newer locations now have a "beautyboutique" section with cosmetics consultants and higher end offerings - Stila, Anna Sui, Guerlain, Dior, MUFE, Smashbox, Estee Lauder, etc. and a more comprehensive like of "cosmeceuticals" lines like La Roche Posay, Dr. Brandt, DDF, Nuxe, etc.
Sephora offers a similar Sample but it is not available in Canada. Oh well, their loss because Shopper's had taken over and provided Canadians with an alternative (at a better price, too!)
There are 2 versions of the Fragrance Samplers for men and women - $75 for 10 samples (vials) and $95 for 6 deluxe samples (miniatures) along with a fragrance guide and voucher to redeem for a full size version of your favourite sample. The $75 Sampler I purchased allows for a redemption up to $93 although only one of the perfumes is at that price point. Most are worth around $75-80.
It's still an excellent deal for a number of reasons:
♥ You can try before you buy
♥ Each vial lasts approx. 5+ sprays, each miniature lasts approx. 10-15x+ applications
♥ The samplers themselves are great for purses and travel
♥ Most of the full sized versions cost more than the sampler so instant discount!
♥ The vials are worth about $2-5 each and the miniatures about $10-15 each (if purchased online or in those perfume stores)
Not to mention, if you are a Shoppers Optimum card holder, purchasing one during 20x and/or product bonus points offers can instantly net you up to $20 worth in redemptions (store credit).
The $75 Frangrance Sampler includes the following scents:
D&G Light Blue
Givenchy Very Irresistible L'Intense
Paco Rabanne Lady million
Calvin Klein CK One Shock
Juicy Couture Viva La Juicy
Vera Wang Lovestruck
Marc Jacobs Oh Lola
Nina Ricci L'Air
DKNY PureDKNY Verbana
Calvin Klein Euphoria
-All are in a more convenient spray vials with the exception of Light Blue which is a traditional vial with dip stick.
-Givenchy Very Irresistible L'Intense is the max redemption at $93 for the 50ml EDP.
-So far I've tried L'Air, Light Blue, Oh Lola!, and Very Irresistible L'Intense.
The only disadvantage of this package is, you are limited to purchasing one of the perfumes in the sampler. I have heard of cosmeticians who will let you redeem for any other fragrance in the beauty boutique but I would say that is one of those "your mileage will VERY MUCH vary" type of deals.