This mascara was on clearance at my local Rexall for $4.00. I wasn't looking for a new mascara but at that price, I had to try out the curious mace-like applicator.
According to L'Oreal, the Telescopic Explosion mascara lengthens, thickens, and separates every lash. The spherical brush reaches 100% of lashes, even tiny corner and lower lashes, from every angle. The formula is smooth and wears all day without clumping, smudging or flaking. It is ophthalmologist and allergy tested, suitable for sensitive eyes and contact lens wearers.
There is a regular Telescopic mascara which has the classic brush-style wand but the "Explosion" version comes with this spiky round applicator. Both are supposed to be lengthening but the idea is that the Explosion is better for those hard to reach lashes.
Telescopic Explosion itself also comes in two versions - regular in a red and black tube and waterproof in a blue and black tube. The waterproof version is currently only available in Blackest Black as seen below.
For mascaras, I always, always, always purchase the waterproof and darkest color available. I find even the best "curling" mascara does not hold a curl on my fine straight lashes unless waterproof.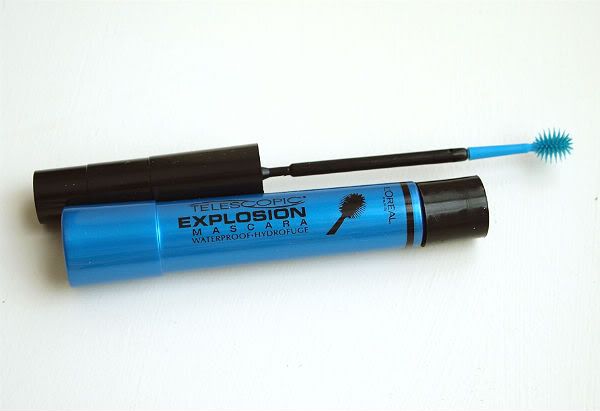 The formula itself is sealed in a tube with the brand new brush beside it. Some people say this is more hygienic and also ensures the product is "fresh" out of the packaging. I'm not sure that's really true. It just seems like an extra plastic cap thrown into the waste basket. But it does give you the advantage of seeing the actual applicator before purchasing.
I can sometimes tell by looking at the applicator if it will work for my lashes or not so if you're the same, this type of packaging is helpful.
The tube is a little wonky. I'm not sure if I got a lemon but as you can see from the photo above, the brush cap doesn't really align with the tube once screwed on. Not a big deal but you can tell this isn't quality packaging.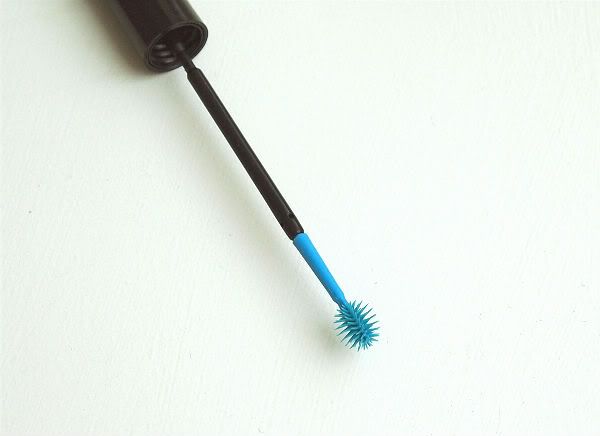 Tell me that doesn't look like a mace?!
No wonder guys sometimes think we're crazy. This is like playing Dungeons & Dragons with your face!
At least brand new, it's still in a pretty bright blue color....but after a dip into the mascara tube, this bad boy comes out looking like a mini weapon. I feel like at this point, a mini Cyclops needs to appear and come welding it at my lashes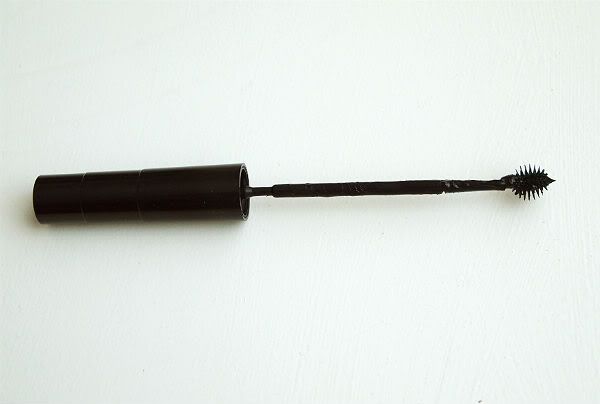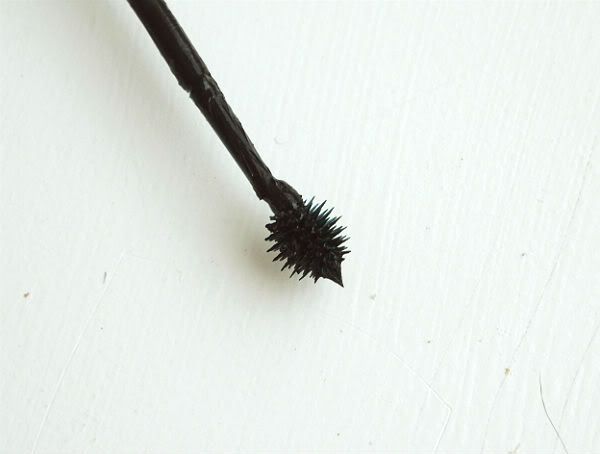 The applicator takes a little getting used to. The connection between the black and blue parts of the applicator bends slightly. I'm not sure if this was intentional (to allow the "mace" to wisp through your lashes) or not. Instead of assertive strokes of the applicator along your lashes, you sort of have to make little mini strokes. I find it takes a way a little of your control on the applicator and thus, am not a fan.
So how did it hold up to its lengthening, separating, and thickening claims? It really did give me incredibly long lashes even without any fibre in the formula. It also thickening and separated my lashes....but separated by clumping several lashes together! The formula was quite dry and clumped a lot. Because of its lengthening and "separating" qualities, this was made more obvious on my lashes. I could see little clumps of mascara along the length of several lashes.
As for smudge-proof and waterproof? Yes, definitely. I wore this mascara for about 12 hours and it has very minor smudging on the outer half of my lower lash line. It was quite difficult to remove, similar to the Maybelline Falsies waterproof version and it actually came off in flakes and little clumps.
Although not advertised, it is excellent at holding a curl. Again, I find waterproof formulas do this better overall but it's in line with the Falsies. Much better than the classic L'oreal Voluminous and Covergirl Exact lines in their waterproof versions.
Overall, this is a great deal at $4.00 but would I buy it again at any other price? No. The dry clumpy formula detracts from its lengthening and lasting abilities.
The L'oreal Telescopic Explosion mascara is available at drugstores, discount department stores, and Well.ca. It retails for approx. $11-14CDN but can often be found on sale for $8-10CDN.