Everyone's been asking when the house warming is but being a perfectionist, I don't want anyone to see it in its semi-finished state! Sure, a home is never "done" - there's always something to add or change - but I'd like it to look a little more permanent than that.
So with enough pestering, I finally got off my behind and tackled painting of room #2: Living Room so it doesn't look completely haphazard when the guests arrive sometime this month or next. To recap: #1 was the hallway in Benjamin Moore Silver Fox and #3 will be the master bedroom in Benjamin Moore Smoke.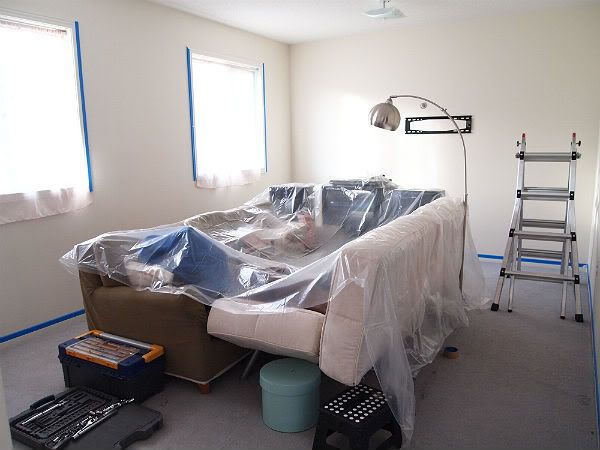 I piled all the furniture in the middle of the room and put a drop sheet over it. Then I taped up all the edges with 3M Blue Painter's Tape that's about an inch wide. I had previously used a regular masking tape width and had quite a few accidents with that so this time I tried something wider.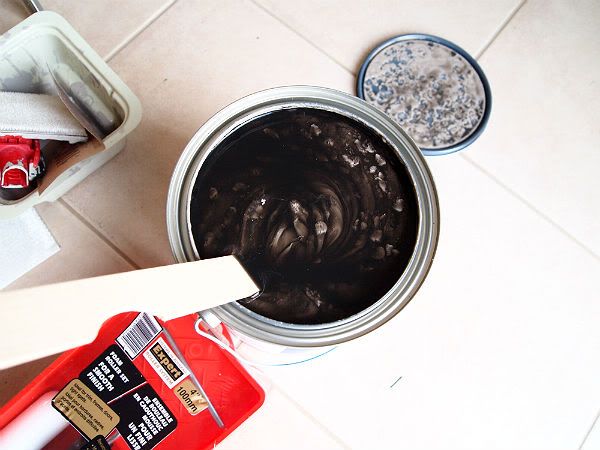 When I first opened the paint, it was this crazy witch brew of black and brown sludge. After a good amount of mixing, it finally started to resemble paint. I noticed this with Silver Fox but not to this degree. It looks quite scary at first.
Here's a corner of the room painted. I'm showing it here in a few different lighting scenarios. Although these are just the result of different camera settings, this is very similar to the effect on the paint from various lighting - daylight, soft white light bulb, incadescent, etc.

I wanted a color that was both brown and gray. Something that could change with the decor. In the next couple years we'll be replacing both existing couches and hopefully putting in hardwood, crown moulding, and a built-in bookcase. Needless to say, this paint will need to stand the test of
time
change. I didn't want to end up feeling like the paint was too brown or too gray.
I'm really satisfied with the way it turned out. It's not so dark as to be daring but enough to allow for that warm embracing feel.
The color is
Benjamin Moore Taos Taupe
and I highly recommend it for anyone who's fickle but loves his/her browns
and
grays.
Here's a before/after shot:
BEFORE: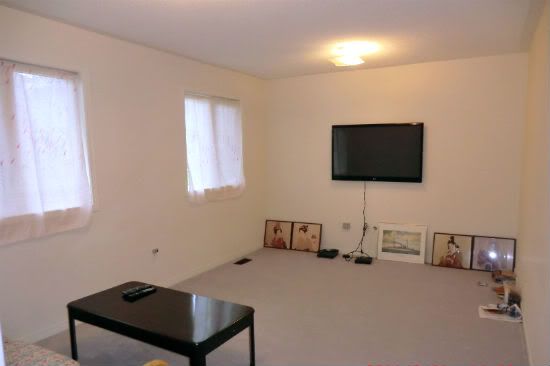 NOW: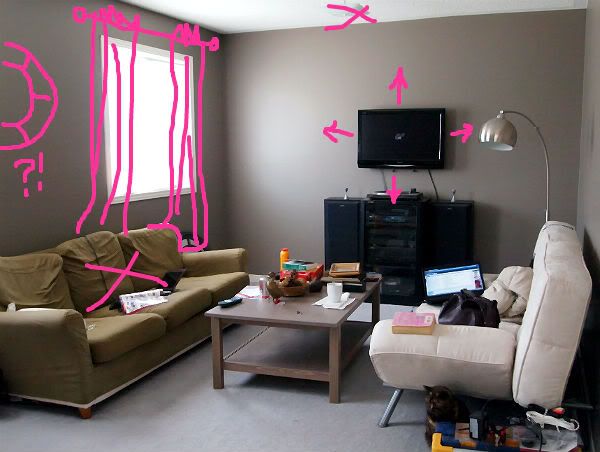 As you can see from my markings, there's definitely still a LOT to do (aside from cleaning up our mess!). Let's see....
-Put up curtain rods and drapes (this week)
-See how round mirror looks hung between curtained windows (this week)
-Hang art above white couch and perhaps posters either side of TV until built-ins (within 1-2 months)
-Put up hanging or semi-flush pendant lamps (within 1-2 mths)
-Replace saggy green sofa or both to match (within 1 year)
-Replace small 32" TV (within 1 year)
And more in the long term goals, in order:
-Install hardwood floors
-Install built-in bookcases
-Install crown moulding
Here's the color scheme I'm trying to work with (thinking cream or dusty blue curtains with bright or burnt orange accents) and the mirror I'm going to try between the curtained windows.