The first Topbox of the year has arrived! Check it the January 2012 Topbox below: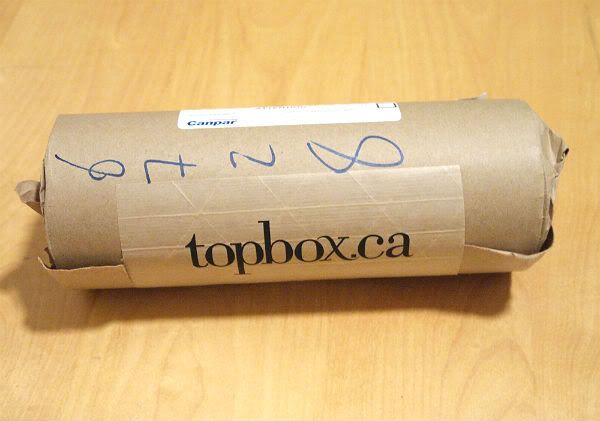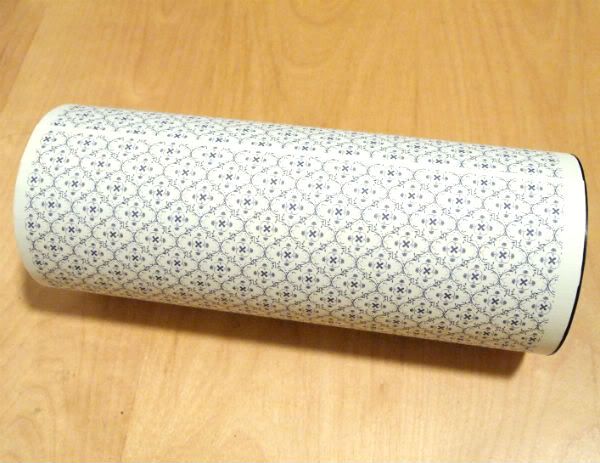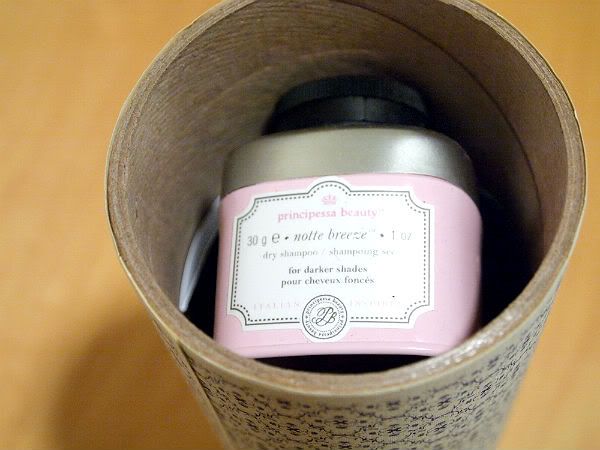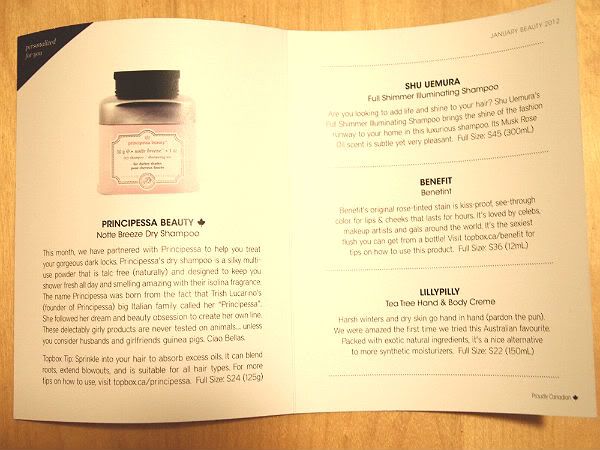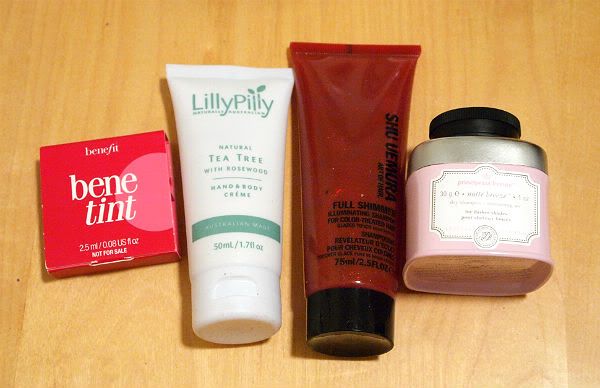 January 2012's Topbox features 4 sample-sized items - a dry shampoo from Principessa, wet shampoo from Shu Uemura, Benetint from Benefit Cosmetics, and Hand/Body Cream from LillyPilly.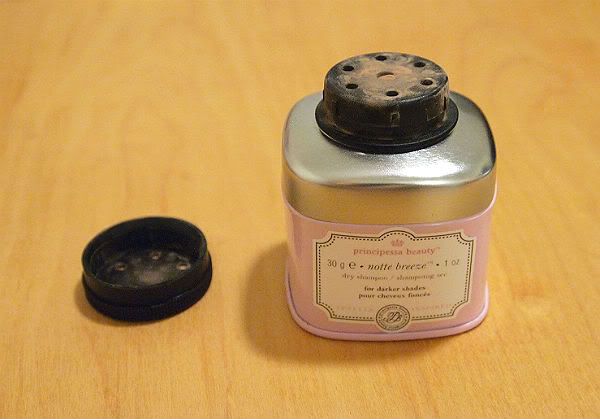 I can't decide if I'm interested in this product or not. Dry shampoo has received so much hype in the past couple years but I have to admit, I'm still a little scared of trying out this concept. This powder looks like very finely milled cocoa powder and has a very light and pleasant scent (perhaps from the aloe and chamomile?). Maybe I'll try it in a couple days when it's time for a hair wash.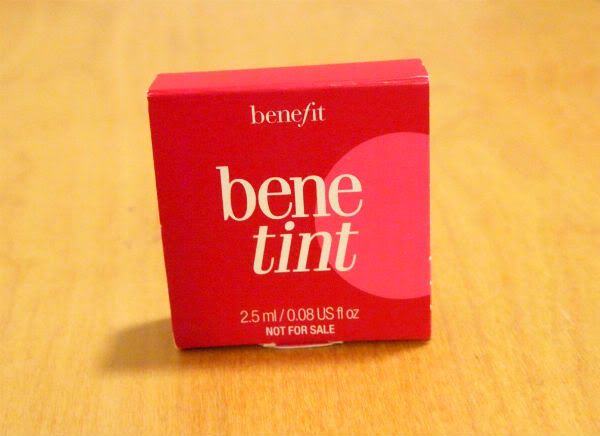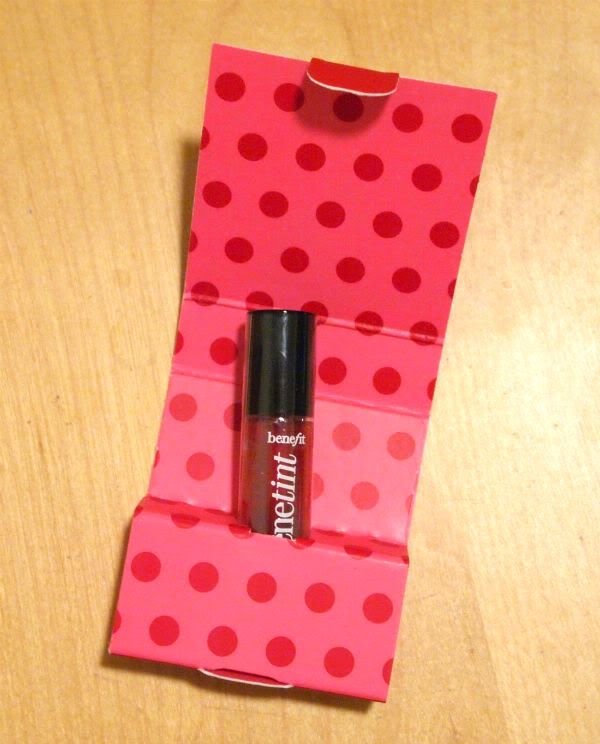 I had a bottle of Benetint a long time ago but swapped it away. It was hard to use on the cheeks (how the heck do you essentially watercolor your checks and get it to
blend
?!) but I did like it on my lips as a stain under lip balm. It also has a pretty rose scent.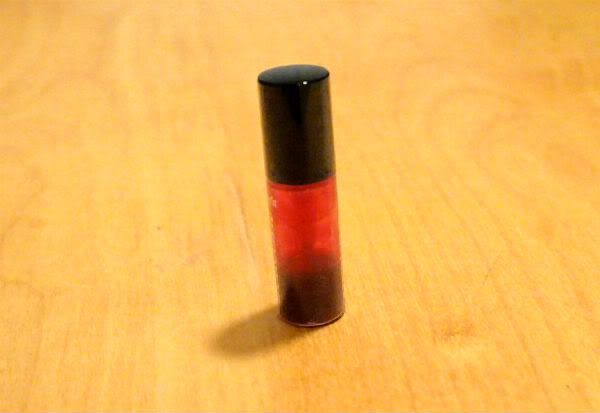 I am a little disappointed at how small it is, though. The vial is about the size of a perfume sample but if you look at the photo below, it's only about 1/3 full! I mean, come on. 1/3 of a sample sized vial is a little stingy, no?
The tube of Shu Uemura Illuminating Shampoo below is quite a generous sample though (75ml!). Unfortunately, it's not something I'm really interested in on its own. I wish they had provided a smaller tube but along with conditioner. The musk scent is pretty though. I'll try it out once or twice but I imagine it'll be going into the travel-sized tupperware box for future travels.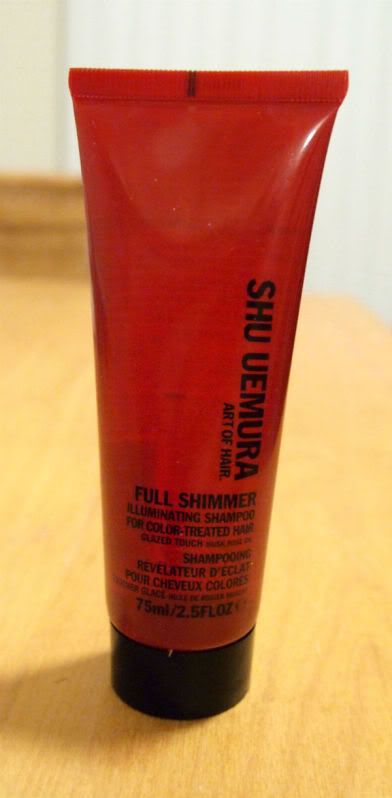 This tube if hand/body creme with tea tree extract really interested me. I've been wanting to try a tea tree product since the Body Shop ones seem so popular and smell quite nice. It's also kind of cool to receive a product from Australia. The size is perfect for the various places I have stocked with lotion - office, purse, kitchen, bathroom, bedside, car, and the list goes on! I have very dry hands in the winter and can't live without moisturizer.
I was hoping this would be a true hand creme - very thick consistency and super moisturizing. Unfortunately, it's more light a light body lotion and does not last long. In fact, it's only been a few hours since we got home and I've already used this about four times!
All in all, I was satisfied with this month's top box. And by satisfied, I mean
just
satisfied. I really liked that they made the effort to cater to me with the dry shampoo specifically for darker hair and moisturizer product.
However, I was disappointed that the products in this month's box were all sample size including one
very
tiny sample of Benetint. This is coming off of last month's box which included a full-sized Cargo lipgloss worth $26 and samples of expensive products from Dr. Brandt, Skinceuticals, and CoverFX.
Oh well! Hopefully Topbox is starting off slow but will get better as the months go by. I'm not cancelling yet as this is only my second one but I'll be curious to see what Glymm and Luxe Box offered this month.
EDITED TO ADD: I think my Benefit vial is only half full. A quick search of other blogger reviews show photos of an almost full vial. If that's the case, I take back what I said about the sample being too small. Seems more like I just got a lemon!