I first came across the Boscia brand at my local Sephora. It was placed along the wall beside French skincare brands Nuxe and Caudalie, which at the time I had no interest in. Especially in recent years, there has been a lot of hype about "natural" and "cosmeceutical" skincare and cosmetics. Shoppers Drug Mart, my favourite beauty source, actually stocks these types of products in a separate section of their beauty boutique.
Up until now, I've been more interested in our popular North American go-to brands like Neutrogena and L'Oreal on the drugstore end and Lancome and Estee Lauder on the beauty counter end. I guess because I always thought of these products are ineffective, natural because the ingredients were just too weak and cosmeceutical because they were too gimmicky.
But since the fall, I've become more interested in these types of products. I've picked up various skincare products from Boscia, La Roche Posay, Avene, and Vichy. I haven't tried them all but what I've used so far, I've had no complaints about. I haven't seen any dramatic changes but my skin is quite clear now and my complexion seems to be more even. I can't say it's exclusively because of the milder products as we've also been experiencing milder
weather
but it doesn't seem to hurt!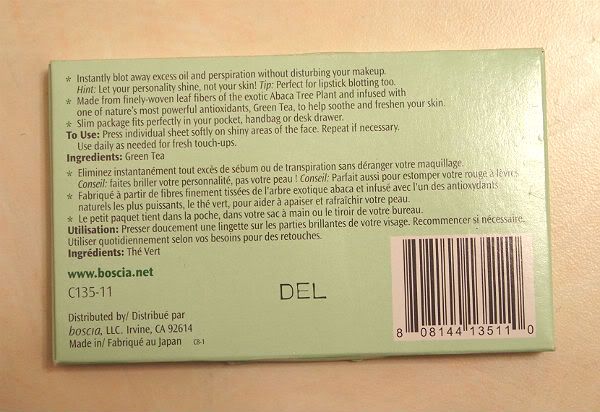 Boscia is a Japanese brand released in the United States in 2002, into a market that was already dominate by the French brands. It now has quite a cult following and definitely holds its own with some great products like their
Black Collection
and these blotting linens.
All their products (with the exception of these blotting linens) contain two marquee ingredients, Willowherb which acts as an anti-irritant, and Jojoba Leaf which is an antioxidant.
The packaging is about the size of a credit card and quite slim. Similar to a tissue box, the sheets are folded in half and pulling one out causes the next one to move up to the top for your next use. However, unlike a tissue box, the opening slot is narrow and prevents a few sheets from coming out at once. There's also a little tab to keep the package closed, all in all making this quite a purse/travel friendly item.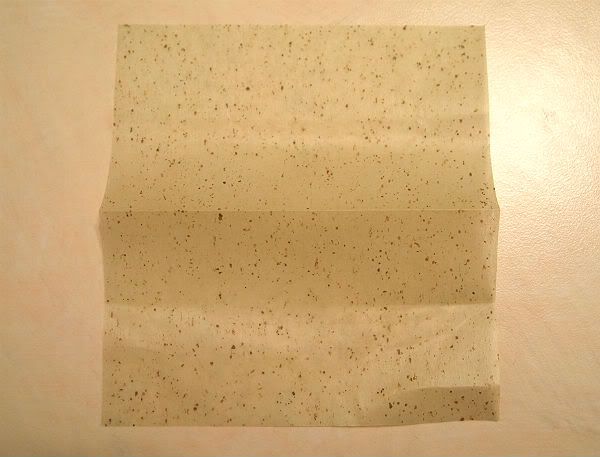 The blotting linens are created using finely woven fibers made from the
Abaca tree plant
which is in the same family and looks similar to the banana tree, minus its fruit. It's then infused with green tea extract.
Each sheet is very thin and translucent, speckled with little green flakes. They have a soothing and light green tea scent.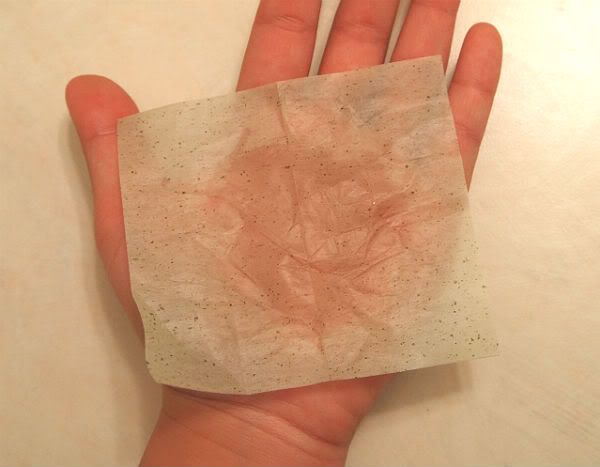 The linens are larger than those plasticky blue Clean & Clear sheets, but still smaller than a facial wipe. It's definitely enough for a full face though. I know this may look a little gross but here is a sheet I used on my t-zone during a particularly "shiny" day. See how there is still a lot of unused space on the edges?
You can also see how the middle of the sheet is almost clear. That's how much oil it picked up. This isn't going to last too long if you have a very oily face because blotting sheets only pick up existing oil, it does not block the pores from producing more. However, this is an absolute godsend before meetings and photos because it blots off oil without smudging or removing any makeup. You can even use this over lipstick, although I'm not sure how many people actually sweat on the lips?
Either way, this is a repurchase for me. Unlike blotting powders or powder foundations, these sheets do not add any product so you don't experience build up if you use it multiple times a day.
Boscia has come out with different versions of the original including Green Tea, Rose, Peppermint, California Orange, Lavender and Vanilla. I'd be interested in trying the others once this packet is done.
The Boscia Green Tea Blotting Linens come in a pack of 100 and retail for $10US/$12CDN at Sephora.