The February Topbox will be my third month subscribing to them. Unlike my box from last month, February brought two full-sized items. However, I'm still on the fence about continuing my subscription.
First, here's what I received: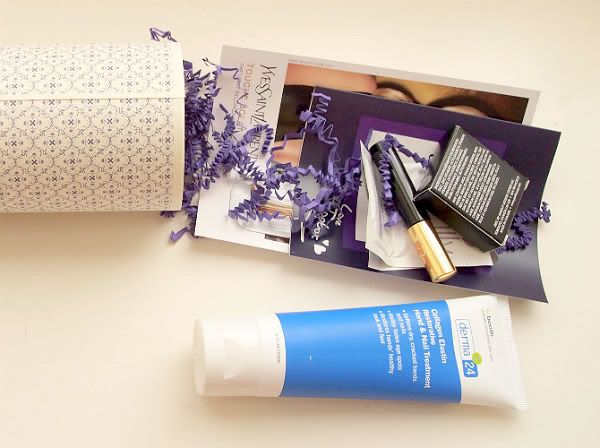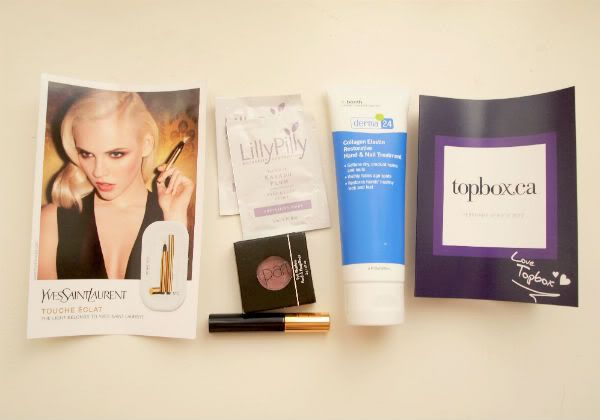 1) Full sized C.Booth Anti-aging Handcream
2) Full sized Pari eyeshadow in a "personalized" color
3) 3ml sample tube of YSL Mascara
4) Postcard dab sample of YSL Touche Eclat Concealer
5) 2 3ml sample packets of LillyPilly lotions
A quick calculation shows that the YSL mascara is worth $16, 2 x LillyPilly creme is worth $0.88, full sized Pari eyeshadow is $11, full size C.Booth lotion is $16. I didn't include the YSL Touch Eclat dab sample as that can't be anything other than free...
So $16+$0.88+$11+$16=
$43.88
. Not bad! I do think it's overinflated as volume based calculation can be deceiving - the size of the YSL mascara and LillyPilly creme samples are the type you can get for free just by asking at a beauty counter or as part of a gift-with-purchase offer.
However, even at $27, you're definitely making your $11.30 (after tax) back...provided you will actually use the products.
Now that we've done the math, let's get on with the overview of February's box, shall we?
Note that I only receives these items Thursday night so this is just based on a couple uses of each
Full sized C.Booth Anti-aging Hand & Nail Treatment - Full Size 120ml for $16
This is a nice hand lotion that's not too greasy but still moisturizing. It doesn't blow me away. It's no holy grail. But I do appreciate the large size because I go through hand lotion like a bulldozer during the winter months.
I care about anti-aging but not so much my hands so honestly, I'm not really interested in this particular product but more so the
type
of product it is.
I have to say, I would have liked to received something more interesting to sample though. For me, these boxes are a way to try interesting new brands or types of products that would appeal to me but that I've never had the opportunity to try. It's not to receive products that I "need" because that's boring. That's like receiving a pair of functional nude undies from the significant other. Yeah, you
need
it but let's leave the boring necessities for self purchasing and the lacy racy number as a gift, am I right ladies?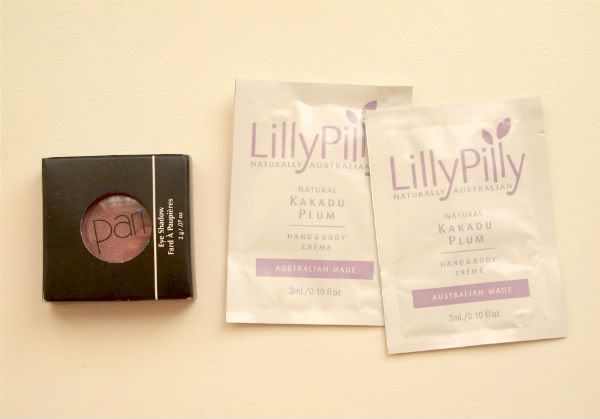 Full sized Pari Eyeshadow in E54 - Full Size 2g for $11
According to their website, Pari does not test on animals. They are dedicated to color and "mineral" makeup. They also "try to use 100% recyclable packaging and the finest quality ingredients available.". Honestly? To me, that sounds like a load of B to the S. What does
"try"
really mean? Are your products 100% recyclable and using quality ingredients or only 50% or 25% or 1%...
It certainly doesn't sell me on the brand but since mineral makeup isn't a criteria for me, I'm still game to try it out.
In the pan, E54 reminds me of MAC Trax eyeshadow. It looks almost bronze or reddish in the packaging but after swiping, it definitely is a plummy purple with gold shimmer although less pearly/shimmery. It's a beautiful multidimensional color in the pan. Unfortunately, it does not perform anywhere near MAC when applied. The formula, like many mineral eyeshadows I've tried, is chalky. It has bad color payoff when applied to unprimed lids and is difficult to blend. Pari recommends priming the lid first but that doesn't say
anything
to the product quality itself as primer can pretty much make any horrible eyeshadow show up!
The price is higher than drugstore single pans but the quality is actually worse. This is not a line I'd be interested in based on this eyeshadow and also how they describe their environmental/ethical efforts.
2 sample packets of LillyPilly lotions - Full Size $22 for 150ml
Not a fan. It's not so bad I wouldn't use it in a pinch but this is no better than the other drugstore lotions. It's a light lotion and in a very short amount of time (literally 15 minutes or so!), I need to reapply. I would use something of this consistency in the summer but winter? It's pretty much useless. Last month we received the Tea Tree version and this month it's Kakadu Plum. Honestly, seems like only the scent is different. Will not repurchase the full price version.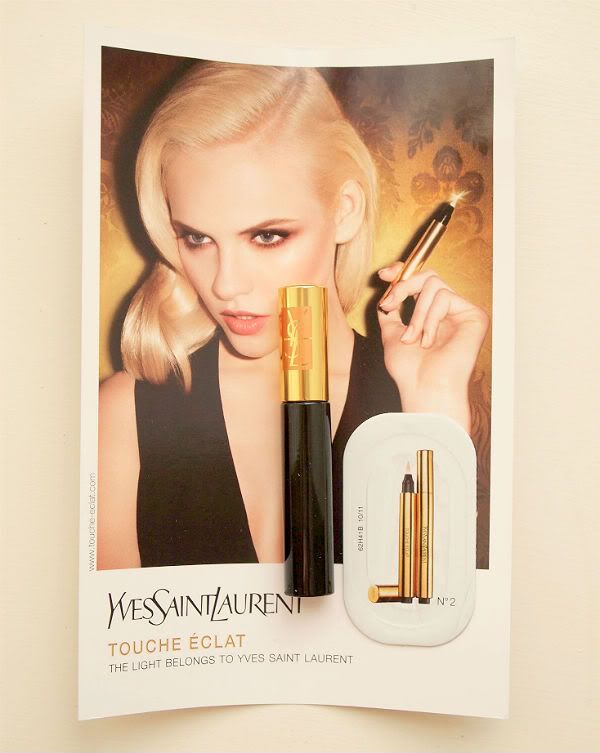 Sample tube of YSL Volume Effect Faux Cils Mascara - Fill Size $36 for 6ml
First, the formula was really dry. It was more like a thick cream than a liquid. As I applied, little flakes/chunks attached to my lashes and also fell out of the tube. However, it
is
very dramatic. It provides a jet black matte coat to each lash, a very
thick
coat after only a couple swipes. Unfortunaetly, I have fine and somewhat sparse lashes so this just emphasized that. I think this mascara would be great for someone who wants that "kawaii" look with heavy doll like lashes or someone who has dense but fine lashes. It does not hold a curl but neither does it straighten your lashes like some mascara I've tried. However, it
does
smudge. I worn it to the gym for an hour long run as the sweat from that would be equivalent to a hot summer day. My undereye area was gray from the mascara.
The L'Oreal and Maybelline mascaras I purchase for around $5 on sale are way better than this. Over $40 after tax for a tube of mascara that doesn't perform as well and has to be thrown away in approx. 6 months? No thanks.
Postcard dab sample of YSL Touche Eclat Concealer - Full Size $50 for 3ml
According to Sephora, there's only 0.1z of this product in each tube. Which makes it $50 for just less than 3ml of product. The price itself is utterly ridiculous, IMO, even if the product works. This dab sample saddens me. What is the point of it?! There is too much product for a concealer that should be used very sparingly but you can't reseal it because as soon as the little dab tab is lifted, it's a goner.
Secondly, I received color #2 which would probably work for someone around the NC20-25 range. I'm around the NC35-37 and this made me look like Nicole Kidman in that infamous white undereye powder pic.
Lastly, you can request one of these sample cards pretty much anywhere so it honestly seemed like a filler product to me.
So overall, what do I think of February's box?
As you may recall, last month I received a sample of Benefit's Benetint and it was about 1/2 full. I checked other blogs and it was indeed an error because other photos showed full tubes. I decided not to use it since it seemed to have been opened already.
I posted the error on their facebook and was told I would receive another one in this month's box but I did not receive it.
As for this month's products? I have two pieces of constructive criticism:
1) Variety
- I received two lotions in a row. Some people received two
full sized
lotions in a row. Perhaps if I indicated hand care as a priority, offer a lotion one month and a scrub the next. Both hand-related but different. But two large lotions in a row seems unimaginative and not a good way to really "sample" beauty products.
2) Sufficient amount of product
- Dab samples like the ones you can pull out of a magazine have so little product it seems cheap to include them as part of a paid subscription box. It also doesn't provide enough product for the subscriber to really determine if its good enough to repurchase.
Full sized products are always a treat but if including them is taking away from Topbox's ability to provide a great
variety
of products? I would rather they nix full-sized items than go with cheap "freebie" sized samples.
So the conclusion is...I'm going to stay with Topbox for another month to see if they've improved on their offerings but if March doesn't blow me away, I might try out Glymm, Luxe Box, or the newly arrived GlossyBox instead.
Do you subscribe to Topbox or another one? What did you received? Were you pleased?