Bourjois is readily available in Canada but I've never purchased anything from them. I guess there's always been something more interesting to purchase. And I consider it one of those in-between brands. Not cheap enough to haul a bunch without thought but not "premium" enough to warrant non-sale prices.
Last fall I found a great deal and decided to finally give it a go (yes, I know...this review is quite late!). I picked up this blush and two eyeshadows. This blush had great feedback on
Makeupalley.com
so I had high hopes for it.
I love the cute little pot packaging and immediately see 3 great features:
1) A inner mirror
2) A blush brush
3) Instructions for how to use
4) Color coded packaging
The mirror makes this great for traveling! I find it annoying to carry a stand-alone compact mirror. It's small but unless you have bad eyesight like me, holding it a little farther should give you enough reflection to ensure no pink stripes.
I never use the applicators that come with products as they just don't compare full-sized brushes. However, if you're really tight on space, this one will work in a pinch. Just make sure to apply in light layers and blend extra well!
The instructions are a cute touch if you're looking for a makeup gift for that makeup newbie or teenager. It seems intuitive to us beauty addicts but for those just getting into makeup, this is almost like a mini starter-kit!
Lastly, I absolutely
love
the color coded packaging. The color of each pot is indicative of the blush inside so you can reach for the exact color you want without having to open each blush or remember the color name.
As for disadvantages? Well, the same thing that makes it great for travel is really not so great when it comes to everyday application. I'm simply used to blush pans that are larger than the brush and allows each hair to pick up pigment.
I've also read quite a few reviews that the blush hardens with time and it becomes difficult to pick up pigment. Several reviews have indicated using a harder bristle (like a toothbursh) to loosen up the top layer. It seems like a hassle so hopefully it doesn't happen to me anytime soon!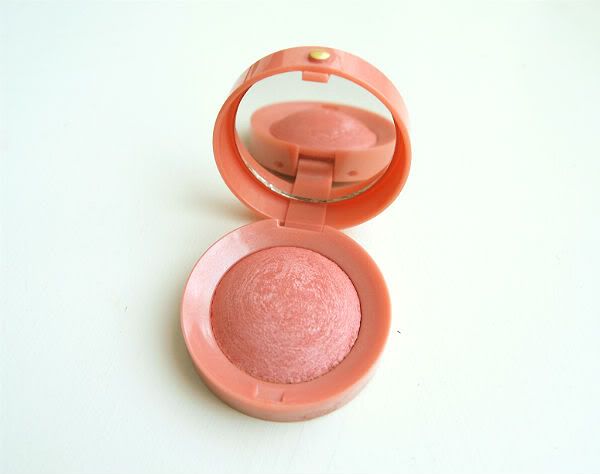 Isn't it pretty? I love the pearly look and silky texture of the Bourjois blush. Laura Geller may be famous for her "baked" line of cosmetics but I would say Bourjois invented it first!
Did you know that the first "Little Round Pot" blush was created in
1863
??
According to the Bourjois website, "Combine a careful amount of of powder and water, mix it delicately, pour it into rounded moulds and put it in the oven to bake...this is the principle behind a complex recipe that Bourjois has been improving since 1863: add a few grams of shimmering mother-of-pearl, let it bake a bit more, depending on the effect desired."
The color I picked, Rose du Jaspe, is perfect. A shimmery rose pink, it provides a natural flush and just enough luminscense to brighten your cheeks without veering into that terrible "glowing cheeks" zone. I can see this going into my "daily commute" makeup bag once NARS Orgasm is finished (yes, I've hit the pan on that. Woohoo!)
The powder is very fine and buildable and picks up enough pigment for a light single-layer application. It blends beautifully and not at all chalky or flakey like some baked products are prone to do.
This blush lasts all day, at least on my winter skin. I can go a full day without it sliding off. I'm interested to see how it works out in the summer when my skin is a little more oily.
It seems that the line specializes in very wearable and "cute and pretty" colors. Currently there are 12 colors ranging from shimmery to matte in shades like peachy bronze, peachy pink, rosy nude, dusty rose, etc. I'm loving the swatches of Amber D'Or and Rose Frisson I've seen online so those are top of the list next time Shopper's has a Bourjois bonus points event!
The Bourjois blush pots weigh 0.08oz/2.5g and retail for $19CDN. It is available in Canada at Shopper's Drug Mart and Murale locations.