This is long overdue but better late than never, right?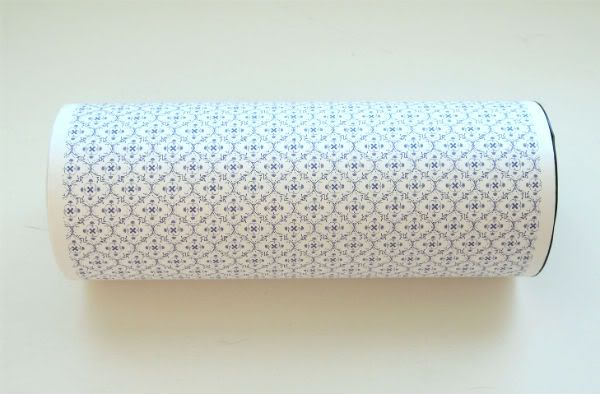 The March topbox came in the same packaging as before. Can I just say...the packaging is getting a little boring? I love the tube mailer but they need to make the outside wrapping a little more exciting!
As for the inside, it's always packaged with purple crinkle confetti and tissue paper to keep the products from jostling around. A card describes each product and indicates their full size and price. An extra note was included this time in celebration of their semi-anniversary.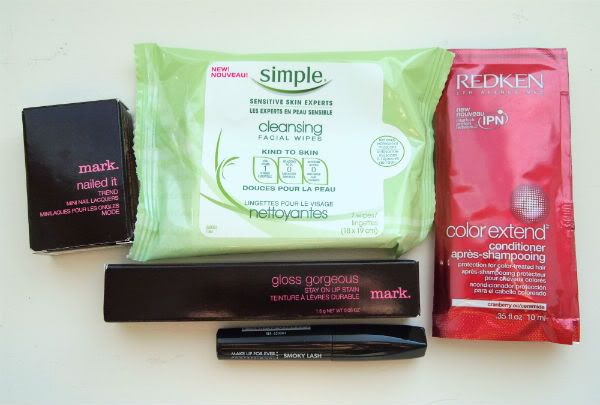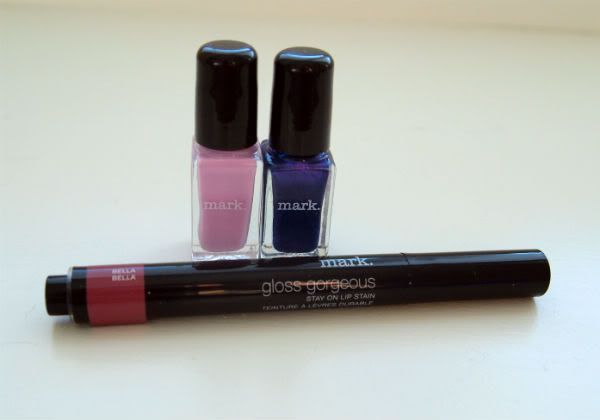 In this month's box:
1) Two duopacks of Redken Color Extend Shampoo & Conditioner - 10ml each
2) Make Up Forever Smoky Lash Mascara in Extra Black - 3ml
3) simple Face Cleansing Cloths - 7 cloths
4) mark. by Avon Gloss Gorgeous Stay On Lip Stain - 1.5g (FULL SIZE)
5) mark. by Avon Nailed It Trend Mini Nail Lacquers - 2 x 2.7ml (FULL SIZE)
The full sized mark. gloss and nail polish set are $12 and $8. Based on a unit price calculation, 7 pieces of cleansing cloth is worth $3.08, 3ml of mascara is worth $10.29, 20ml of shampoo is worth $1, 20ml of conditioner is worth $1.36.
$12+$8+$3.08+$10.29+$1+$1.36=
$35.71
Not as good as last time based on this calculation BUT this is actually one of my
favourite
boxes!
This month wasn't high on the "premium" brands which is a tad disappointing as that's one of the main reasons to offer a beauty box, right? Give subscribers an opportunity to not only try new brands but products that are too pricey for most to purchase without sampling.
However, I'm still a super happy camper because each item in this month's box actually interests me and is something I'll use (save for the MUFE mascara as I already have a sample size of).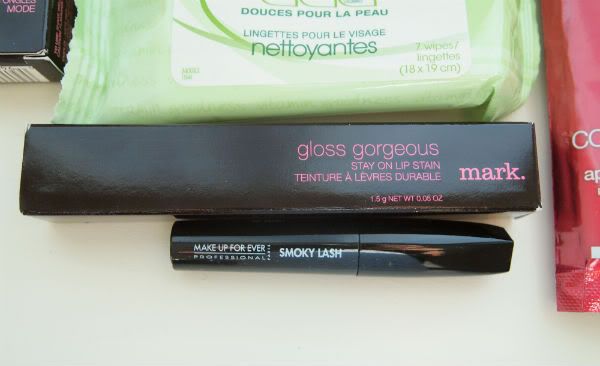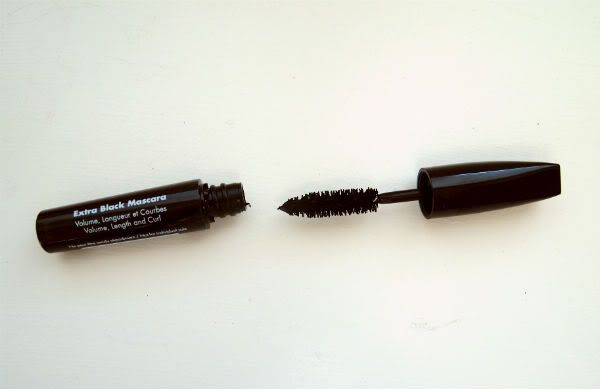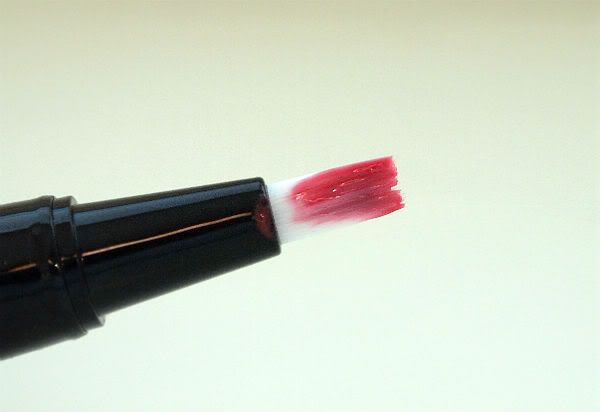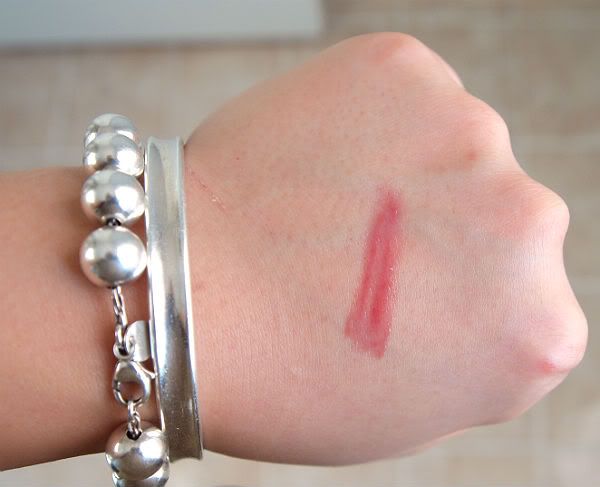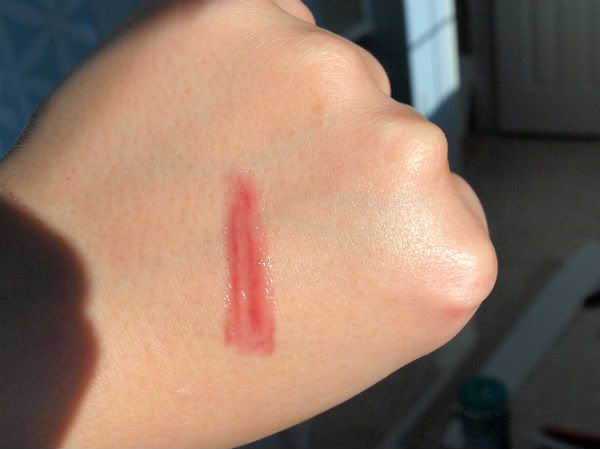 FULL SIZE mark. by Avon Gloss Gorgeous Stay On Lip Stain - Full size 1.5g for $12
LOVE this! I'll have to take some time and look into selling this mark. line. A few ladies at work sell Avon but it's never really interested me. Based on this and the nail polish though? I wouldn't mind tooting the horn of products that I will actually use myself. This is a really new interesting product on the market. Yves Saint Lauren's version -Rouge Pur Couture - goes for $34!! It goes on as a gloss and dries down as a stain. The best of both worlds!
The product is dispensed via click pen top, which I like a lot better than the twist style (think Stila and ELF lip glazes) as those often shoot out way too much product. The click seems to dispense less product each time although it takes quite a number of clicks to get product out initially - I thought was empty at first.
Bella Bella is beautiful and such a wearable color. I'm medium-yellow toned but I think it'll be gorgeous on a variety of skintones. I'm definitely interesting in purchasing other colors now.
3ml Make Up Forever Smoky Lash Mascara in Extra Black - Full size 7ml for $24
I didn't test this as I already have a sample but this is a great mascara. It really does create a very soot black thick lashed look. I only ever use waterproof mascara as it holds a curl better but sample sizes only come up every once in a blue moon. For that reason, I personally wouldn't repurchase the full size but I wouldn't be surprised it others do after trying this!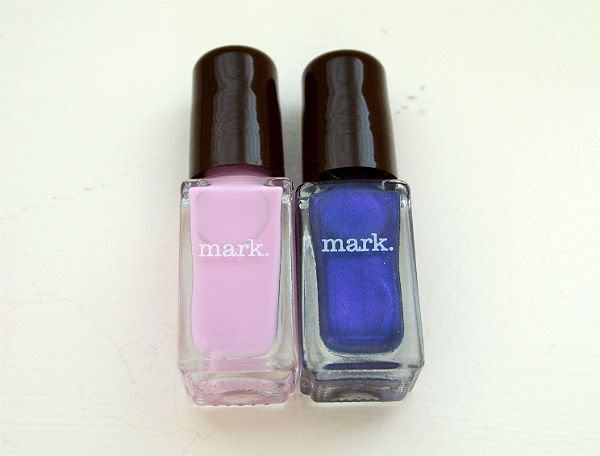 7-piece simple Face Cleansing Cloths - Full size 25-piece for $10.99
I saw these at Walmart recently and had my eye on the cleansing clothes. I'm always up for trying new ones as I use them pretty much every day. They are an absolute godsend for airplane rides, camping, and post motorcycle rides. This one claims to remove waterproof mascara and it does,
completely
! Granted, it's not as fast or gentle as makeup remover but it's more than I can say for other clothes I've used including Pond's, Garnier, Olay, etc. The cloth is also thicker than most which means it doesn't stretch or rip, nor do you feel like your finger tips are doing the actual cleaning. This is a 100% definite repurchase for me.
FULL SIZE mark. by Avon Nailed It Trend Mini Nail Lacquers - Full size 2 x 2.7ml for $8
I LOVE these! After purchasing a few Essence nail polishes recently, I've really gotten into the smaller sizes. It's hard to finish nail polish when you have so many and I hate traveling with several full sized bottles. These little duos in complimentary colors are perfect for fingers and toes!
I tried the colors on my fingers and they're just beautiful. A stunning metallic violet and a pretty pale lilac. The wear is quite good on these, too. I didn't notice a difference between it and some of my salon-brand polishes.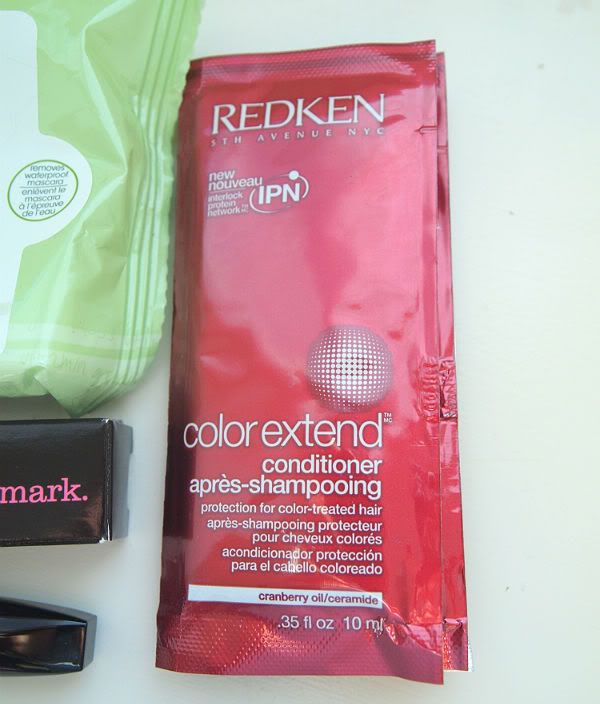 2 x 2 10ml packs of Redken Color Extend Shampoo & Conditioner - Full size shampoo 300ml for $15, conditioner 250ml for $17
I've used every version of Redken shampoo by now - All Soft, Extreme, Smoothdown, Color Extend, etc. and haven't had an issue with any of them. My favourites are All Soft and Extreme. Color Extend didn't wow me anymore than drugstore versions so I wouldn't buy it at full price. However, I'm really glad to receive these as it's hard to find travel-sized products for color treated hair.
Overall, March was a really good month. In the past few months Topbox's facebook page had received requests to
stop
sending out lotions and cheap peel-aways samples and
start
sending out nail polishes and other product types they haven't offered before.
It really sounds like they're making the effort and I'm now excited to see what April brings! I'm keeping my subscription for now.
Did you receive any subscription beauty boxes this month? What did you get? Did you enjoy your surprises?