Boscia ("BO-sha") is a preservative-free, botanically-based skincare line originating from Japan. The name Boscia comes from
BO
tanical
SCI
ence with
A
dvanced technology.
The company was actually started 32 years ago but only interested to the US in 2002. Since Sephora began carrying the line (I believe in the last few years) it has become very popular, especially with "green" skincare fans.
One of Boscia's lines that caught my interest is the "Black" collection which consists of 5 products:
• Luminizing Black Mask
• Detoxifying Black Cleanser
• No Pores No Shine T-Zone Treatment
• Pore Purifying Black Strips
• Revitalizing Black Hydration Gel
Each product actually applies black, which is both a little imtimidating and fascinating. I decided to try the Gel and T-Zone treatment to combat my thirsty cold weather skin and oily warm weather skin.
According to the Sephora website, the Revitalizing Black Hydration Gel is a cooling gel-based moisturizer that claims to provide ultralight hydration, refines skin texture, brightens skin clarity and minimizes the look of pores instantly and over time.
It contains the following key ingredients:
• Artichoke Leaf Extract improves elasticity to help tighten pore walls.
• Charcoal absorbs excess oil and impurities as it detoxifies.
• Glycolic Acid helps clarify skin and smooth rough texture.
• Vitamin C helps brighten skintone and minimize fine lines as it defends from free radical damage.
• Jojoba Leaf, a powerful antioxidant, combats free radical damage while it nourishes and protects skin to prevent premature aging, and Willowherb, a unique anti-irritant, helps to calm skin inflammation and reduce visible redness and irritation.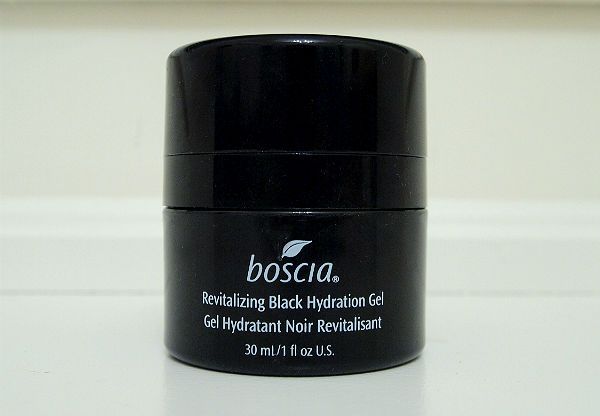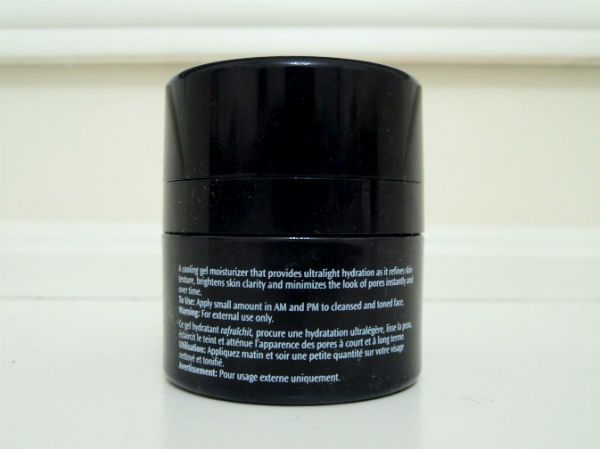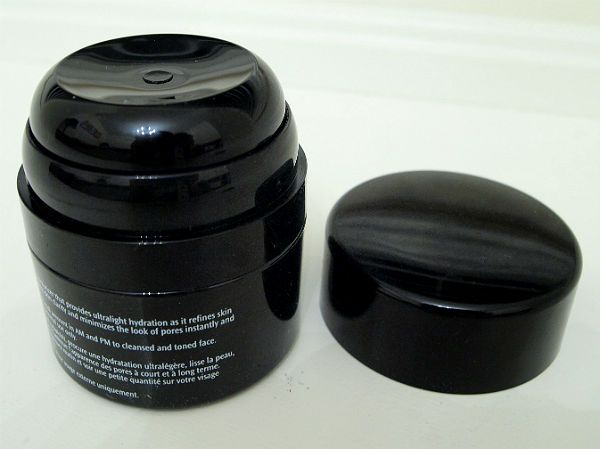 The packaging is unique. It looks like a little pot with a screw on cap but the actual applicator is a press-pump syle. You simply press down on the top of the pot and the gel comes out through the center.
It's a unique way to dispense product and more sanitary than a traditional pot but I find the traditional pump dispenser easier to use and the most sanitary. With this, the product is dispensed onto the surface of the pot and although there is a cap to keep out dust, you have to be careful to wipe off all product or risk a film of the gel drying out on the top. Yuck.
Below is about half a pump of the gel. I find that pressing the top all the way down produces too much gel for just the face. It is however, the right amount if you apply to both face and neck.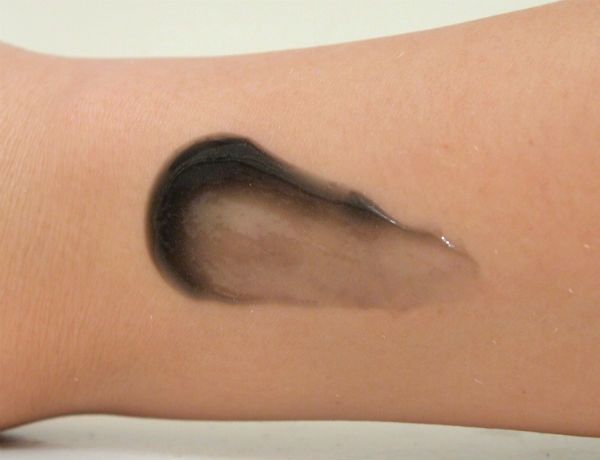 The gel may look scary at first. It's a charcoal gray with barely noticeable shimmer. The shimmer is a mystery to me, since it disappears once the gel is seeps into skin and I can't think of any skin-improving qualities it may have?
You can see above how it looks opaque when dabbed onto the skin but is translucent when smoothed out. A few more massages with the fingers and it will disappear completely...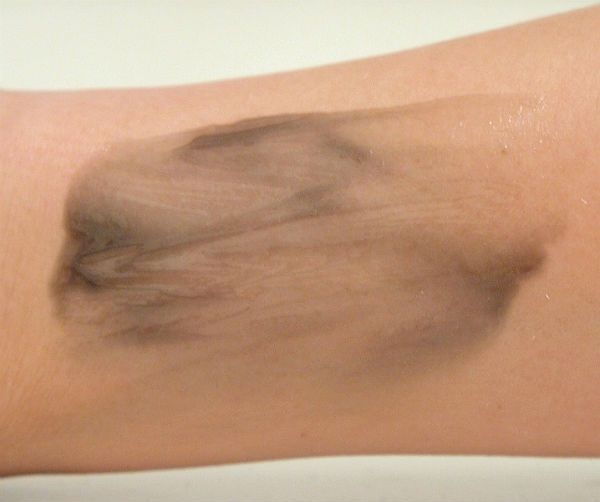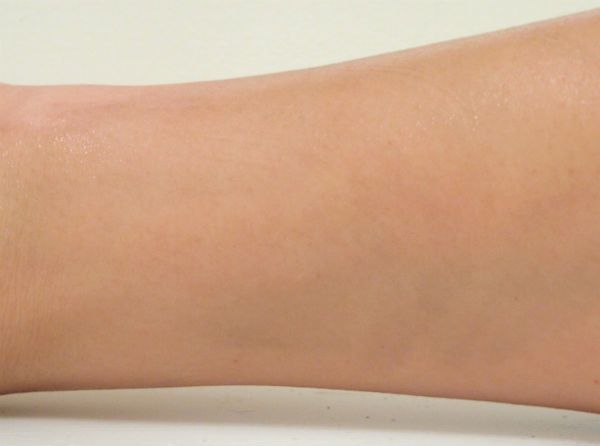 ...Or so it appears.
As of this post, there are 9 reviews for this product on Makeupalley.com and all are glowing. It's rare for a product to receive such consistent positive reviews (even if only 9) so I hate to be the debbie downer here. However, I do
not
have a great review of this product.
It feels great when applied, with a slight cool and tingling affect. The scent is a little herbal, like a mix of rose and something I can't quite pin down. It really does feel very hydrating and a touch to the face reveals that the surface is still moist about 15 minutes later.
But this is really deceiving! What seems to just be serious hydrating qualities is actually a film of product on the skin. The gel does not completely sink into the skin.
You may not notice this if
only
using the gel (although I did). In fact, you may not even notice if you wait for the gel to sink in, then apply primer.
But you
will
notice if you then apply foundation with your fingers. Okay, so that may not be the best way to apply foundation but it
does
reveal this flaw with the Hydration Gel. After applying foundation, I notice gray gunk on my fingers which appears to be a mix of foundation, primer, and the gray gel. I blame the gel because this does not happen when using other moisturizers and the same steps in applying my makeup.
Would I buy this product again? No, definitely not. I didn't find it particularly moisturizing and the fact that it doesn't sink in and causes my foundation/primer to bead is makes this a bomb for me.
What I
do
like about this gel is that it does not give me oily t-zone. Unfortunately, I can't give it all the credit. The Too Faced primer I'm using is quite good and my suspicions are that I would find the same result using this primer paired with any other gel or light lotion.
I would still recommend you grab a sample from Sephora to try. It really is an interesting product and others seem to really love it. I'd love to know how it works for you and if I really am the odd one out on this!
The Boscia Revitalizing Black Hydration Gel retails at $38US/$46CDN for 1oz/30ml. It is available in the US via Sephora, Ulta, and the Boscia website. It is available in Canada via Sephora.