I've been hearing the name "Nate Berkus" dropped here, there, and everywhere for the past while. But without cable and a lack of patience for Youtube, I haven't really seen his work to judge for myself. I just know that he's loved on the blogosphere and is very pro-DIY on his show.
As with anything popular where I didn't jump on the initial bandwagon, I'm always hesitant to try it out. Harry Potter, Trueblood, chevron stripes, and the current Izayaka craze in Toronto come to mind. If I get into it now, will I be able to make an objective decision or is it just repetitive exposure to the craze that's influencing me? Is it really all that awesome or 50% hype?
That's why it was quite a pleasant surprise to come across a beautiful One-Day Makeover feature in this month's House Beautiful and only connect the Nate Berkus in this feature to
THE
Nate Berkus. Not sure why it didn't click instantly but I'm glad for the temporary brain freeze. Because I came to the (objective) conclusion that yeah, that guy is pretty good!
BEFORE & AFTER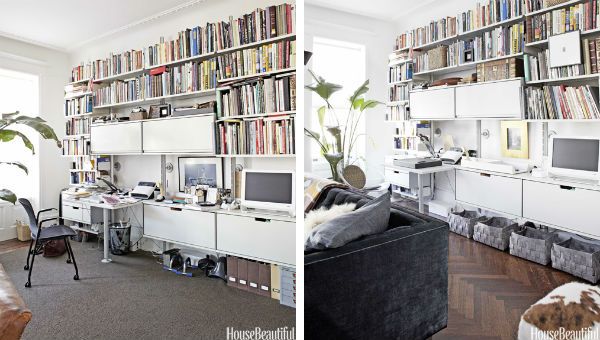 THE FINAL PRODUCT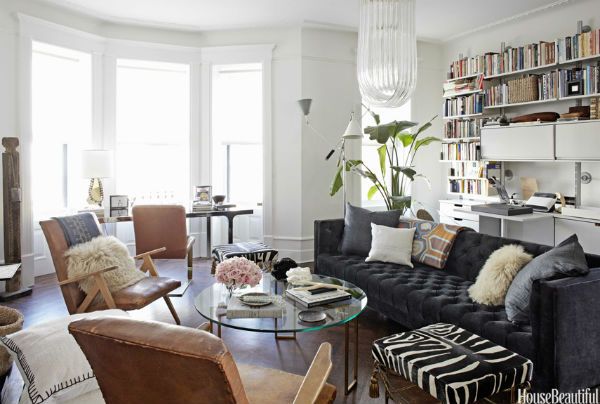 This certainly isn't a dramatic makeover. No dilapitated house turned model home here. But this has to be one of my favourite makeovers for how useful it is to the everyday home dweller on a budget.
Sure there are beautiful spaces featured in every magazine, but I find it hard to recreate many of them because they are just
so
dramatic or call for too many changes to furniture or structure.
This article shows you how minor furniture changes, use of accessories and thoughtful arrangement can really complete a room. Upon seeing the room for the first time, this was what Nate had to say:
•Eclectic is fine, and I love certain pieces, like those leather chairs. But if you want people to gather here, the room needs to be more comfortable.

•Let's get a sofa to anchor the seating area and give you another reason to come in.

•Bare walls make the room feel cold. I'm going to get something to go over the fireplace.

•It's missing that last layer of detail that adds texture and warmth, like throw pillows. Everything seems to stand alone. We're going to pull it together."

And folks, this is why he's the professional and I'm not. I find it easy to work big. To create the general layout of a room, come up with a color palette, etc. but it's hard to "complete" the space. There's always that something-something that's missing but I can't put a finger to it. Every comment he had about the house above made me go, "Ahh, so
that's
what it was". In short, I can tell something's missing but he can tell what that is.
Check out the article on House Beautiful's website for additional photos from the day and Nate's thought process in putting this room together.
CLICK HERE!
.
Are you a fan of Nate Berkus? Has he done other work that you particularly like? Please share them! I'd love to see.