Since moving on from my trusty L'Oreal Voluminous Lash mascara, I've had great luck with fibre-infused formulas and Maybelline mascaras in general.
I was using Maybelline Falsies for a while but started to dislike the clumpiness of the formula, which was one I found to dry very quickly after opening. So I started to use L'Oreal's Voluminous False Lash mascara (
read review here
) which I really begin to love. If you read that review, it was a positive one but I said I would not buy it again. I started to reconsider that comment because as the formula "aged" and thickened, it seemed to create more volume than before.
Then Maybelline released their Illegal Length mascara and I had to try that out before another tube of Voluminous False Lash was purchased. It seemed to be Maybelline counter part to False Lash. Both had slim architectural-like tubes (the Maybelline version is based off their Lash Stiletto mascara) and use fibre-infused formulas.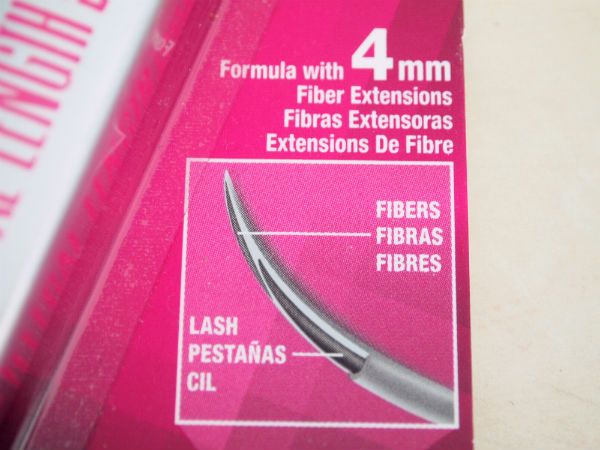 I wish I had a comparison with False Lash but it was in my car so here I've pictured it with the Maybelline Falsies and L'Oreal Voluminous Lash (classic) mascaras. As you can see, the brush is thinner and stick straight (like a stiletto!) and the brushes short and further apart.
You'd think it would be easy to tell if a brush works or not by comparison with other brushes - short would grab smaller lashes, thick would help curl and deposit formula, etc. but it definitely is not. A perfect combination of brush
and
formula has to exist to make luscious lashes happen.
So, would this be the perfect mascara? Would it do what all that False Lash does but provide more volume? Volume, length, curl, and staying power?...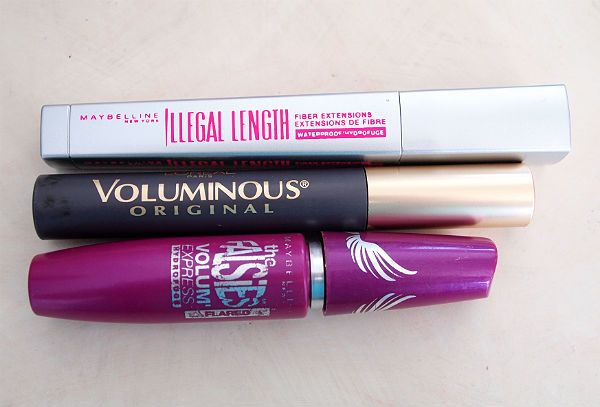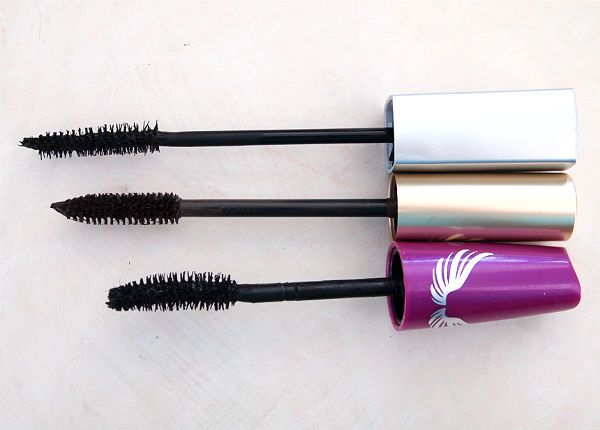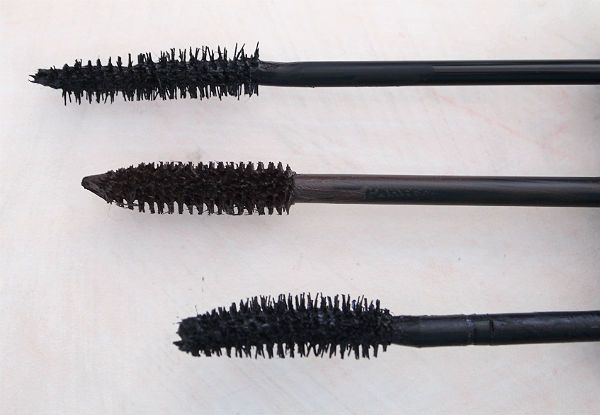 The conclusion? A big fat
NOPE!!
This mascara has two things going for it - staying power and length. But even that it does not excel in.
The formula is thin and it's hard to imagine there is fibre in there. The first coat is barely there - like the result regular run-of-the-mill mascara gives. After 3 coats, it looks decent but still lacks oomph. I feel like it emphasizes how fine my lashes are. It does last all day without smudging but I suspect it's more due to the thin formula.
It sort of holds a curl. My lashes don't stretch out straight but there is definitely some drooping to my curled lashes. I would say perhaps a 1/4 less curl.
I'd love to say this mascara would work for X, Y, or Z but I can't. I really don't know what type of lashes this mascara would benefit over any other mascara.
So no. Don't buy it.
Maybelline Illegal Length Mascara retails around $9US/$11CDN and is available at drug stores and discount department stores.