I'm not going to post about last month's Topbox even though I received one. August was preparing for our roadtrip, going on roadtrip, then recovering from roadtrip so I decided to take a break from the blogosphere. Plus, there's a number of great reviews out there already!
September's Topbox came last week and consisted of 4-5 items, depending on how you count it.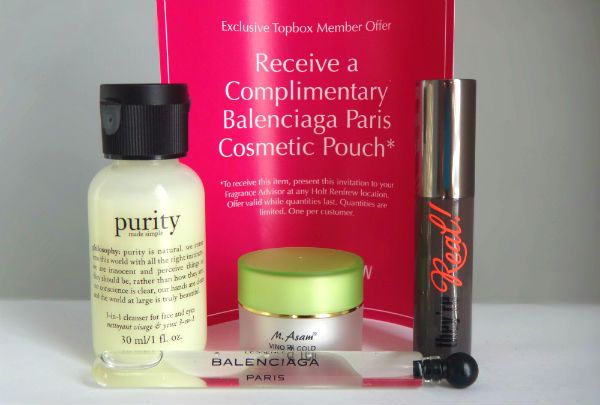 The items were:
1) 30ml bottle of Philosophy Purity Facial Cleanser
2) 4ml tube of L'Essense by Balenciaga
3) 5ml pot of M.Asam Perfect Skin Primer
4) 3g tube of Benefit They're Real Mascara
As with
May 2012's Topbox
, this box also included a voucher to redeem at Holt Renfrew for a complimentary make up bag. I guess you could call it a fifth item but....I wouldn't.
I didn't redeem last time even though I work down the street from one of Holt's locations. To be honest, I find these vouchers bit of a cop out. Why not just include the makeup bag in the box? Even if it doesn't fit, the same excuse can't be said for May's offer of a nail file. Also, it seems really unfair. I am sure that there are MANY subscribers who don't redeem them because they either don't have time and/or live too far away. Topbox is country-wide yet there are only 10 Holt's locations - 3 of which are in Toronto. Plus, it's while supplies last.
The actual products that came in the box seemed anemic upon reveal. Usually the box is a little more stuffed. But as we all know with cosmetics, size and price don't always add up!
So what's the math?
The full size Philosophy cleanser is $26 for 240ml (also comes in 90ml for $13), the full sized Balenciaga is $150 for 75ml (also comes in 50ml for $110), the full size M.Asam primer is $42 for 50ml, the full sized Benefit mascara is $29 for 8.5g.
Based on a unit price calculation, the cleanser is worth $3.25, the perfume is worth $8, the primer is worth $4.20, the mascara is worth is worth $10.24. $3.25 + $8 + $4.20 + $10.24 =
$25.69
1) 30ml bottle of Philosophy Purity Facial Cleanser
I've heard so much about this cleanser and have heard raves from close friends and bloggers alike but for some reason, I've never even though to ask for a sample at Sephora. So I was really glad to receive this. Plus, travel sized skincare is always useful for trips, especially brief ones with only a tote in tow.
This cleanser has only a slight scent. It's thicker consistency than a gel but thinner than a foam/cream style. Also, there's no grit in this. All in all, a very gentle cleanser although I would still recommend something from La Roche Posay or Cetaphil if you're prone to windburn and eczema breakouts in the cooler weather.
Purity did a pretty good job of removing all face makeup and most of my waterproof mascara. It didn't take it all off but then again, I've yet to come across one that does (I'm not even sure you'd want something that can take off
waterproof
mascara, though. Think what that's doing to your skin!).
That being said, I wouldn't buy this cleanser again. The price is not bad as some drugstore cleansers are in the teens for 100-150ml and this one is $13 for 120ml (when you buy the larger size). But for me, this one didn't particularly stand out from all the rest. And with so much product in my existing stash, something either has to be absolutely standout, a great deal, or both for me to purchase it.
2) 4ml tube of L'Essense by Balenciaga
When I first put this on, I thought I was wearing Hermès Kelly Calèche. Which although I have to be in the right mood for, I do actually love. Although L'Essence is a more intense offshoot of Balenciaga's Balenciaga Paris, it has less of a "leather" note than the Hermès. Still, it is a bold fragrance and for those who are more used to say, Marc Jacobs Daisy, this may be just too much. It does smell very
French
if that's possible. Like something a woman in her 30's-40's who wears crisp white shirts, tailored pants, but beautiful lace lingerie would wear. There's definitely that juxtaposition of feminine and sexy versus strong and masculine. To give you an idea, here are the notes in this scent: vetiver, patchouli, violet, violet leaf, green notes, sandalwood and cedar.
I think this is a very generous tube (about 1/2 the size of most rollerballs tubes) and will last me quite a while. I just wish samples came in spray bottles or mini rollerballs instead of tubes with a stopper though but that's not specific to Topbox or Balenciaga.
3) 5ml pot of M.Asam Perfect Skin Primer
I've never heard of this brand
before but upon some research, it seems to be a TV shopping brand that originates from Germany. It's currently offered on HSN.com (Home Shopping Network) for $30US.
The primer is silky and a translucent white color although it goes on clear. I would say the consistency is very much like Clarin's Instant Smooth Perfecting Touch Primer. The finish is matte and it does minimize pores but I don't think it's worth the price because it's nothing special. I would rather spend less than half the $42CDN price tag on something from the drugstore that works just as well.
4) 3g tube of Benefit They're Real Mascara
Benefit made big hoopla over this mascara when it first came out with Sephora appearances, email blasts, etc. But when I realized it was not waterproof (the only kind that holds a curl for me) nor had fibres (because I'm addicted to this innovation!), I was less excited. I was glad to see this in the box though as I am curious to try it. As expected, this didn't hold a curl for me.
No photos of the brush but it's similar to CoverGirl's Last Blast, which seems to be a holy grail for many. The sample brush seems quite big for the tube; I suspect it might be the same size as the full tube. I hate sample mascaras with teeny tiny brushes that tell you
nothing
about how the real deal would perform so this was a pleasant surprise. The brush really coats each lash with carbon black mascara, thickening and lengthening dramatically. I like the formul as wel - it's wet but not runny, almost like a gel. I wouldn't be buying a full size since it doesn't hold a curl for me but I will use this tube to apply a second coat over my usual.
All in all, I was pleasantly surprised with this month's Topbox. While the dollars & cents aren't high in this box and the box itself wasn't stuffed full of goodies, what was actually included were all items I would put to use. I hate months when half the samples just go into the junk pile.
Looking forward to next month!