October's Topbox was pretty disappointing and I wasn't feeling too enthusiastic about reviewing. In fact, I had already been thinking about cancelling and this cinched my decision.
I'll talk more about why I decided to cancel Topbox and why I probably won't subscribe to another one at the end of this post.
I only realized last month that you can see what version your box is in the tracking email Topbox sends upon mailing. This month I received #17. Apparently there were more than 20 different versions.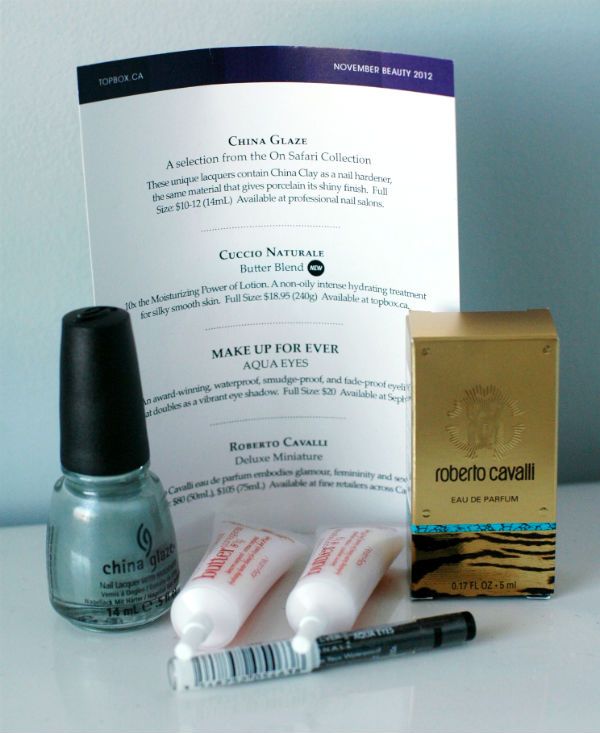 The items were:
1) 14ml China Glaze nail polish in Elephant Walk (full sized)
2) 9.24g x 2 Cuccio Naturale Butter in Pomegrenate & Fig
3) 5ml Robert Cavalli EDP
4) 0.7g Make Up For Ever Aqua Eyes eyeliner in Mat Black 0L
So how much was November's box worth?
The full sized nail polish is $10-12 for 14ml although I've never seen it over $10 (usually $7-8). We'll use $10 as the price for this calculation. The full sized butter is $18.95 for 240g. The full size perfume is $80 for 50ml or $105 for 75ml. We'll use the bigger bottle for this calculation.
Based on a unit price calculation, the nail polish is worth $10, the butter is worth $1.46 (2 x $0.73), the perfume is worth $7 the eyeliner is worth $12.89. $10+$1.46+$7+$12.89=$30.85. Not the most the Topboxes have been worth in the past year but not the least either.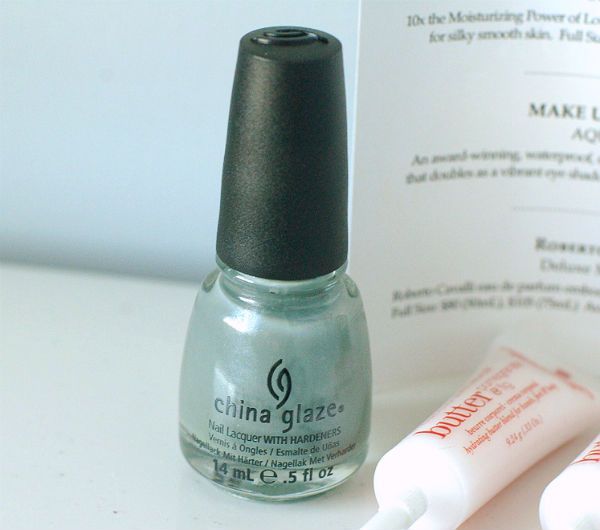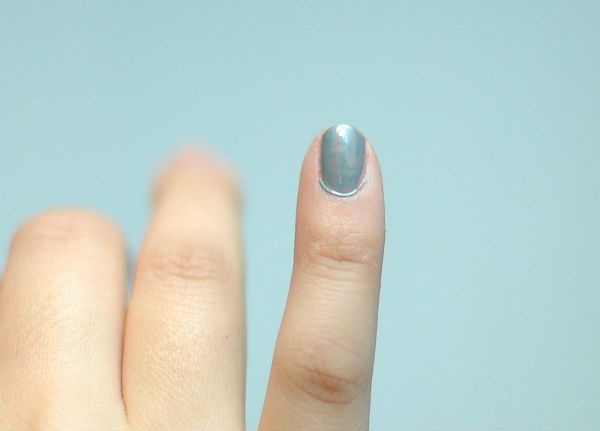 14ml China Glaze nail polish in Elephant Walk (Full Size)
This color is from the On Safari collection. Other box versions contained different colors from the collection. I had admit, I wish I received another color as this one is very similar to Color Club's Wild Orchid which I reviewed here.
I will say I'm really glad we received a nail polish in this box and a full sized one at that! This color looks unflattering in the bottle as I tend to go towards warm taupe-y grays but on my finger? I think it actually looks quite pretty, especially with silver jewelry (or perhaps some silver glitter on the tips??...)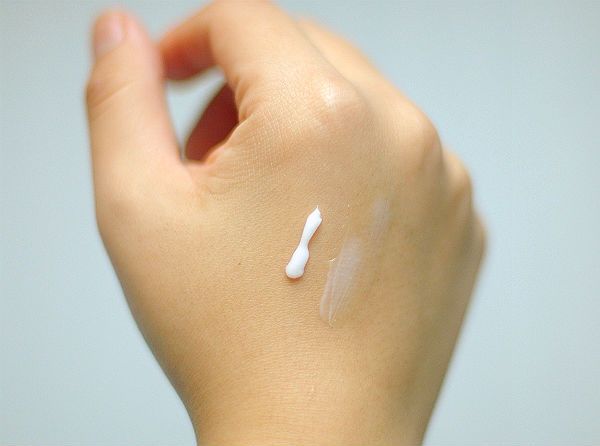 9.24g x 2 Cuccio Naturale Butter in Pomegrenate & Fig
I was curious to try this product as I love both fruits. Plus, I'm always looking for super moisturizing products and this one promises to give you ten times worth! I thought the consistency would be like The Body Shop's Body Butters but this is more like a lotion or light cream. If you've ever tried Vaseline's Sheer Fusion body moisturizers, this is very similar.
The scent is great but not as strong as products from The Body Shop and Bath and Body Works. It is moisturizing but I don't find it to be ten times than any other moisturizer. And I'm sure it's a placebo effect, but I find thicker lotions/creams to feel more moisturizing as they coat your skin. All in all, this is a nice moisturizer but I wouldn't spend $18.95 when the Vaseline version is a fraction of the price.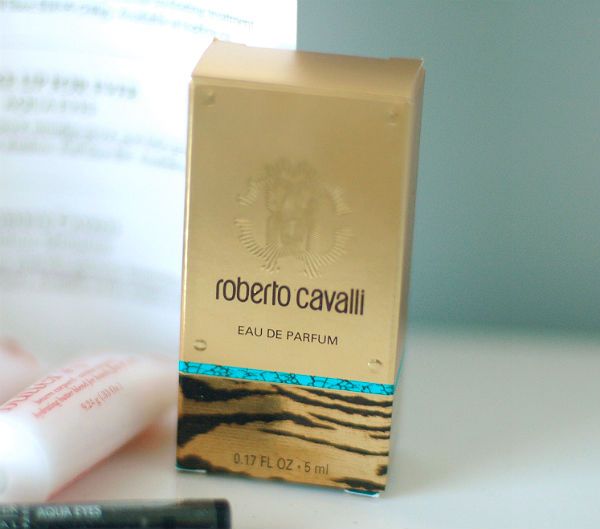 5ml Roberto Cavalli EDP

Perfume is such a personal thing and as someone who isn't very well versed in the various notes and what they would really translate to when blended together, I find I really need to just it out. I'm glad it worked out this time and I actually received a scent I like. Other subscribers really disliked this and thought it smelled old lady like but I think it's quite beautiful.
According to Fragrantica.com, it's an intense oriental based on notes of orange blossom. There are also ambery nuances of benzoin, pink pepper, tonka and vanilla." Seriously, I have no idea what that means but I do think of this as a night time and/or winter scent. It's sweet and I love how it smells freshly applied and within the first bit of wear. I'm not loving the very vanilla dry down but by then the scent has lightened enough to be okay with me.
I'm also really impressed with the sample size. The bottle looks a lot smaller than rollerballs which can be had for $15-30 at Sephora but it's actually the same size as some of those rollerballs when you look closely at the volume (5ml in this case). This will last me a long time and I'm really loving sample/mini sizes these days since I have so many scents.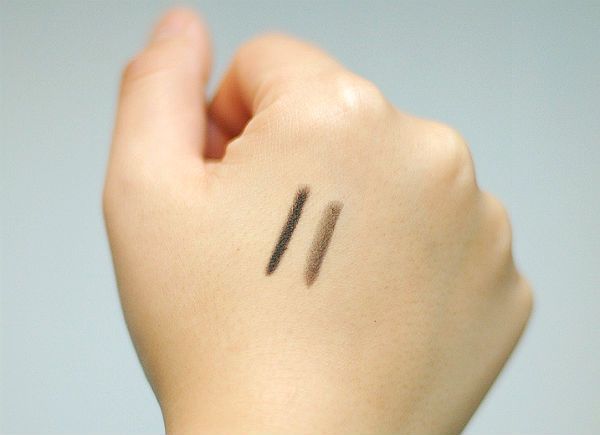 0.7g Make Up For Ever Aqua Eyes eyeliner in Mat Black 0L

I am loving this! I usually line on my upper waterline with black waterproof liquid eyeliner and save for a couple versions, I've found most still smudge a little (or a lot!) under my eyes after a day's wear. I used this instead to see how it would compare, without much faith I might add. And I was totally wrong. It did as well as the best waterproof liquid eyeliners I've used and much better than many others. I am definitely interested in trying the other colors in this line now and there are some really really beautiful ones. The full size does not have that much more product than this sample so I would say on a price per unit basis? This is quite an expensive eyeliner but considering how well it lasts? It's definitely worth a full sized purchase or two or more...!
WHY I CANCELLED MY TOPBOX SUBSCRIPTION:
So, now that the review part is over, I'd like to share a little more of my thoughts on Topbox in general. Before I go on, please note that many subscribers are more than happy with their subscriptions and this is just my opinion.
Some months are better than others, some months have products of higher value or more interest to a particular subscriber than others. I understand all that. But the main reason I cancelled my subscription was how unfair they were amongst their subscriber base. Here are several examples:
Twice they offered an additional free product for pickup at Holt Renfrew. The card indicated it was "while supplies last". I passed on the first but when I went to the Bloor location for the second, the associate had no idea what a Topbox was, much less that there was a free gift pickup. A second associate knew about it but told me they only received 15 and all were gone the first day. Fifteen when they have hundreds of subscribers in Toronto alone? I work a five minute walk from this location but what about those who went out of their way? If you're out of it by the first day and it was offered to subscribers only? Then you supplied way too little. I was also disappointed they chose Holts. Both freebies were big enough to fit in the box so this was purely a way to get subscribers in store. But if you're going to do that? Be fair and pick a place that the vast majority of your subscriber can access. How many Holt Renfrew locations are there in Canada versus Shoppers Drug Mart or The Bay?
They also offered a pick-up only for additional Lise Watier samples at Shoppers Drug Mart. Sounds greatm right? Well, it was only for a handful of locations in Toronto. Again, what about everyone else across the country! Everyone pays the same amount so why 3 offers that were all Toronto-centric or exclusive? Of those Torontoians, a few came back and said that associates had no idea about the offer. Topbox's Facebook response? Oh, we talked to them now so try again tomorrow. Is it just me or is that just a little disrespectful of their subscribers time? To make matters worse, some subscribers printed off the offer coupon and obtained like 10-15 of these boxes to sell on Kijiji whereas many honest subscribers went out of their way only to leave empty handed.
Aside from this unfairness in terms of geographic location or number of extra samples available, I find their boxes way too varied and unfair. If this month's 20+ different boxes are not an indication enough! They claim their boxes are customized but their monthly surveys are so generic it's hard to know how it feeds into the results. Every month, a number of members will indicate that they hate perfume but received that instead of the eyeliner someone else received or vice versa. Or they received a product for color treated hair or oily skin and they have natural hair or dry skin.
On that note, they also "reuse" samples. This happens every. single. month. They'll send some subscribers one product as it if were "customized" for them then send the same sample to other subscribers in other months. I've asked them and they said it's because their suppliers wanted them to share with a larger customer base. But really, I can't help but think they are working more for their vendors than their subscribers, not customizing as they claim, and also padding up their boxes when they are short on new samples.
Their response via email and on Facebook is always super pleasant and polite but sometimes that's maddening. You don't receive true answers, just fluff like "We're sorry, please email us and we'll help!" or "We hope you like the next one!" It sounds like great customer service the first time or two but after a while, it gets old and you really start wishing for some substance and change.
A LITTLE BIT ABOUT HOW BEAUTY BOXES MAKE MONEY!
I'm also hesitant to subscribe to beauty boxes again now that I know how they make their money. Did you know that they not only receive all their products for free but in most cases, receive instructions from the supplier how who they should provide the samples to? Perhaps. Did you know that the profiles and monthly surveys you complete also go to the suppliers as market research?
If you're alright with this and see the $10-15 a month as a service for bringing samples to you instead of having to visit stores and asking (something I hate doing!), then no problem. But after learning about the industry, I feel uncomfortable paying for these company's marketing and market research when I don't always get exactly what I want. I'd rather take that money and purchase products I choose to purchase. The company is making money and I am receiving a product I've decided on. Whereas in this case, the company makes money, the middle man makes money, and only sometimes I receive a product or sample I want.
Sorry for the very very long blog post but this is my last one for Topbox and thus verbal diarrhea!