Mid-month, I was starting to get a little disappointed at my lack of progress but things spend up in the last half of January and I'm proud to say I have quite a decent number of empties to start off the new year with(out).
Denise @ Circuits of Fever
and
Liz @ Beauty Reductionista
(who I got the Empties idea from) still do a far better job than I but I'm slowly slowly getting there!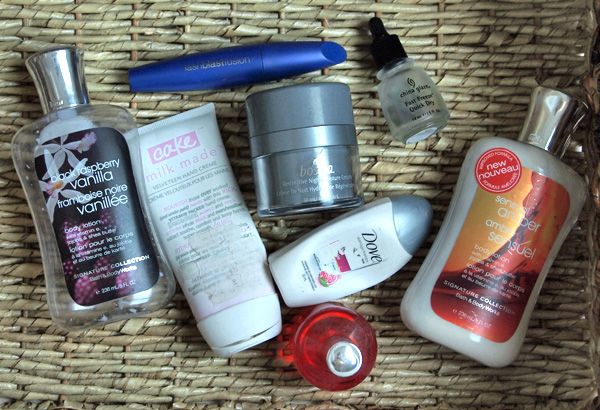 1. DKNY Red Delicious EDT 30ml - Regular size, Expired
I bought this along with the original Be Delicious (green bottle) years ago. Be Delicious is supposed to be inspired by green applies and Red Delicious by it's namesake. These are 30ml/1oz bottles, which are the smallest of the "regular" size perfume offerings. I didn't like Red Delicious nearly as much as the green and while that was emptied years ago, Red Delicious only made it to the half way point before expiring. I thought it would be similar to Be Delicious which was sweet, crisp, and fresh but with a softer vanilla instead of that greener freshness. I didn't experience much of that. Instead, there was leather and musk. Not too much of it but just what I wanted in this sweet blend. I hadn't picked it up for months but after a spritz in January, I smelled that smoky note which often occurs when perfumes goes bad.
2. Bath & Body Works Sensual Amber Body Lotion - Regular size, Empty
This is actually my second bottle of Sensual Amber. The first one was the old formula, although I can't remember a difference. There's nothing really to be said for the quality of B&BW body lotions. It's moisturizing, but I don't find it any more or less so than most others. For me, it's really the scents (and variety of them!) that drive me to purchase B&BW body lotions over any other ones. The Sensual Amber is way too cloying and heavy for summer but in the fall and winter? It is
divine
! B&BW categorizes this scent in their Warm family and describes it as pink lotus petals enveloped in golden amber and blended with succulent plum and creamy sandalwood. It's sweet, warm, and spicy and one of my favourites for offsetting the biting cold weather. I won't buy another bottle this winter but will most likely pick it up again next year.
3. Bath & Body Works Black Raspberry Vanilla - Regular size, Empty
Similar to Sensual Amber, I love this one for warm weather, too. B&BW has 8 fragrance "families": Exotic, Fruit, Floral, Fresh, Citrus, Gourmand, Woods, and Warm. This one belongs in the "Fruit" family but I think it would be just as appropriate as as Gourmand with it's good enough to eat smell of raspberries and vanilla. It's sweet but creamy so I associate it less with fruit than dessert. Again, I won't be picking up another bottle this year but will do so during one of their great Buy 3 Get 3 Free sales in the fall to prepare for the colder weather.
4. Boscia - Restorative Night Moisture Cream - Regular size, Empty
I really loved the consistency of this cream. It's moisturizing yet weightless, non-greasy, and didn't cause my super-winter-sensitive skin to go all apeshit in the last few months. But....I hate the packaging because it is the same one used for their Revitalizing Black Hydration Gel
reviewed here
. I figure it's empty because pushing the pump top no longer produces product but I can't be 100% sure. The frugal side of me wishes this was a clear bottle or a squeeze tube... As for repurchase? Nope. It was a great product but too expensive for the amount. I'm more likely to go back to my favourite boring but dependable brand: La Roche Posay.
5. Dove Revival Conditioner - Travel Size, Empty
This has a very light and pleasant pomegranate scent. It did a good job conditioning my hair and providing moisture. My husband and I both use a lot of Dove products (body soap, deodorant, and for him shampoo as well). We love how gentle and moisturizing their stuff is and it doesn't leave behind that squeaky clean feel a lot of other brands do. I actually find that makes me feel
less
clean. Drugstore shampoos go on sale so often I wouldn't specifically purchase this one again. However, if I had a coupon and this one happened to be on sale and I've run out (not likely considering my stash...)? I would.
6. China Glaze Fast Freeze Quick Dry - Regular size, Empty
This drying agent contains no DPB, Toluene, Formaldehyde, alcohol, nor oils and is supposed to dry up to 5 coats of lacquer in 30 seconds to the touch, 2 minutes out the door (according to their website). It definitely sped up the drying process but I it seemed more like 5 minutes to me. I was quite surprised that it contains no oils because it actually leaves behind an oily residue albeit lightweight and quick to absorb, similar to dry body oil. What I really love about this product is the scent. It has quite a strong peppermint scent that one review said was really offensive but personally, I can't get enough of it! I would buy another bottle of this just for that. Plus, I really like the applicator which is a little glass eyedropper. I can fill the dropper once or twice per hand instead of for every nail.
7. Covergirl LastBlast Fusion - Regular size, Hate!
This mascara is seriously AWFUL. I usually buy the blackest shade I can find but this time I decided to try a navy blue. First of all, the color didn't do anything for my eyes. The blue wasn't a rich royal blue but more of a faded navy which just seemed like dark fluff on my lashes. It was also really drying and provided no volume, length, or curl. It had decent lasting power but that's about all I can say for it. What a waste of money! I haven't had much luck with Covergirl mascaras but this one was really bad.
8. Cake Beauty Milk Made Velveteen Hand Creme - Regular size, Empty
I think Cake is popular because it has seriously cute packaging and is like a godsend for those who love sweet dessert scented products. I'm not so sure it actually has
amazing
products skincare-wise, though. I haven't tried but a few samples of bodywashes and lotions but nothing really wow'd me. Likewise with this hand creme. Cake Beauty describes this as a vitamin packed hand cream with decadent mango and shea butters, whole milk, and marshmallow extract to moisturize and sooth dry skin. The scent is of warm vanilla with a hint of raspberries. Those who like Aquolina's Pink Sugar will really like this. I didn't buy it at the regular price ($20) and I don't think I ever would. However, if it goes for $10 or less I would as I'm fond of the packaging, I like the sweet scent, and it's a decent moisturizer.
AND THE FINAL COUNT IS.....
# of bulk sized products: 0
# of regular sized products: 7
# of sample/travel sized products: 1
# of true empties: 6
# of expired/broken: 1
# of hates: 1
How my counts work: Regular size refers to the commonly sold sizes. For fragrance, regular could be anywhere from 30ml/1oz to 100ml/3.4oz. A sample/travel size would be rollerballs and smaller sample vials and cards. A true empty is product I've fully used up. Hates are products that are perfectly useable but I just hate so much, I've called quits!