Yet again sucked in by cute packaging. I am marketing companies' and ad agencies' dream come true.
But you have to admit, this packaging is just cute cute, CUTE, right?
I love the pink, red, and gold palette. If I was single or had a room in the home that could be 100% dedicated to me? I'd love to do some over the top decorating with this color combination. But since my husband hasn't done anything egregious yet (like turning our guest bedroom into a mancave or something) I can't sic a giant valentine's day card kinda of room on him but you better believe the uber-girly decor will be ready to attack should that ever happen...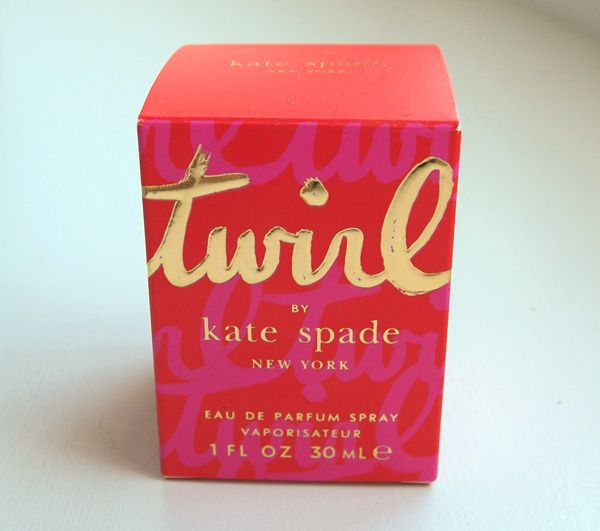 At $25 (about half retail price) at my local winners, it wasn't too much of an investment. And really, I couldn't imagine something this pretty surprising me with an old lady smell.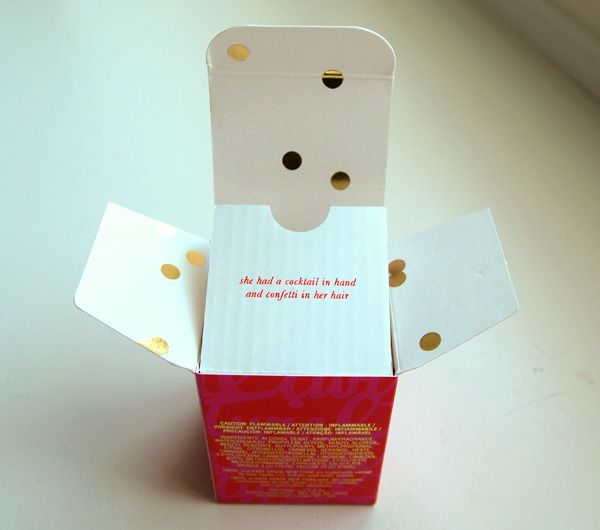 I love when brands pay such attention to details with their packaging. The quote and the gold confetti that continues inside the box is such a pretty touch.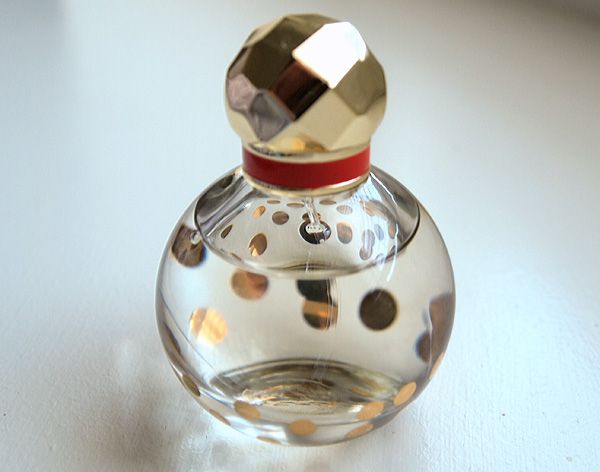 There was actually a larger bottle (50ml/1.7oz) for slightly more but I think the dainty size is perfect with the packaging. Plus, I have to say I much prefer 30ml bottles even if unit price is a little higher because it's very rare for me to finish an entire bottle of perfume before it goes bad. I'm guessing that's the case for a lot of you out there as well.
Twirl EDP came out in fall of 2010 and is supposed to be a light hearted, happy kind of scent. Kate Spade's online store describes it as "pink watermelon mingling with blackberry and red currant. It's finished with luminous musks and a touch of french macaron (straight from the patisserie, of course)!"
Sephora describes this as a fruity-floral fragrance with Top notes of pink watermelon, blackberry, and red currant; Heart notes of fresh flowers including orange blossom, jasmine, and magnolia; Dry down to a base of luminous musks and a touch of a French macaroon. Complete notes are: Mandarin, Bergamot, Baies Rose, Pink Watermelon, White Peach, Red Currant, Blackberry, Star Jasmine, Magnolia, Orange Blossom, Tiare Flower, Sun-Kissed Skin Accord, French Macaron, Luminous Musk, Amber.
This is a really easy perfume to wear. I can't really imagine anyway disliking it because it's a fairly light and fresh perfume. It isn't really similar to any perfumes I know of but I would say in terms of the feeling it exudes? Very similar to Coach Poppy or Marc Jacob's Daisy. Young, fresh, sweet, fresh floral. The type of perfume a teenager or young woman who wears pretty, colorful, and slightly preppy clothing would wear. Think J.Crew, Coach, Nanette Lepore, Tibi, etc. I think it's very appropriate both in packaging and scent for the Kate Spade brand.
Although the scent is labeled an Eau De Parfum, it doesn't last very long. Part of that can be attributed to the light, fruity floral scent itself but I think mostly it's the quality of the perfume. Some reviews have indicated an alcohol smell (common with cheaper perfumes and body mists) which I have not experienced but I do find the scent relatively one dimensional despite all the notes it claims to have. From the initial spritz to the dry down, there wasn't a significant and noticeable difference. I don't find any particular notes popping up as the day goes on, but that could also be because it doesn't last! I get a few hours wear out of Twirl.
Do I regret purchasing this perfume? No, it's a very easy to wear and unoffensive scent so on days when I'm feeling indecisive or need a quick pick me up, it's the perfect choice. The smaller size also makes it a great travel perfume and the packaging is pretty cute to display on any vanity or shelf.
So now the question is, would I repurchase this perfume? No, I wouldn't. Unless I found it crazy discount for say, $10-15 then perhaps. But otherwise, there are just too many other scents out there to try out. Like many other beauty products, it's pretty good, but not great and not worth going back to when there's so much more to discover on the market.