Cam got a call from the postal worker today asking to be buzzed in to deliver a package. Unfortunately, he was at work so he asked him to leave a pick-up note, then promptly called me to ask what it was.
Oops! So much for online shopping and hiding it from the man. I had to fess up that it was my J.Crew order (
see this post
). Although I pay for my own 'goodies', knowing he knows makes me feel guilty. Really because I know I was weak and lost my will against a good sale! Now my poor bank account is looking at me with sad puppies eyes going "feed me, feed me".
But
, I'm going to ignore said bank account because this order was an absolute success. Talk about getting a slam dunk on the first try!
For those of you J.Crew fans, here's the photos and reviews:
Reference: In Gap brands I usually wear 0P/25 pants and XS tops. Bra band 36. I like my clothes fitted.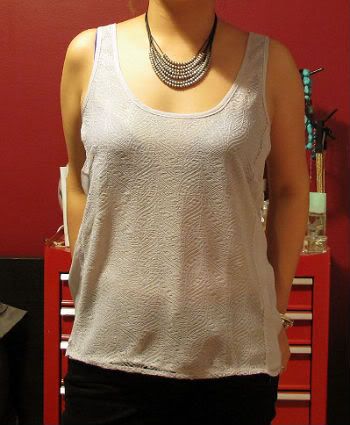 ♥ Lace Love Tank in Dusty Lilac in 2
Wish I had bought the other colors! This is a true gray. I don't see anything "lilac" about it but it's beautiful nonetheless. I have been looking for a piece like this! Most "flowy" tanks I've tried are too big in the armholes, too lowcut, too wide, etc. but this one is perfect. There is no zipper and only a little stretch (due to the bias rather than actual stretch in the fabric, I think) so a size 0 might have been too tight to get in and out of. It looks great with cardigans as you can see but I think with just a blazer or on its own would be just as nice.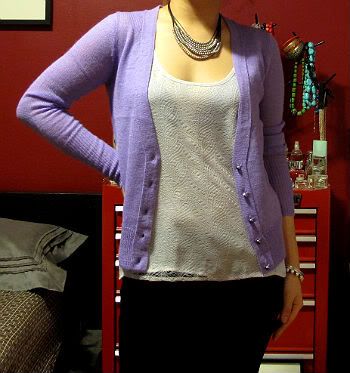 ♥ Dulphine Bling-Button Cardigan in Dark Raisin XS
The yarn is loose-knit and seems to be made of average wool. Slightly scratchy compared to merino but still pretty soft. The cut is fitted but with the type of weave, I know it will stretch out by the end of the day. The diamond-cut buttons are a cute detail but roll around. I like my buttons flush against the fabric. Still, I would buy this again as it's a great basic with a little "bling". Slim cut and I probably won't wear this buttoned up as this button/weave combination looks very stretched.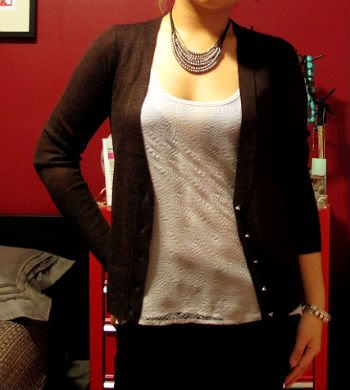 ♥ Dulphine Bling-Button Cardigan in Concord Grape XS
Same review as the above but I have to say I really like this color! It's a beautiful way to brighten up a gray outfit in the winter but I can imagine it with nudes or light yellow this spring.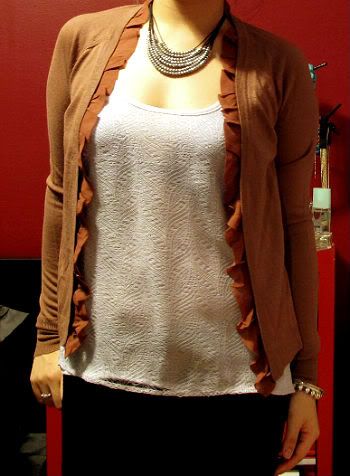 ♥ Merino Chiffon-Placket Cardigan in Weathered Wood XS
I'm impressed with the merino, it's silky and tightly woven. I also like that the sleeves are slimmer at the wrists to allow for bracelets and watches. It's a little looser at the bottom which is perfect to pair with a flowy tank. The button holes are on the actual ruffles which is kind of neat.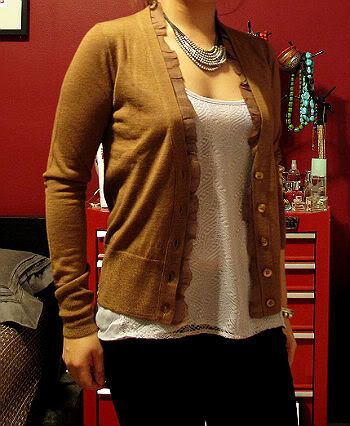 ♥ Merino Cielo Ruffle Cardigan in Heather Caramel XS
Same material as above but the details are a little different. This look is a little more streamlined and slim. This would look nice under a blazer and/or with a fitted tank.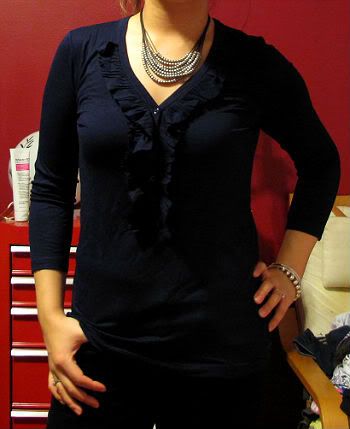 ♥ Drapey Ruffle Henley in Navy in XS
Wow. This feels like water flowing on my bottom, it feels so silky and slippery. I believe it's a cotton/poly blend but WOW, talk about comfortable! The sleeves are slim but it seems to be a trend with J.Crew. However, the bottom is loose. This is an XS but if compared to the sweaters, would be like a small-medium on the bottom. I usually wear my clothes fitted but this is very cute! Would be lovely for a casual outfit with khakis, cords, or a pair of white jeans.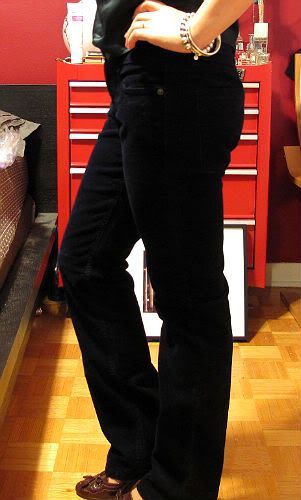 ♥ Petite Stretch Vintage Bootcut in Navy 25
I almost
never
buy bottoms online because in general, pants have to be more tailored or you get Waist Gap, Saggy Butt, Creasy Crotch, etc. especially as I am hipless with muscular thighs so while I don't get the gap, I frequently fall victim to S.B. and C.C! I wouldn't say these are AMAZING because my size would be between a 24-25 in these. The cut is a little too in between for me. I like my pants either skinny or more flared. This 'bootcut' style is hard to pair with footwear and I feel looks a little shapeless. I am a 28/29 inseam and I still have to wear heels, albeit something low in this petite version. I do like that the navy is a rich near-black and very thick so these will be perfect for winter.
Shopping Experience
The ordering experience was great. I ordered on Thur Jan 27, it shipped Tues Feb 1, and arrived Wed Feb 9 which is average for USPS/Canada Post airmail delivery. The free shipping offer extended to Canada which is practically unheard of in eShoppingland. Items were packaged in a recycled materials box that was JUST enough space for my pieces. I hate when companies use giant boxes for small items. Each item was folded neatly in a plastic bag. The only thing I paid was duty (items made in China) and tax (standard).